Top of the Morning, June 19, 2021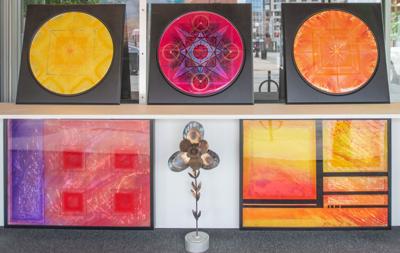 Greg Stallmeyer always was artistic, building hot rod cars at his business, G.S. Customs in Seymour. But the path of becoming an artist who works with paint and canvas and other media long interested him.
So four years ago, he joined 40 North, an organization that fosters community for local artists, and that path began.
His painting, made out of resin, plexiglass and custom automotive paint, entitled "Nexus," conveys the connections he's made as a result of 40 North. That painting was chosen as the signature piece for last year's Boneyard Arts Festival and is featured in the same role at this weekend's event after last year's cancellation.
"I've only been involved for four years, but the people I've met and the ways it's changed myself, I thought, was very interesting," Stallmeyer said. "That's why it became titled 'Nexus,' with the connection connotation. And then of course after this past year, that's sort of taken on a whole new meaning with the fact that we need connection."
Stallmeyer's project began three years ago without a concrete idea. Like much of his work with resin, he let the fluid fall where it may and went forward from there. After working for it on and off, he painted curved, thin lines, then painted over with another layer of resin to create a layered effect. Then, he painted more lines on top.
For this weekend's festival, it was printed on billboards, postcards and programs. Seeing his work in different media has given Stallmeyer a new way of looking at his art.
"When you see it in person, it's very glossy like a car," he said. "And when they printed it, it became flat, and it was very interesting. It brought out some different things. So it's kind of been a pleasant surprise."
Stallmeyer said the friendships and support he's gained have been the biggest benefit to his time with 40 North. Seeing his painting all over the place at this weekend's festival, which runs through Sunday, will be a new milestone in his artistic career.
"I was shocked and honored I would say," Stallmeyer said. "Being involved for such a short amount of time, it felt really good. Being acknowledged for your work is kind of nice, especially with all of the talent we have in Champaign-Urbana."