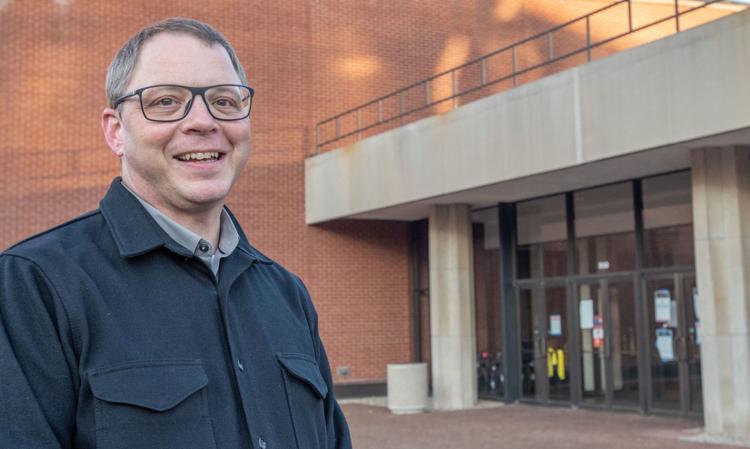 If he had to put a number on it, KEVIN HAMILTON would give this never-ending pandemic a solid 9 on a 1-to-10 severity scale.
And why not a 10? We'll let the third-year dean of the UI's College of Fine & Applied Arts explain.
"The people I support in the arts are deeply struggling," Hamilton says. "They miss both the intrinsic rewards of creating for audiences and the vanishing infrastructures of support for what they do.
"The only reason I don't make this a 10 is that the pandemic's upheaval has also brought to light much older struggles that were just not as visible to those of us with the safety nets of institutional support and the relative wealth that comes with being born white in America. It's been 10 for some people for a long time."
Hamilton, who studied painting at the Rhode Island School of Design and public art at MIT, joined the UI faculty in 2002 and, in addition to his dean duties, remains a professor of new media in the School of Art + Design.
The South Carolina native took time out to answer a few questions from Editor Jeff D'Alessio in the 51st installment of our weekly speed read spotlighting leaders of organizations big and small.
---
My philosophy on meetings is ... exercise deep hospitality. Be intentional about inviting contributions from folks who might otherwise not feel their voice matters. They usually bring exactly the perspectives needed.
I'm frugal in that … I drink black coffee steadily and constantly, but will take most any old dreg, and don't really care about espresso drinks.
The hardest thing about being a leader is … that for all the good transformation we can achieve together toward justice, people every day suffer under the structures we inherit, inhabit and perpetuate.
The worst job I ever had was ... spending a summer when I was around 12 or 13 stripping furniture. I'm sure those chemicals did a number on me, applied for seemingly endless days in the Carolina heat without proper ventilation or protection.
When it comes to my single favorite moment of all-time in this job … recently, it was seeing well over a hundred faculty and staff on a Zoom call at the end of the past academic year, exhausted but rejoicing at seeing one another again during the first big pandemic shutdown.
They were so happy for one another's successes at improvising through the unprecedented pivot of turning the teaching of arts into an online gig.
I can't live without my ... near constant streaming of Jersey City freeform radio station WFMU.
My business role model is ... the boy in the Biblical story where 5,000 people ate from the bread and fish he brought for his own lunch.
I think about that story all the time — about what happens when you put others' needs first, even in the face of what can seem like scarcity.
My one unbreakable rule of the workplace is … always serve, recognizing and accounting for the power imbalances in every relationship.
The biggest business risk I ever took was … turning down a couple of good new job opportunities to stay here and try my hand at leadership.
It was a hard decision for my family, but we have learned so much, and not looked back.
As far as the last luxury in which I indulged … I just became an early subscriber to an outfit called Oda. They sell you a pair of custom speakers and a subscription-based season of live music performances that you can only hear on those speakers.
I don't need more speakers, but I really wanted to enjoy live music again, even at a distance.
And I love Oda's model for keeping performers supported during this time.
The most beneficial college class I took was … at the Rhode Island School of Design, on critique and archives that changed how I look at art.
We built our own collections of texts and reference materials before looking at each other's paintings and drawings slowly and deliberately, asking deep questions about why we saw the way we did.
I benefited as much from my classmates — then-young painters such as Julie Mehretu and Shahzia Sikander — as from the teacher.
I'm up and at 'em every day by … 6:30 in normal times, but a little later when working from home these days.
My weekday exercise routine starts with … 30 minutes of back-strengthening exercises and pedaling on my stationary bike, listening to WFMU's morning show.