The Big 10 with Jeff D'Alessio, Dec. 29, 2019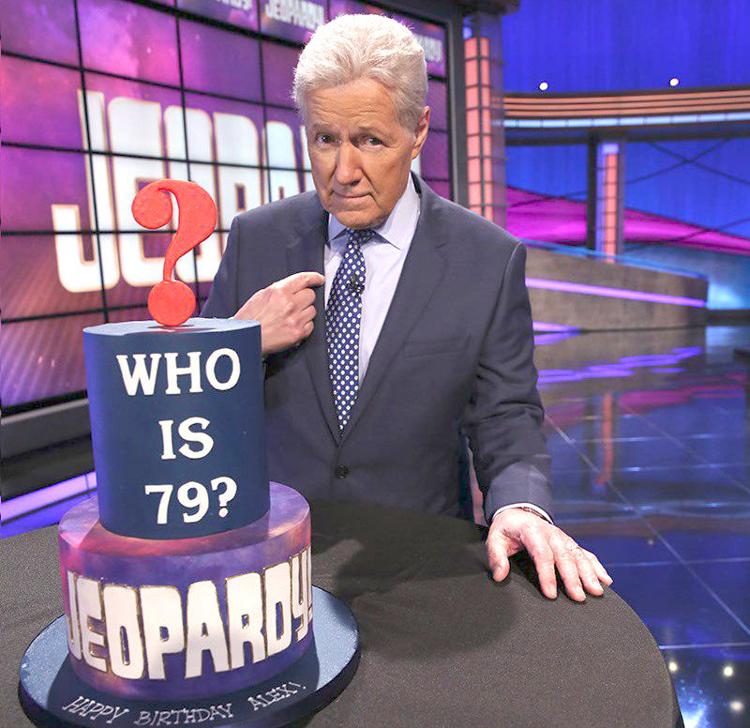 This six-time Emmy winner is likely near the end of his Guinness-record 8,000-plus-episode run as host of 'Jeopardy!' after being diagnosed with Stage 4 pancreatic cancer. Answer: Who Is Alex Trebek, the sharp-dressed Canadian-American who these 10 current or former C-U residents had the chance to spend time with on set. We asked the 'Jeopardy!' contestants what they remember most about the 79-year-old television icon.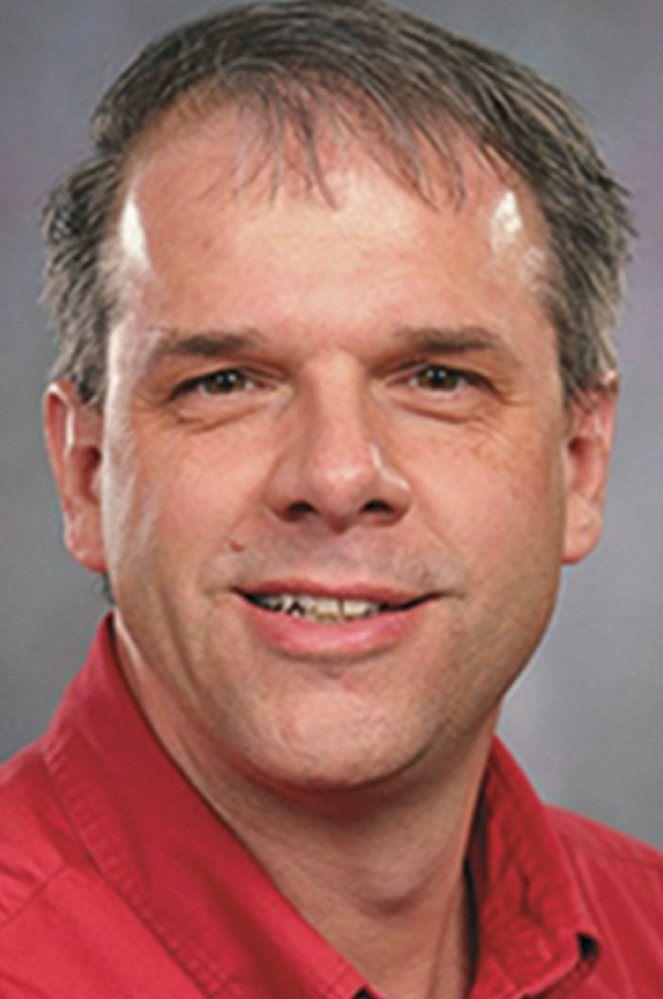 JOE SPENCER (1997 contestant)
Research program leader in insect behavior, Illinois Natural History Survey at UI
"The first time 'Jeopardy!' contestants meet Alex is during the brief contestant chat segment when he shakes hands, standing just across the podium from each of us.
"Before the taping, we were asked to provide the show with five interesting tidbits of personal information. When it was my turn, Alex picked one of those and asked me about being an entomologist and why I studied the behavior of pest insects.
"I happily noted that developing a greater understanding of insect behavior provided insight into mechanisms that could help scientists improve insect management methods. After my earnest explanation, however, Alex suggested: 'Ever hear of Raid?'
"This generated a good laugh from the studio audience. I was surprised: Alex clearly wasn't really paying any attention to what I said. The camera caught me smiling awkwardly and nodding as I absorbed the amusement.
"Less obvious was a quick flash of initial indecision when I briefly considered and wisely rejected the notion that I might devise a 'smart alec' reply."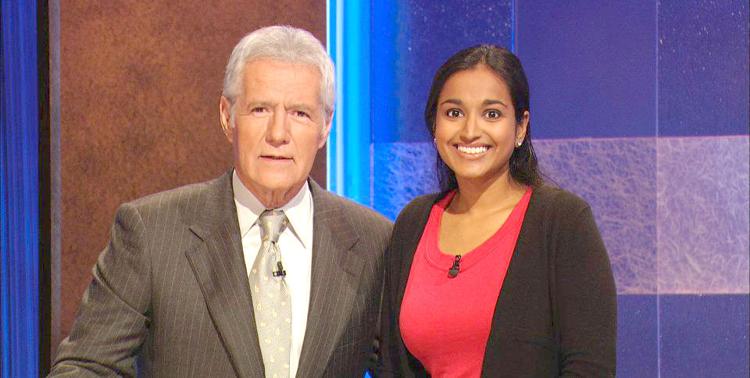 BHIBHA DAS (2011)
Three-degree UI alumna now a kinesiology professor at East Carolina
"Professional makeup artists do your makeup for TV lighting. They coated my naturally bare face with mascara and lipstick.
"I have a small beauty mark above my left lip — similar to Cindy Crawford's. At the end of my first show, Alex asked me if the makeup artists had painted that beauty mark on or if the mark was natural.
"I told him it was natural and he remarked that I was just like Cindy Crawford.
"It was the only time I've ever been referred to as being a supermodel but it's a fond memory to carry with me."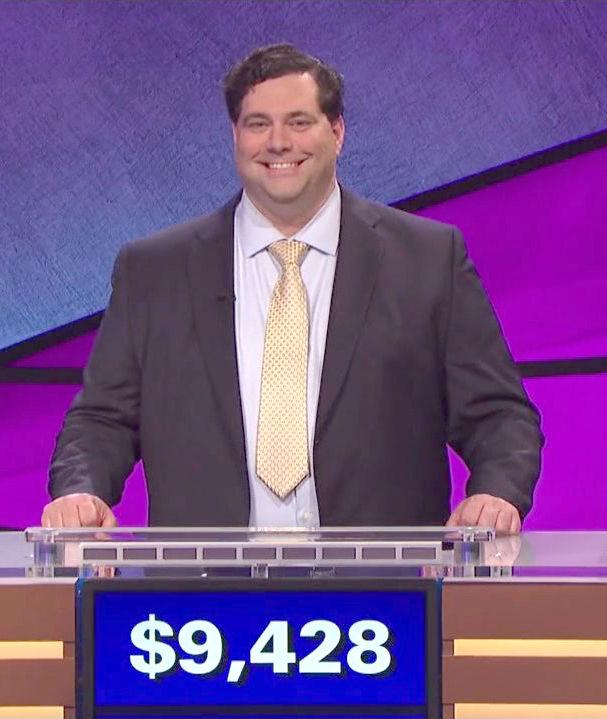 SAM SPENCER (2017)
Son of two Auburn professors appeared as a 42-year-old UI grad student
"During the contestant interviews coming off the first commercial break, he has an index card with the anecdotes about each contestant, one of which is 'starred,' indicating that's the one he should ask about.
"In my case, when he was talking to the contestant next to me, I saw that he didn't even look at the starred story — that I went on a road trip with Charles Barkley and the Auburn basketball team as a kid — and instead zeroed in on the fact that I had once thrown myself a surprise birthday party.
"That meant I had 10 to 15 seconds to mentally prepare myself to tell that story instead, without embarrassing myself with a rambling mess of ums and uhs.
"On the upside, he introduced that story by saying 'Sam Spencer, you seem like you're my kind of guy.' That phrase is vividly lodged in my memory; a friend even made a video loop of that moment for me.
"Sure, the champ may have walked away with about $18,000 more than I did, but his $5 bets on both a Daily Double and Final Jeopardy prompted Alex to call him 'a chicken,' albeit not on air. So let's face it — who was the real winner there?"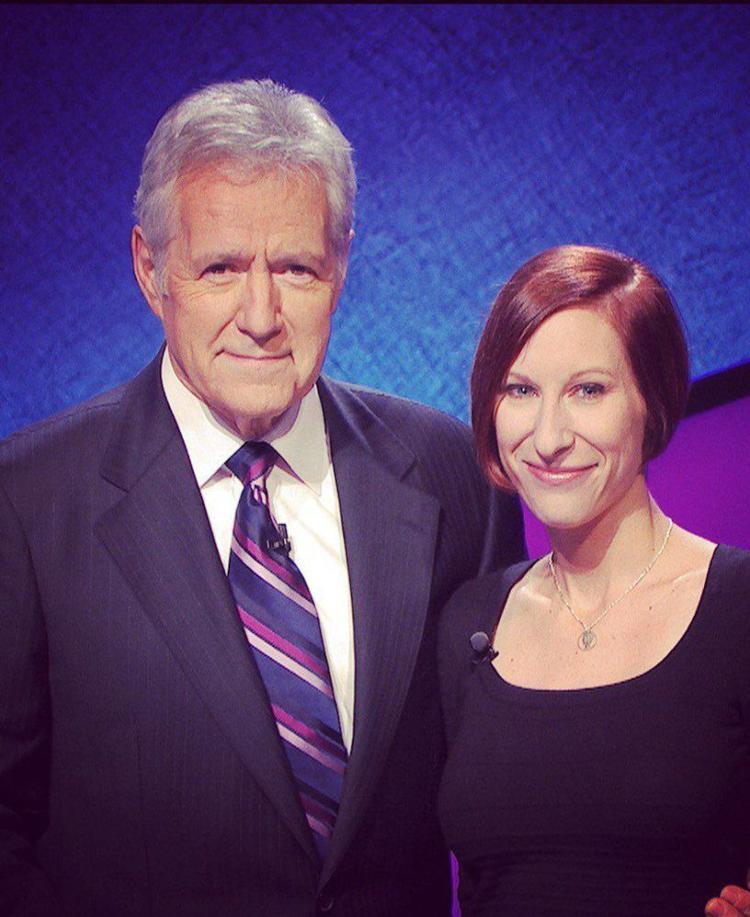 DARA GOCHESKI (2015)
Earned master's degree in library & information science from UI
"My one and only 'Jeopardy!' game saw more than a few triple stumpers, with categories such as 'Medieval Fashion' and 'Daniel Defoe,' and was capped off with a Final Jeopardy category — 'Olympic Host Cities' — that saw only one right answer, which was regrettably not mine.
"It was a 22-minute emotional rollercoaster, oscillating between intense joy and fear, during which I routinely beat two super smart competitors to the buzzer but which ultimately ended with me placing second and having lost the lead I had held onto for most of the game.
"As Alex gathered the three of us to walk to the middle of the floor with him for the rolling of the credits, I could feel tears of disappointment welling up.
"As if Alex could sense how absolutely gutted I was for having botched the final question, he said: 'This was a particularly hard game. I wouldn't have known the Final Jeopardy question, either.'
"Thanks to that comment from Alex, I was able to take a deep breath and enjoy the postgame conversation. I may have even laughed. I am to this day incredibly grateful to Alex for showing such humanity and camaraderie, and I wish him all the best."
TIM CHO (2018)
'Teen Jeopardy!' contestant as Uni High senior
"I think my favorite Alex Trebek moment is from the mini-interviews, after the first commercial break. My interview was last, and the other two contestants had kind of gone over time.
"He took it in stride and sarcastically told me that there wasn't time for me to go, after which I pretended to step off the contestants' podium, which probably ended up a bit more awkward than I wanted it to be. He took that in stride, too, and let me give a little spiel on some Uni High tradition."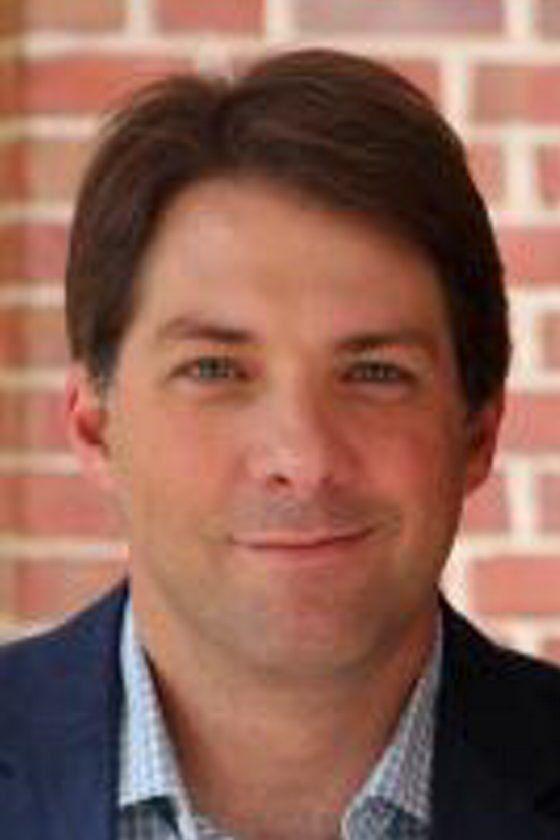 CHRIS MAZUREK (2006)
1993 UI grad now professor of education at University of Virginia
"For as stoic and patrician as Alex seems on the TV, his whole demeanor changed when he interacted with the audience.
"There was a break where he walked over and took questions from the studio audience. He was genuinely funny. Charming. Real. For someone whose vision of Alex was that of the hard-to-please taskmaster, it was a real revelation to see him being so chatty and personable.
"He's a lot funnier than I ever gave him credit for."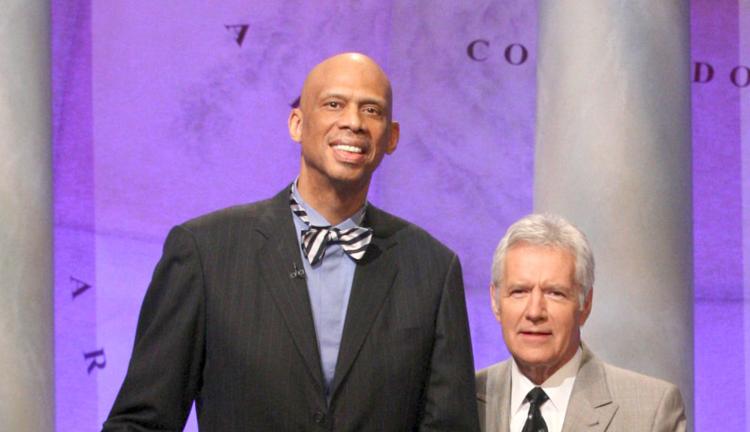 GENE WURTH (1998)
Past president, Provena Covenant Medical Center Foundation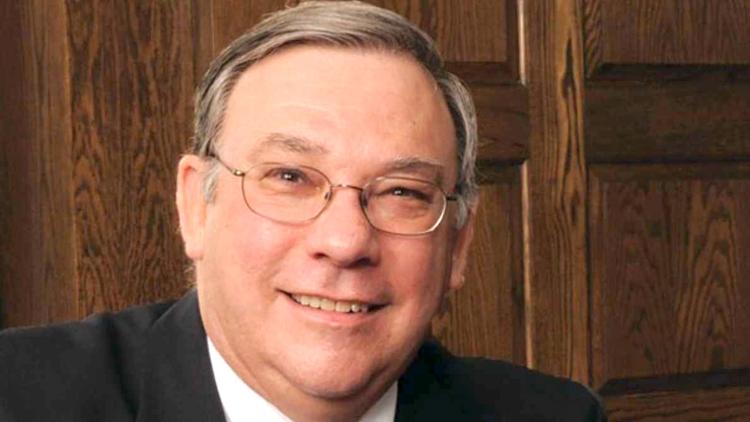 "'Jeopardy' records five shows in a day. On the day I was a contestant, the last game they recorded was a celebrity game, which featured Reggie Jackson, Martina Navratilova and Kareem Abdul Jabbar.
"As the game went on, it was clear that Jabbar was not only extremely tall — his head was very near the stage lights above the contestants' positions — but that he was extremely intelligent.
"He could probably have answered every clue in both rounds and the Final Jeopardy correctly.
"Reggie Jackson, however, was not on the same intellectual level, and was doing terribly. He got so frustrated trying to buzz in first that it seemed he might pull the device out of the podium.
"Although he was always restrained and professional, I remember watching Alex's facial expressions as the game went on. He was obviously amused at Jackson's futility, and clearly impressed by Jabbar's calm manner, and the depth and breadth of his knowledge. As a contestant, you really can't focus on what Alex is doing, but as an observer in the audience it was enjoyable to see his reactions, especially to Jabbar's intellect."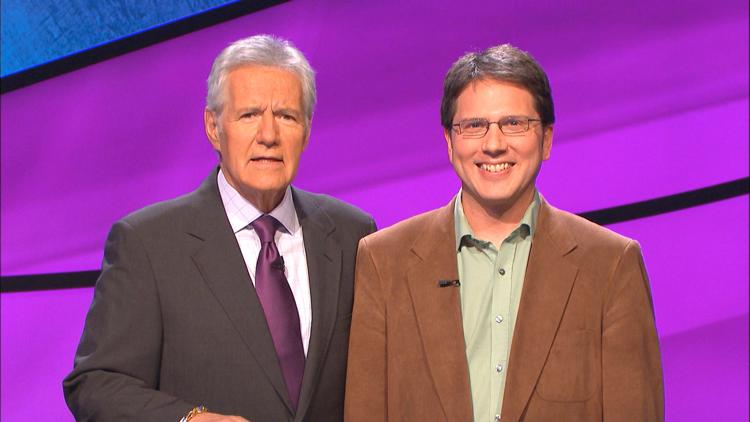 SEAN ANDERSON (2015)
UI Law Professor
"During the first commercial break of my first show, Alex came over to take a picture with me and the other new contestant. In those pictures, he stands with his arm sort of around you.
"As he stepped away, he said quietly, 'I just lifted your wallet.' A very corny line that was perfectly suited to the moment."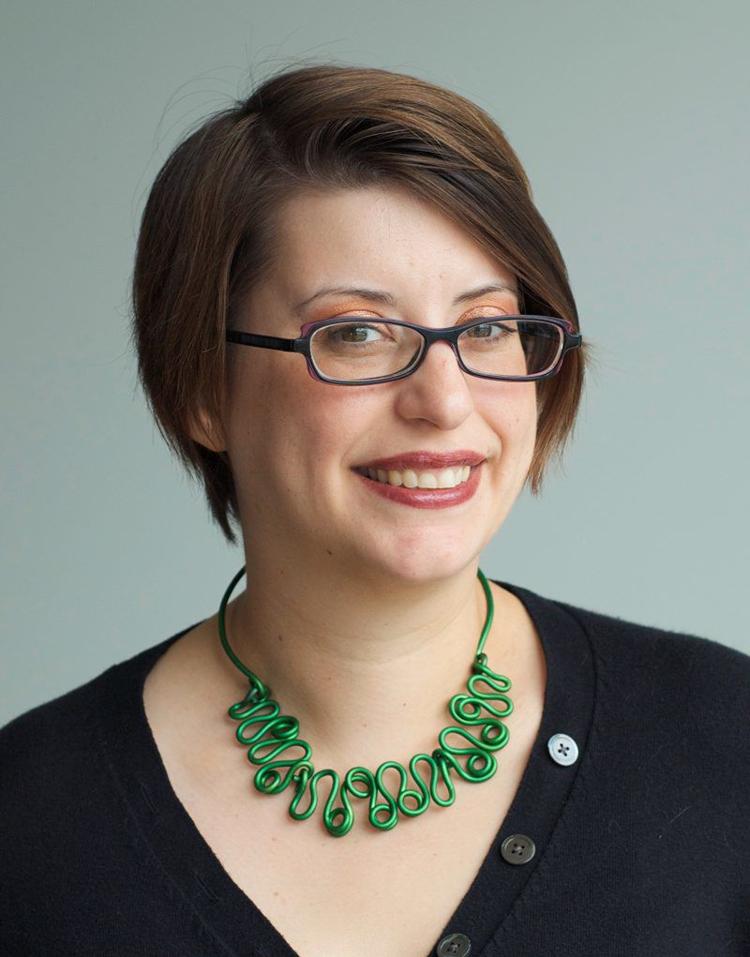 NANETTE DONOHUE (2002)
Champaign Public Library technical services manager
"What I remember most about Alex Trebek is his rapport with everyone on set — the audience, the contestants, the people working behind the scenes.
"During breaks in the shooting, he chats with the audience. At the end of the game, when the contestants move from behind the podiums, he's chatting with you.
"He made me feel comfortable and at ease, which is no small feat when you're taping a game show that is watched by millions of people."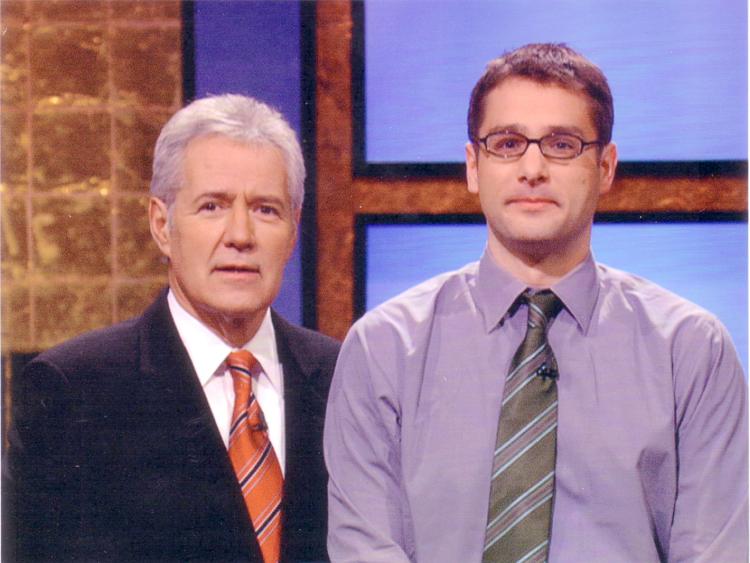 ALEX HOVAN (2007)
2010 UI grad has taught kindergarten in Germany for past five years
"Contestants give a bunch of material for the interviews, and he picks from two or three notecards, so you don't know exactly what you'll get asked. He gently mocked my embarrassing travel experience — knocking over a cafe table in Paris when a pigeon flew at me — and got laughs from the audience.
"In my winning episode, I beat a multi-game winner when he didn't have enough money going into the final to be competitive. That guy wrote as his final answer 'Who is Kebert Xela?' (Trebek's name backwards) — which was a then-current joke from 'Family Guy.' Alex pretty much rolled right past it; I don't think he got the reference, but more than that, he gave the impression of having heard it all before.
"I always wondered what the contestants and Alex are talking about when the credits roll. In this case, I can tell you, he started right in about how he thought he had dust on his shoes and pant cuffs from renovations being done at his house.
"I'm not sure we got a word in edgewise before shuffling back to the dressing room."