The Screening Room | Abrams delivers spectacle, heart with satisfying 'Rise of Skywalker'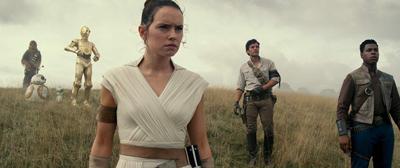 It's obvious that writer/director J.J. Abrams is a big fan of the "Star Wars" franchise. His 2015 "The Force Awakens" resurrected the franchise for a new generation, served as an energetic primer for all things in a galaxy far, far away and introduced a bevy of new characters to build future installments around.
That film and comments made in numerous interviews showed that he treated George Lucas' world with a sense of reverence that made him a fanboy favorite.
So, it comes as no surprise that "The Rise of Skywalker," which Abrams directed and co-wrote with Chris Terio, presents the final chapter of this sprawling story with a serious tone that serves the material well and will surely please the many fans who are not just waiting to see how this thing wraps up, but to also pick it apart for any inconsistencies or oversights they deem it contains.
I'm certainly not going to put the film under the microscope for a minute deconstruction; however, I will say that Abrams seems to hit all the sweet spots fans will be eager to embrace — numerous allusions to earlier episodes, major surprises where the fate of its central characters are concerned and some genuine heart-tugging moments.
More than anything, Abrams provides a sense of closure — or as much as he can in a sure-to-be-continued franchise — that will satisfy the casual viewer and rabid fan alike.
From the trademark opening narrative crawl, we learn that the evil Emperor Palpatine (Ian McDiarmid), long-thought dead, is very much alive, ensconced on a remote planet all these years, marshaling a massive armada he now refers to as the Final Order.
He intends to deal the Rebellion a decisive blow when he unleashes the might of his forces under the command of Kylo Ren (Adam Driver), whom he dispatches to kill Rey (Daisy Ridley), the last Jedi Knight he deems a threat.
Rightfully so. Though the young lady doesn't realize it yet, the powers she has at her disposal are nearly unstoppable. Yet, her training is not going well, and she decides to abandon it in order to gather her thoughts, much to the dismay of her mentor, Princess Leia (Carrie Fisher).
Ultimately, Rey, along with Poe (Oscar Isaac), Finn (John Boyega), Chewbacca (Joonas Suotamo) and the droids C-3PO (Anthony Daniels) and BB-8 set out to find Palpatine's hideout in order to stop the attack before it begins.
The sense of spectacle the franchise has become known for is front-and-center throughout (light-speed skipping!?! Wow!), as we're introduced to new planets with more than a few intergalactic dogfights, laser gun battles and lightsaber duels thrown in along the way.
Say what you will about these movies, the production values are top-notch, as the best of modern special techniques are on full display. This episode in particular is a visually immersive experience, particularly during one sequence that finds Rey and Ren going toe-to-toe on the wreckage of the original Death Star afloat in a raging sea. "Spectacular" is a word often overused, but it's apt here, as the movie transports the viewer as only a big-budget piece of Hollywood escapism can.
However, as visually impressive as the film is, it's the quiet moments that resonate. Leia's final scene is the grace note the character deserves, while the revelation of Rey's lineage is a shocker that lands with the proper amount of emotional gravitas.
More than anything, nostalgia is the driving force of the film, as Abrams does his best to tie characters and moments in this episode to Lucas' original trilogy, echoes of seminal events from those adventures still reverberating some 50 years along the timeline. Each of the characters, new and old, gets a turn in the spotlight, while the film's final scene proves to be a beautiful and wholly earned moment that will satisfy the faithful. "Rise" wows you, but more importantly, it moves you.
In the end, Abrams brings it all together by driving home the franchise's main theme with uncommon emotional force. Redemption has been the saga's narrative through-line, and "Rise's" moment of atonement is one of the strongest scenes in the nine-film story. It's been a long time coming, but it proves worth the wait.