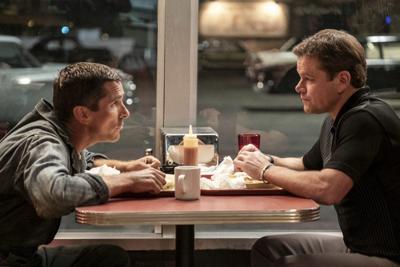 With all of its meticulously rendered, in-your-face, just-a-bit-too-loud racing sequences, at its core, "Ford v. Ferrari" is really nothing more than a buddy movie.
That's not meant to be a backhanded compliment; it speaks to the engine that drives this exceptionally engaging dive into automotive history, a look at how a personal slight led to the spending of millions of dollars and the development of the modern American sports car. To be sure, the desire to see these cars in action will get viewers to buy tickets, but it's the human moments that will stick with them after the credits roll.
The beginning of the 1960s was not a good time for the Ford Motor Company. Lacking flash or even any basic sense of style, the cars produced by the venerable manufacturer were not appealing to Baby Boomers, who were now driving age, and profits were falling. At the behest of his adviser, Lee Iacocca (Jon Bernthal), Henry Ford II (Tracy Letts) decides to make an offer to buy Ferrari, the Italian company known for producing the best race cars in the world. Needless to say, negotiations break down soon after they start, with the owner of the foreign entity (Remo Girone) referring to Ford's cars as "ugly" and the man himself as "fat."
This doesn't sit well with Ford, who sets out to beat Ferrari at his own game by assembling a crew of the best automotive minds to build a car that will win the 24-hour race at Le Mans, a contest his rival has won five years in a row.
His first hire is Carrol Shelby (Matt Damon), a maverick automotive designer who's made inroads in engine design. In turn, he hires Ken Miles (Christian Bale), a driver who has no problems pushing himself and any car he might be driving to dangerous limits.
The relationship between the two men, at times antagonistic, at others fiercely loyal, is as compelling as the recounting of their efforts to build a world-class race car. The highs and lows of the process are laid out in detail, as Miles puts each prototype through its paces, cites everything that's wrong and sends all involved back to the lab.
Director James Mangold puts us in the driver's seat throughout, as well as placing cameras around the traveling cars to underscore the excitement the drivers' experience and the dangers they court. It's thrilling stuff, especially during a scene in which Shelby takes Ford for an impromptu ride, forcefully driving home to the magnate just how dangerous what Miles does truly is.
As expected, Damon and Bale are very good here, the former finding ways to inject sly humor into the stoic Shelby, the later reveling in Miles' broad nature. To be sure, the racing is exciting and the laughs genuine, but it's the quiet moments between the two in which they contemplate what they are facing and the scenes between Miles and his son (Noah Jupe) that give the film its heart and remind us of the risks these two men are taking, both professionally and personally.
Mangold ("Walk the Line," "Logan") is at the top of his game, keeping a sure hand on what could have been a sprawling, ungainly narrative, keeping his focus on the two mavericks at the film's center, never letting the viewer forget that the human element of the tale is what makes us care about all that occurs on the track and in the shop. "Ford v. Ferrari" ends up delivering much more than expected, making our hearts not only race, but empathize with those on screen.
Also new in theaters
'Jojo Rabbit' a powerful piece of timely satire (★★★½ stars). Taika Waititi pulls off quite the high-wire act both in front of and behind the camera with his latest film, an audacious piece of work that looks at Nazi Germany through the eyes of a 10-year-old boy whose imaginary friend just happens to be Adolf Hitler. In adapting Christine Leunens' dark novel, the filmmaker injects his trademark brand of quirk ("What We Do in The Shadows," "Thor: Ragnarök") to this tale of one young boy's moral awakening, while effectively skewering a society that would allow a small-minded bigot to lead them.
With his father away at war, the ever-impressionable Jojo (Roman Griffin Davis, wonderful in his debut) is being raised by his iron-willed mother, Rosie (Scarlett Johansson), who allows him to join the Hitler youth like so many other German boys. While away at camp, he is subjected to the lunacy of the bitter Captain Klenzendorf (Sam Rockwell), his assistant Finkel (Alfie Allen) and Fraulein Rahm (Rebel Wilson), who teach their young charges the fine arts of shooting, grenade throwing and book burning. Yet, despite having a good friend in the ever-optimistic Yorki (Archie Yates), Jojo still feels lonely and often confides in his imaginary friend, Hitler (Waititi), who never fails to boost his morale and remind him of how evil Jews are. However, the boy's opinions about anti-Semitism begin to change slightly when he stumbles upon Elsa (Thomasin McKenzie), a Jewish teenage girl whom his mother just happens to be hiding in their home.
As Jojo comes to know Elsa, his eyes begin to open to the lunacy that surrounds him. Realizing that everything his imaginary confidant has told him concerning the Jewish people is a lie, he begins to see through the charade the Nazis put forth. The conversations between Jojo and Hitler are hilarious as well as pointed. As the boy's logic sharpens, the father figure begins to flounder, unable to adequately answer Jojo's common-sense queries regarding his misguided doctrines.
The innocence Davis conveys is the perfect counterpoint to Waititi's arch portrayal of the madman, his eyes widening and gesticulations becoming more frantic as the Fuhrer flounders about, unable to defend his beliefs. As Hitler becomes more childlike, Jojo matures into a young man who can makes his own informed decisions regarding how to live his life and what to believe in. Davis' slight vocal and physical adjustments throughout the film makes this transformation convincing.
Satire only works if those involved are truly committed to their roles, and it's obvious that Waititi had everyone pulling in the same direction with similar conviction. Rockwell and Allen have one wry exchange after another, as these two men share a secret that ultimately emerges in glorious fashion once all hope is lost, while Johansson's sincere warmth and strength make for a character to be admired and emulated. It will come as no surprise if she scores an Oscar nomination in the best supporting actress category here to go along with the nomination for best actress she's sure to get for her work in the upcoming "Marriage Story."
"Jojo Rabbit" may be rendered in broad strokes, but that doesn't make it any less effective or its message any less powerful. Only by exposing demagogues as the buffoons they are can we hope to convince those who've yet to fall under they sway that their self-serving beliefs lead only to turmoil and violence. Waititi knows this and provides a timely piece of work that serves as a tribute to those who question the status quo and stand firmly behind their beliefs as chaos reigns around them.