Chuck Koplinski: The Screening Room
The Screening Room | 'No Time to Die' a memorable swan song for Craig's Bond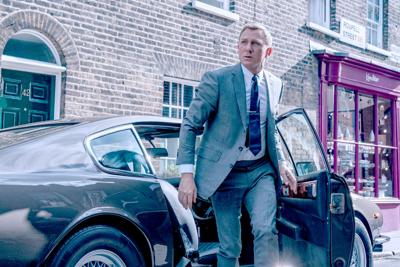 Let's get what's wrong with "No Time to Die" out of the way — it's too long by a good 20 minutes, and its villain is from Central Casting.
Beyond that, Daniel Craig's swan song as James Bond is one of the best in franchise history, a genuinely thrilling entry that pushes the narrative of the international spy in different directions yet maintains the sort of globetrotting, big-budget escapades we've come to expect from the series.
With the film carrying the twin burdens of the history of the nearly 60-year franchise and an unexpected 18-month delay thanks to the COVID-19 pandemic, there's every reason to expect it to disappoint, if not fail. Yet director Cary Fukunaga and his three co-writers have produced a movie that manages to check all the boxes necessary for a successful Bond film while also focusing on the character's humanity, exploring his vulnerabilities to great narrative advantage, as in Craig's best Bond entry, "Skyfall."
There's a sense of dread and melancholy that hangs over the film, and it's all the better for it.
This time, Bond has been pulled out of retirement by CIA operative Felix Leiter (Jeffery Wright) to track down a biological weapon that falls into one pair of wrong hands after another. It's particularly nefarious, as the disease it unleashes targets a single person — or entire race's — DNA. It's a frightening almost-real concept that raises the stakes of the mission.
Reluctant to get back in the field, Bond is also dealing with the fallout from his relationship with Madeleine (Lea Seydoux), the ex-love he drove off with to enjoy a happily ever after at the end of "Spectre."
The action throughout is first-rate — the prologue, featuring a rousing motorcycle chase and a sequence that puts Bond's Astin Martin through its paces, serves notice that Fukunaga and his crew are here to play.
Of course, none of these moments carry any weight if the story is less than engaging or the characters transparent. One of the advantages of the Craig-era Bonds are the strong actors they've attracted, who bring nuance to what were previously one-note characters.
Ralph Fiennes brings a sense of weariness and regret to M, who has a much bigger role this time out. Ditto for Naomi Harris as Moneypenny and Ben Whishaw as Q, while newcomer Lashana Lynch cuts an imposing figure on screen as a new operative. And thank goodness for Ana de Armas, who provides a deft comic touch to Paloma, a Cuban spy who unexpectedly saves Bond's bacon.
As for the villains, Christoph Waltz returns as Blofeld — a scene between him and Craig is one of the highlights of the cinematic year as much for what's not said as what is. Unfortunately, Rami Malek is wasted in the only poorly written role, his Lyutsifer Safin an amalgam of every hackneyed trait displayed by past Bond baddies.
It would be hard to imagine a better exit for Craig and his take on Bond. Eager to separate himself from his predecessors, the actor has always pushed to take the character in new directions, and while the five films he starred in are a mixed bag, they are distinctive and daring within the context of the franchise.Concentrating on the character's humanity, he and the series' producers have managed to give us a 007 that will resonate long after this final mission.
For DVR alerts, film recommendations and movie news, follow Koplinski on Twitter (@ckoplinski). His email is chuckkoplinski@gmail.com.