The Screening Room | Scorsese's masterful 'Irishman' a meditation on loyalty, compromise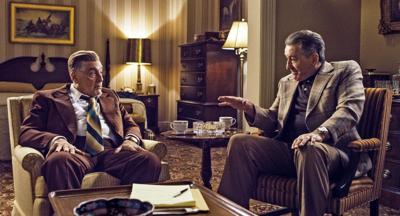 Far too much has been made of director Martin Scorsese's recent comments regarding the difference between Marvel superhero movies and "cinema."
The director's contention is that the former are nothing but thrill rides that lack emotional depth while "cinema is about revelation — aesthetic, emotional and spiritual revelation. It is about characters — the complexity of people and their contradictory and sometimes paradoxical natures, the way they can hurt one another and love one another and suddenly come face to face with themselves."
This should be kept in mind while watching Scorsese's masterful "The Irishman," a meditation on blind loyalty, fierce pride and moral compromise set against the backdrop of post-World War II America that stretches into the early 1970s. That this is a gangster film seems incidental, but it is the genre Scorsese is most closely identified with, as are his two leads, Robert De Niro and Al Pacino. Coming as late in their careers as it is, there's a temptation to say this is their final statement on the genre, a commentary that helps put their respective careers in context, much like Clint Eastwood's "Unforgiven."
This is true to an extent, though it hardly has the apologetic tone of that classic Western; there's almost a weariness to the film, a final acceptance that men will always fall victim to temptation, that corruption is inevitable, unavoidable.
Based on the book "I Heard You Paint Houses" by Charles Brandt, the film tells the story of Frank Sheeran (De Niro), a World War II veteran who stumbles into a life of crime through his association with Russell Bufalino (Joe Pesci), a Philadelphia businessman with ties to organized crime. The mafia boss senses that his new friend is someone who can "get things done," and as the years pass, Sheeran finds himself cleaning up certain problems for Bufalino, going so far at times to killing rivals or "sending a message" to those who get out of line. Sheeran's fierce loyalty leads to an introduction to Teamsters President Jimmy Hoffa (Pacino), who also has need of his unique skill set. Their association also leads to a deep friendship, one that ultimately comes in conflict with Sheeran's relationship with Bufalino.
There's a melancholy that hangs over the film, and Sheeran has it placed firmly on his shoulders. While he's hardly a sympathetic character, you find yourself, at the very least, understanding how he ends up being caught between two masters. He justifies the crimes he commits as being a way to provide for his family — by currying favor with Bufalino or Hoffa, he's promised greater opportunities, which allow him, his wife and daughters to live comfortably. Of course, decisions of this sort have a way of coming back to haunt you, and the final price Sheeran is forced to pay is a debt he settles with great regret.
Running nearly three and a half hours, the film never lags and proves to be an immersive experience, as Scorsese never rushes the narrative, allowing us to enter into these men's lives and the culture they live in. This is a work of great confidence and craftsmanship — the period details are spot on, which is what we would expect from a director of this caliber. Scorsese doesn't disappoint, and neither do his three principals, each delivering some of the finest work of their respective careers.
There are no easy answers to be had in "The Irishman" as ultimately it proves to be a mirror for the viewer to gaze into and reflect upon their moral compromises. Decisions that we make often seem to be for the best of reasons when they are made, and it's only later, through reflection, that we come to realize another path should have been taken.
This is the tragedy Sheeran embodies, one we can relate to wholly, as it is part and parcel of being a person of free will, a heady theme that only a piece of cinema can present in such a powerful way.