Frank's Faves: Jennifer Tilly, Gina Gershon and Virginia Madsen films
"Good things come in threes." — Old saying, up until now unproven
Roger Ebert's 2019 Film Festival is next week, and once again, it'll be my good fortune to be covering it for The News-Gazette. (Hey, the job has its moments!)
I gotta confess that after drawing that assignment for the first time last year, the part I'm most looking forward to in this my sophomore season is the slate of special guests.
Three in particular.
We're talking three of the sultriest ladies ever to heat up the silver screen — not to mention pretty impressive actresses each in her own right: Jennifer Tilly, Gina Gershon and Virginia Madsen.
I don't know that I'll get to meet and chat with each personally in the course of my coverage — that's never a given with Ebertfest guests, as some have been known to keep a low profile and treat their appearance as a private holiday — but you never know.
I sure hope so, though, as each has impressed me in some pretty varied performances over the years — from my first introduction to Tilly in her early recurring role as a mobster's widow on NBC's "Hill Street Blues" back in 1984-85 to Gerson's current recurring role as the biker mom of comic-book hero Jughead Jones on Netflix's hit series "Riverdale."
But each has done pretty well in the movies, too — especially Madsen, who has come a long way from my first glimpse of her as the stunning imperial Princess Irulan narrating director David Lynch's sci-fi epic "Dune" in 1984 — which brings me to this week's triple feature, dedicated to the stars of next week's Ebertfest, and now lighting up the Frank's Faves marquee as:
MY FIVE FAVORITE JENNIFER TILLY FILMS
— "Liar Liar" (1997). Tilly is hilariously wicked as Jim Carrey's self-centered, money-grubbing client, Samantha Cole.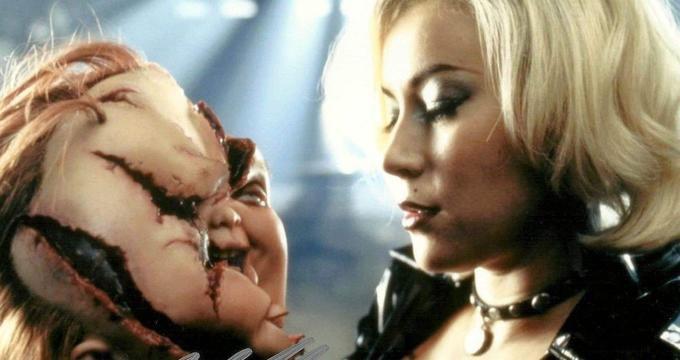 — "Bride of Chucky" (1998, right). One of Tilly's best-remembered roles is the voice of Tiffany, the title villainness/victim in the fourth entry in the "Child's Play" franchise. Unfair? Maybe, but Tilly's deliciously over-the-top performance as a serial killer's ex whose soul, such as it is, also winds up trapped inside a doll, did serve to jump-start the darkly comedic slasher series for at least a couple more sequels.
— "The Haunted Mansion" (2003). One of Tilly's funniest roles is opposite Eddie Murphy as Madame Leota, a disembodied head inside a crystal ball, in this Disney live-actioner based on one of its best-loved theme-park attractions.
— "High Spirits" (1988). I'm probably among the scarily few surviving fans of this supernatural comedy from director Neil Jordan, but I can't help myself. Tilly plays one of a handful of American guests at a remote Irish castle whose owner (Peter O'Toole) is trying to fool them into believing is haunted and succeeds only in peeving the castle's real spooks.
— "The Doors" (1991). OK, this is officially cheating. Tilly will be the first to tell you her uncredited role as a groupie called Okie Girl was cut from director Oliver Stone's rock 'n' roll biopic because, as she tells it, "the powers that be thought my character made Jim Morrison look too sleazy, if you can imagine." It's still a good movie, but listed here only as my favorite film Jennifer Tilly SHOULD have been in.
MY FIVE FAVORITE GINA GERSHON FILMS
— "Red Heat" (1988). This buddy-cop-action teamup of Arnold Schwarzenegger and Jim Belushi provided Gershon's breakthrough role as Cat Manzetti, a dance instructor entangled with a Russian drug dealer who winds up dead in the Chicago River for offering to help the heroes catch the bad guy. A sad ending for her character but a breakthrough for Gershon's career.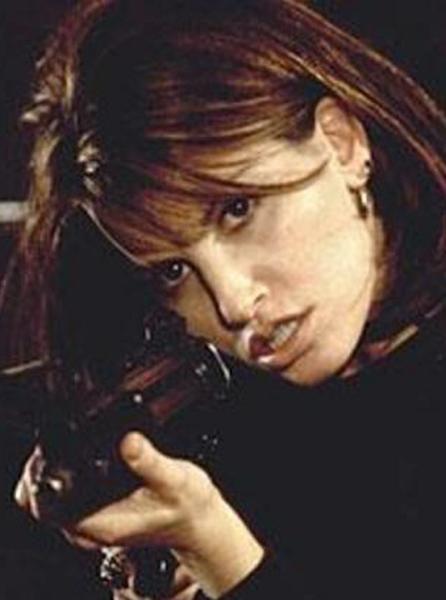 — "Face/Off" (1997, right). Gershon as a slain terrorist's sister again turned heads opposite a pair of scene-chewing leading men (Nicolas Cage and John Travolta), but she could have made heads spin if she'd convinced director John Woo to let her shave her head for dramatic effect in her character's big scene. So how did Woo like her idea? As she tells it, "His face had this look like I was insane."
— "Cocktail" (1988). Gershon makes her mark in this bartending classic as the beauty who comes between partner pals Tom Cruise and Bryan Brown. Yup, she's a bar wrecker.
— "Driven" (2001). Gershon plays the ex of retired racecar driver Sylvester Stallone who is now married to the teammate who replaced him. Talk about a bump sure to send a guy crashing into a wall. Or in this case, a lake ...
— "Pretty in Pink" (1986). Since I've already cheated once, I might has well stay consistent for fairness' sake — so, yes, I admit it: I've never actually watched this John Hughes teen-angst comedy all the way through, but it just rose a notch on my "to-do" list by virtue of my having learned that it cast a very young Gershon as Trombley, one of the snotty rich kids Molly Ringwald has to contend with in school.
MY FIVE FAVORITE VIRGINIA MADSEN FILMS
— "Candyman" (1992). Sure, it's a horror flick, but Madsen's performance as Helen Lyle, the doomed Chicago grad student who finds herself the target of her research subject (Tony Todd as the title urban legend), is often credited, and quite rightly, with elevating this hook-handed slasher a full notch above the genre.
— "The Prophecy" (1995). Madsen, as a schoolteacher caught in a war between killer angels, actually keeps this supernatural fantasy-horror-thriller successfully grounded, even with Christopher Walken to contend with.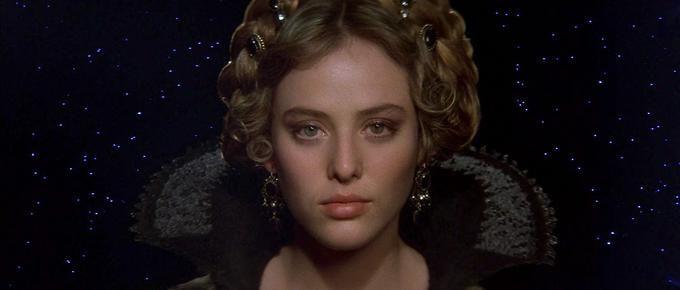 — "Dune" (1984, right). Madsen's role as the hauntingly beautiful Princess Irulan is mostly limited to that of narrator. But the fact that her face and her voice are unforgettable even in so small a role in such an expansive sci-fi epic as this speaks volumes.
— "Highlander II: The Quickening" (1991). As much as I liked the first "Highlander" with Christopher Lambert and Sean Connery, I saw no sense in a sequel, much less a half-dozen of them, especially since the original's oft-repeated Rule No. 1 was "there can be only one." And yet Madsen, as the new-millennium love of immortal Connor Macleod, making another round of stylish decapitations en route to one more quickening (and Connery's revival) seems absolutely justified. Or at least fun.
— "Sideways" (2004). This pick is my designated cheat in this list, since as I'm writing this, I haven't yet seen Madsen's critically acclaimed performance in the road-trip movie that's bringing her to Champaign next week. But I'll bet you a bottle of your favorite Pinot Noir it'll be high on my list by this time next Saturday.