Frank's Weekend Faves, Aug. 18, 2019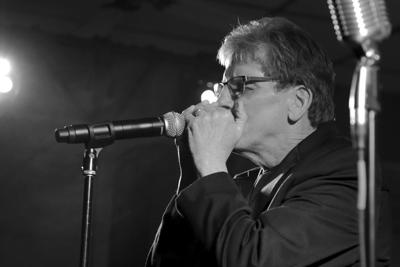 Dan Fogelberg is fondly remembered in these parts, having cut his musical teeth at the old Red Herring and other local venues while studying theater arts and painting at the University of Illinois in the early 1970s.
Nearly 12 years after his death at age 56 from prostate cancer, the soft-rock icon who gave the world such songs as "Same Old Lang Syne" and "Leader of the Band" is still being fondly recalled, thanks to the efforts of the foundation that bears his name and to local singer-songwriter-musician and tribute artist Steven Dallas Rodman.
Rodman is returning to his native Danville next weekend to produce and host the Fogelberg Foundation's annual benefit event over two days — a concert on Saturday at Turtle Run Golf And Banquet Center and an "acoustic brunch" on Aug. 25 at The Danville Boat Club.
Saturday's show will feature a mostly Champaign-based 14-piece band, led by Rodman and joined by members of the Fogelberg Foundation plus one or two of his chums who rubbed shoulders with him back in the day, as well as an acoustic set by Jay Hennessy of Nashville.
Doors open at 4 p.m., dinner begins at 4:40 p.m. and showtime is at 6 p.m. Tickets are $45 each, which covers dinner and the show, as well as a traveling display of Dan Fogelberg memorabilia, or as Rodman calls it, "different things that touched Dan's life," including a jacket the artist wore.
As for Sunday's event, which runs from 11 a.m. to 2 p.m. at the boat club, Roadman says, "The idea is to give the fans a chance to meet the band and for them to visit one another. They travel so far, I want to give them a weekend to remember. They deserve this." Tickets for that are $18.
In advance of next weekend's fundraisers, I caught up with Rodman in the middle of a "crazy busy" Thursday afternoon to ask him what the story was behind the Fogelberg Foundation and this generally annual benefit show.
Rodman recalled that the Fogelberg Foundation was started by Hugh Higgins and others in 2011 not just to celebrate the artist's music. As Rodman put it, "their whole focus, and mine, has been to continue the legacy of Dan's work."
In support of the foundation's charitable efforts, which include support for prostate cancer research and the First Gig Rock Camp, the foundation has for many years put on a benefit show once a year or so, usually on the riverfront in Peoria, where Fogelberg was from. And, of course, the featured act was often Rodman, who has developed pretty popular musical tributes, not only of Fogelberg, but of John Denver as well.
Unfortunately, with the recent death of foundation co-founder and President Deb Jelinek, the organization is in a period of transition that put this year's fundraising event on hold.
That's why Rodman says he stepped up and offered to produce and host the benefit in his hometown of Danville. He said he felt he owed it to the "incredible following from all over the country" that Fogelberg's music and the foundation's fundraisers have drawn over the years.
By the way, Rodman said Fogelberg's widow, Jean, gives his shows her blessing, and "she's always invited."
While Jean Fogelberg isn't likely to be in the Danville audience this weekend, other special guests are expected, including at least one old Fogelberg pal whom Rodman is counting on.
If you've heard the album "Dan Fogelberg Live at Carnegie Hall" (recorded in 1979 but just released in 2017), you may be familiar with the artist's cover of "Plastered in Paris," a song by his old college buddy Elliott Delman, whom Fogelberg described onstage as one of the weirdest but also most talented and smartest people he ever knew.
Rodman said Delman, who will be bringing his acoustic guitar along from Lake Bluff, will be performing during dinner Saturday, and Rodman has a least one other surprise planned as well — one I'm sworn to secrecy on — so you'll just have join the celebration to find out for yourself.
However, I can tip you off to Rodman's plans to bring many of his bandmates this weekend back together again soon, possibly by next spring, along with the Band of Legends, for another benefit — this one for the Fischer Theatre in Danville, for which Rodman has also been a tireless promoter. Plans are in the works, so stay tuned!
Raise the curtain: Danville Light Opera's 'The Wizard of Oz' at Danville High School
The performance is set for Oct. 25-27 and the organization is currently raising funds to rent the theatrical aerial system needed for the famous flying witches and monkeys of Oz.
One such effort will be through proceeds from DLO's upcoming "Treasures for Sale" rummage sale from 8 a.m. to 3 p.m. Friday and Saturday at the Village Mall's Center Stage rehearsal hall (next to Burlington).
DLO is seeking donations for the sale such as usable household and decorative items, books and clothing. All items must be in good condition, without damage, stains, tears, etc.
DLO is also accepting cash donations for the flying system through the sale of "bricks" of the Yellow Brick Road. They are $25 each or five for $100 and can be bought online at dlomusicaltheatre.com.
I can't wait: Gospel Jazz Benefit for SAFE House at Hessel Park; Ringo Starr at State Farm Center
The 22nd annual Gospel Jazz Benefit for SAFE House is scheduled for 3 to 7 p.m. Aug. 25 at the park, 1400 Grandview Drive, C. The event will feature national recording artist Tasha Page-Lockhart, winner of Season Six of BET's singing competition "Sunday Best" in 2013.
She's also a two-time Stellar Award winner, taking home the "contemporary female vocalist of the year" honors earlier this year. as well as female vocalist of the year at the Gospel Touch Awards in the U.K.
Also on the bill:
— Windsor Road Christian Church Praise Band
— Canaan Victory Chorale
— Canaan Praise Dancers
— BBL Academy
— Drum Corps
— Vineyard Praise Team
— Michael Gibony
— George Powell
— Fellowship Baptist District Choir
* * *
Tickets are still available to Tuesday night's concert at State Farm Center featuring ex-Beatle Ringo Starr and His All-Starr Band.
Prices range from $54 to $149, plus fees. Doors open at 6 p.m., and the show, featuring the Grammy-winning Rock and Roll Hall of Famer, will kick off at 7 p.m.
Starr's current All-Starr Band, his 14th, includes Steve Lukather (formerly of Toto), Colin Hay (Men at Work), Gregg Rolie (Santana and Journey), Hamish Stuart (Average White Band), Gregg Bissonette and Warren Ham (Bloodrock, Kansas and AD).
Have a question, suggestion or fave nomination for Frank? We'd love to hear from you. Please email it to fpieper@news-gazette.com.