Inside James Taylor/Jackson Browne's riders: 'Our band loves salad bars, so feel free to really go for it here! But NO ARTICHOKES!'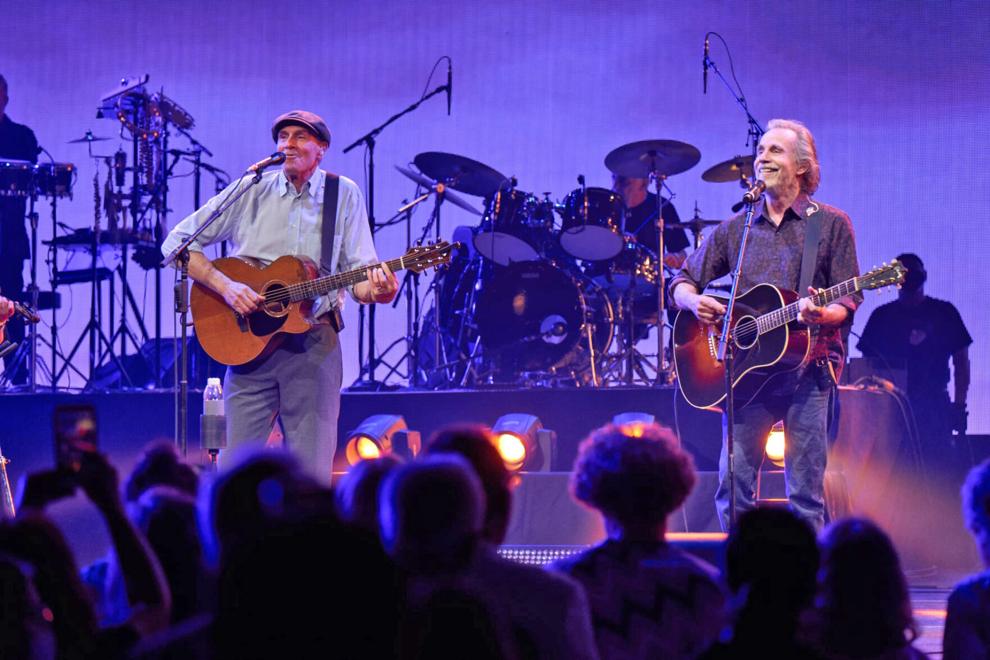 He's among 15 Rock & Roll Hall of Fame acts to have played the building formerly known as the Assembly Hall three or more times, trailing only various iterations of the Beach Boys and Doobie Brothers, Bob Dylan, Johnny Cash, Yes and Chicago.
Of course, the UI venue was all of four years old the first time JAMES TAYLOR took the stage 51 years ago Sunday, fresh off his first single reaching No. 1 — the Carole King-written "You've Got a Friend."
Countless hits and 100 million-something album sales later, Taylor, now 74, is still taking his show on the road, pairing up with fellow Hall of Famer JACKSON BROWNE, 73, on a recent mini-tour before breaking off on his own this summer.
The septuagenarian singers co-headline Part 13 of our ongoing series digging into the details of entertainers' tour riders. Having made our way through the big acts to play local venues in 2021-22, we've expanded the series beyond C-U, obtaining the Taylor/Browne riders under Idaho Public Records Act following a concert at Boise State University.
---
— More demands like this, please: "Two copies of each of the following: USA Today and a local newspaper," listed just below apple juice and fresh Danish pastries, donuts and muffins on Team Taylor's breakfast must-haves.
— Is there an ear, nose and throat doctor in the house? One need not be in the actual arena, or even on 24-hour stand-by when the tour buses roll in, but venues must provide names and numbers for both a "licensed physician in internal medicine and a licensed otolaryngologist" who can pay a visit on short notice "if needed."
— The same goes for a masseuse and a chiropractor.
— Just so everyone's clear on who's singing second, management notes that the marquee must read as follows: "TONIGHT: JAMES TAYLOR WITH SPECIAL GUEST JACKSON BROWNE."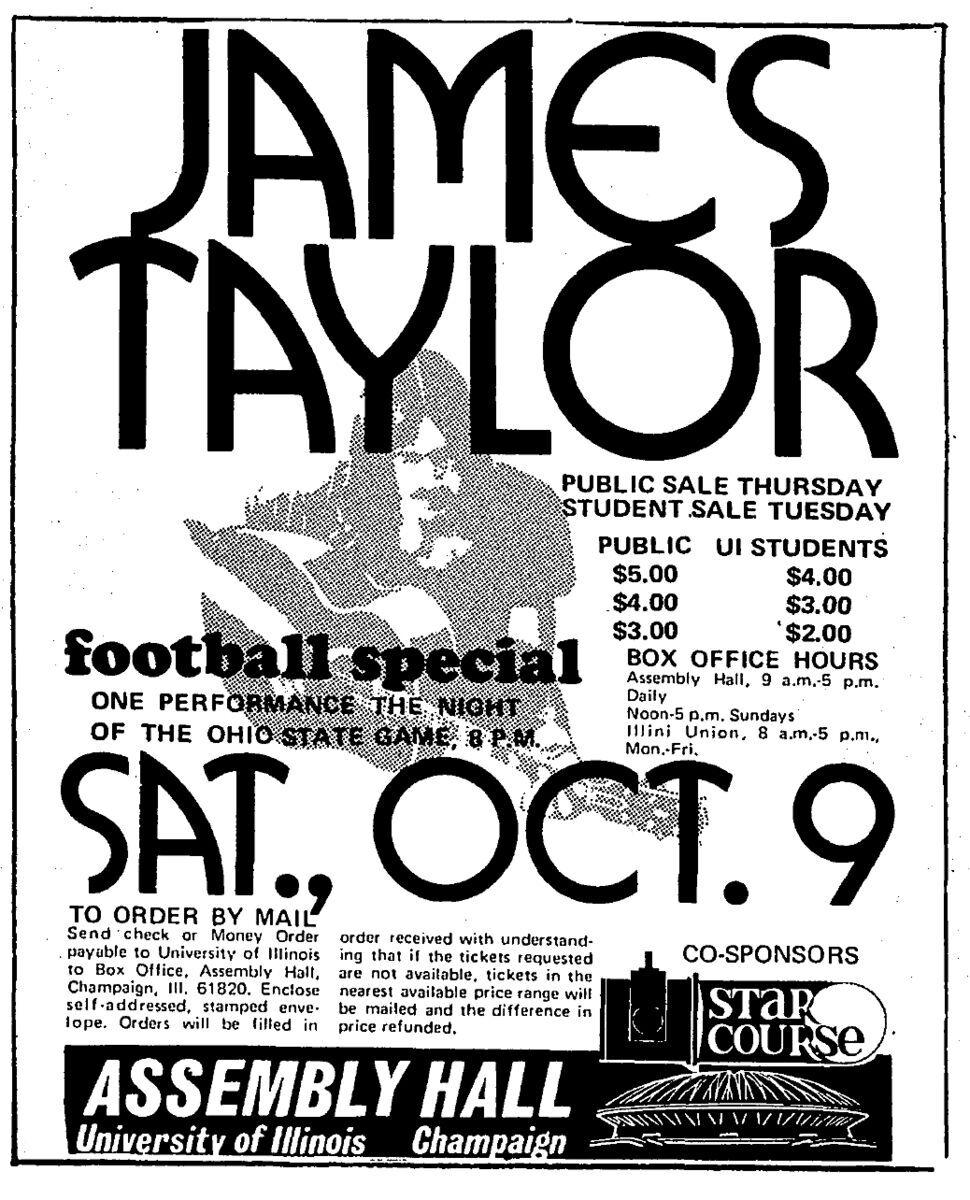 — Venues should plan on making available 14 rooms (four for Taylor and his band, three for Browne and his band, one for the crew, five offices, a COVID-19 testing room) and five sets of furniture (each with a sofa, love seat or chair, coffee table, two end tables and two lamps).
— "If possible," management adds, "please make sure one of the sofas is 90 (inches) long for James," who stands 6-foot-3, giving him five inches on Browne.
— Here's another difference between the two, straight out of the "dressing rooms" chapter of Browne's rider: "In our efforts to maintain a zero-waste tour (or as close as humanly possible), there are no food requirements in any of our dressing rooms."
— All Browne requires: six good-sized mugs for hot tea or coffee, one small box or two half-boxes of "quality tissue," one small bottle of Purell hand sanitizer (" we understand that this is in plastic," management notes), plus two bath towels and two hand towels, which must have been washed at least once and be free of lint.
— Browne's room is to have "NO AIR CONDITIONING! NO BLOWERS." It must be "neutral in temperature and still. If necessary, we will need to cover all vents that do not have individual controls to stop air movement!!"
— Taylor's dressing room demands aren't excessive, either: one box of Kleenex, two ripe bananas, three Quest protein bars ("vanilla almond preferred but any flavor is OK!"), four one-quart bottles of Smartwater ("NO EVIAN, DASANI or AQUAFINA"), coffee service for two ("Starbucks preferred") and assorted kitchen items.
— Unlike a few acts whose riders we pored over — here's looking at you, Luke Bryan — this tour doesn't go overboard on the adult beverages. Taylor's side requires three bottles of Beck's beer and one of red wine for the band and one bottle of white wine for the female singers' room. The Browne party requests its production office be stocked with two cases of beer in cans ("local or regional IPA"), 12 bottles of a pilsner/lager ("Modelo Especial/Yuengling") and "two bottles of alcohol TBD day of (show)."
— Here's a new one: Venues are to supply Browne's production office with two dozen pairs of crew socks — a dozen gray, a dozen black.
— Someone in Taylor's touring party has a "serious allergic reaction" to artichokes, which explains the multiple bold-fonted and underlined mentions of "NO ARTICHOKES!" and "NO ARTICHOKE HEARTS!!" in the hospitality section of Taylor's rider.
— "No one likes soggy fries," Taylor's management notes — you can say that again — so "please serve (them) under a heat lamp, not closed chaffer."
— More need-to-knows for anyone involved in the food prep: Taylor's tour includes 10 vegetarians; olive oil is preferable to canola/vegetable oil; don't go too heavy on the seasonings; and "any dish containing nuts, berries or strawberries, pineapple and shellfish must be labeled as such."
— Also, "our band LOVES salad bars, so feel free to really go for it here!!!"
— An important message from the Taylor tour about dinner: "Ambiance and presentation is often overlooked, but is very important to us. Please present food in an appetizing manner, use fabric covered risers, decoration, etc., for the best experience possible. Please have real plates and real cutlery available in addition to compostable/paper options."
— A nice touch from Taylor's team: "Please donate all excess food and stocks not used by the production to a nearby food bank or shelter for those in need!"
This story contains original reporting by News-Gazette staff. If you are not a subscriber, please consider becoming one, because local journalism is only possible with your support. A subscription to The News-Gazette plays a vital role in making this reporting possible. Thank you for your support and helping us continue to connect our community.