Top of the Morning, Nov. 26, 2021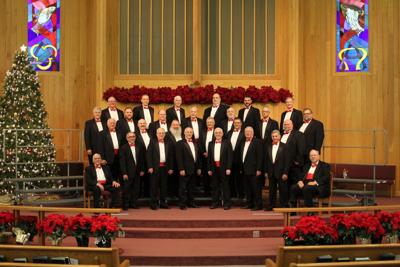 For more than five decades, the Coles County Barbershop Chorus has been entertaining folks in the area.
Now, the group needs your help.
On Dec. 5, the 30-member ensemble has a pair of benefit Christmas concerts scheduled. The first is at 3 p.m. at Wesley United Methodist Church in Charleston followed by a 7 p.m. show at First Presbyterian Church in Mattoon.
Masks are required for both the performers and the audience.
Proceeds will go to food pantries and homeless shelters in the Charleston-Mattoon area. In recent years, the group has raised more than $50,000 for area charities.
Because of COVID-19, no Christmas concert was held in 2020. And no practices were held for a year.
The Christmas concerts will offer a mix of selections.
"The first half we keep as secular music: 'Santa Claus Is Coming to Town,' 'Frosty the Snowman,' 'Winter Wonderland,'" said Tom Woodall, director emeritus. "The second half is all sacred music: 'Silent Night,' 'Mary Had a Baby,' 'Go Tell It on the Mountain.' Those are more spiritual songs."
Woodall expects large crowds.
"People know about it and look forward to it," he said.
Members of the Coles County Barbershop Chorus represent 16 communities in the area. Woodall, a retired Eastern Illinois University professor, is the oldest at age 86. The youngest member is 20.
Woodall said the group is excited to resume its Christmas concerts.
"We work hard. We practice hard. We want to do it well," Woodall said.
The chorus finished second in the state in the most recent competition.
"The idea of getting to perform what we worked hard at is satisfying," Woodall said. "The guys enjoy these songs and know them well."