The Screening Room | Sweet 'Falcon' a timely tale of compassion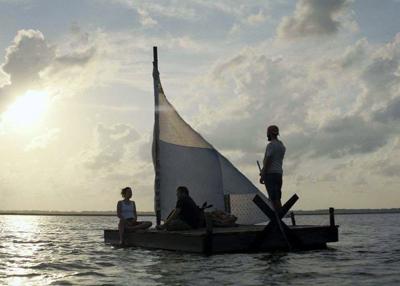 Films such as "The Peanut Butter Falcon" are tricky when it comes to setting the proper tone and treating its subject and story with respect. They run the risk of being too cute and using their characters as punchlines or becoming so melodramatic that their situations and those involved come off as deified.
Tyler Nilson and Michael Schwartz, who wrote and directed this feature, manage to avoid most of those pitfalls, delivering a film that, while at times ridiculous, proves to be a vital and necessary work.
Tyler and Zak (Shia LaBeouf and Zack Gottsagen, respectively) are two young men with more than their share of problems. The former has hit hard times since his brother and business partner (Jon Bernthal) was tragically killed. Working as a fisherman on the North Carolina coast, he's let his license lapse and is now forced to steal from his rivals' traps, living hand to mouth. The latter has been abandoned by his family and is living in a retirement home, his Down syndrome making him an outsider among the elderly residents.
However, Zak has a plan, as he wants to head south to meet his hero, The Saltwater Redneck (Thomas Hayden Church), an amateur wrestler who has a training camp he longs to attend. One night, he makes his escape, which prompts his social worker, Eleanor (Dakota Johnson), to set out and find him.
Of course, Tyler and Zak's paths cross, and however improbable, they set out on an adventure in which each is seeking a new beginning. The comparisons to Huckleberry Finn's famous journey with Jim, as this pair steal through riverside communities and eventually fashion a boat of their own, are plain, as is the relationship and themes of Steinbeck's "Of Mice and Men." Nilson and Schwartz wisely allow the bond between their two main characters to develop gradually, which has an organic feel to it thanks to the fine work of LaBeouf and Gottsagen.
Redemption and renewal are the overarching themes. Tyler has been shattered due to a recent tragedy and is without purpose, one meaningless day melting into the next. He comes to care for Zak in a genuine way, his new friend's dream becoming his own. As for Zak, his is a quest for identity. Told again and again he is dumb and of no use, his desire to become a wrestler is a search for purpose, and his confidence grows along the way. It's a simple story but done with a sense of sincerity that proves touching.
Johnson's character is woefully underwritten during the first half of the movie, and it's a testament to the actress's ability that she has any depth. And as improbable as a relationship between Tyler and Eleanor may seem, LaBeouf and Johnson handle their scenes together deftly, never rushing, listening and taking in the other so that what develops between them seems natural.
To be sure, the film requires a leap of faith where its logic is concerned and there are more than a few improbable moments that threaten to break its spell. No matter. "The Peanut Butter Falcon" is the sort of movie we need right now. It reminds us that simple acts of kindness are what prevents the world from totally spinning into chaos. If we are to survive the ever-increasing madness of our world and those who run it, it's crucial that we look out for one another. This work reminds us that this is a simple course of action and that its dividends benefit us all.
Also new in theaters
"Luce" a provocative look at our perception of race (★★★½ out of four). There's quite a lot to unpack in Julius Onah's film, an adaptation of the play by J.C. Lee.
Issues of race and the societal perceptions and confused expectations that come with it are at the forefront in this challenging film that, if anything, is guilty of biting off a bit more than it can chew. But few movies are as ambitious in terms of the themes it tackles and the honest dialogue that results in discussing the various perspectives it contains.
Luce (Kelvin Harrison Jr.) is a high school senior who was adopted at a young age from a war-torn African country. His parents, Peter and Amy Edgar (Tim Roth and Naomi Watts), have seemingly done all the right things in raising him, treating him with respect, talking to him openly about his past and encouraging him to set high goals and work hard towards achieving them. On the surface, Luce is the model student, an example for his peers to look up to and emulate.
However, there may be something more lurking beneath. The young man's language arts teacher, Ms. Wilson (Octavia Spencer), raises a red flag when she contacts Luce's parents about an essay he wrote about a revolutionary who supported the use of violence to achieve his ends. Are these Luce's beliefs? Is there a veiled threat in his paper? The fact that he's less than forthcoming about the assignment when his parents wish to discuss it is enough to plant a seed of doubt in their minds that there just might be things about their son they don't know.
This act sets off a chain reaction of events that touch many people in the film's world and bring out conflicting yet justified views of Luce and how he, and his peers, parents and teachers see him and the world. A fellow student is resentful that, despite sharing Luce's skin color, the expectations for him are different based on their family background and past actions. Is it justifiable to write one of these kids off yet go out of the way to protect the other? And what of Luce? At one point, he says that he "can only be a sinner of a saint," that he has to embody one of the stereotypes thrust upon him and that there is no in-between.
As for his parents, their response to all that's revealed about their son and his friends couldn't be more different. Is this based on how much each of them love him individually? Is Amy delusional in the lengths she goes to defend her son? Is Peter too quick to judge him, bringing up old grievances to justify his beliefs? And just what is Ms. Wilson's true intent in putting Luce on the spot?
Lee's narrative is a bit convoluted at times and could have perhaps benefitted from excising one subplot as the film is always on the verge of becoming a bit too preachy. Fortunately, the solid veteran cast is skilled enough to make their dialogue sound sincere and not like rehearsed platitudes. This is vital in making this exercise seem fresh as Onah employs a steady hand to insure the film does not come off as nothing more than a contrived statement.
No, there's much more at play here, as "Luce" is a movie that's wise enough not to offer any pat answers to the complex issues at its core. Its purpose is to prompt thought and discussion, to open the viewers' eyes to their own misconceptions and others' concerns. It's a challenging, provocative work that, here's hoping, will been seen enough to realize its potential.