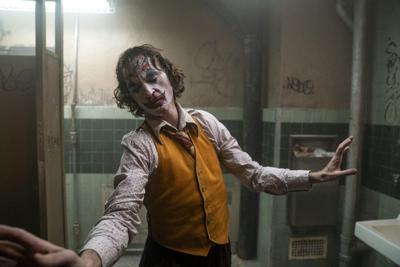 Todd Phillips' "Joker" arrives in theaters having already created a wave of protests and social-media outrage that the titular character would be proud of.
Some critics who have seen it are concerned that it may incite violence, fearing that some may embrace the chaos the Crown Prince of Crime creates on screen and try to emulate it. In this day and age, I wouldn't dismiss the notion. Things that I thought would never happen occur with a regularity that's made them commonplace. That we hardly raise an eyebrow when a mass shooting or some other senseless act of violence takes place is more disturbing than the acts themselves.
Be that as it may, I hope that this film's true message isn't lost amid the turmoil the reactionary media will surely raise in its wake. Far from a call for violence, the film is a desperate, plaintive cry for help, an indictment of a society that ignores the mentally ill within it and calls for more treatment for the afflicted when a tragedy occurs only to forget about them once the next news cycle begins.
In mid-1970's Gotham City, Arthur Fleck (Joaquin Phoenix) is a man who's been brushed aside by society. Working as a clown for hire and caring for his invalid mother (Frances Conroy) in the rundown apartment they share, he has a goal of becoming a stand-up comedian. Taking numerous medications and with a history of mental illness, Fleck is at sea in an ever-rising ocean of madness, his delusions of success and acceptance the only things that get him through the day.
The therapy he gets through a social agency is ineffective, and when budget cuts eliminate it and his access to medicine, it's only a matter of time before he's pushed over the edge, reacting in a violent, impulsive manner that seals his fate and inexplicably starts a movement that other alienated souls embrace.
The script by Scott Silver and Phillips is ambitious but bloated. A few inspired twists reel the viewer back into a story that may test their patience, as the writers aren't satisfied to make a point once when three times will do. Repetition regarding Fleck's behavior and its causes threaten to dull the tragedy surrounding him, resulting in an erratically paced and at-times-frustrating film.
Also, the director's use of Hildur Guonadottir's thunderous score to underscore the obvious betokens no great faith in the audience's ability to keep up. However, kudos must be given to the way in which the Batman mythos is woven into this story; it is truly inspired and will please longtime fans.
In the end, the success of the film lies on Phoenix's shoulders, and he's as committed as an actor can be to not simply bringing this iconic character to life but also grounding him in reality. He realizes Fleck's slide into madness as a battle against his worst demons, eliciting our sympathy one minute only to be absolutely terrifying the next. This culminates brilliantly during the movie's climax, a sure-to-be-much-talked-about sequence that finds the actor alternating between rage, humor and madness at the drop of a hat. He's a wonder to behold.
And here's hoping Phoenix's work is not in vain. "Joker" will surely be a runaway hit and may round up a slew of year-end awards. But its purpose will only be fully realized if it serves as a platform for discussion of greater mental-health services.
Also new in theaters
'The Sound of My Voice' a testament to Linda Ronstadt's legacy (★★★½ out of four). Despite her natural beauty, powerful voice and fierce independence, there was always something unassuming about Linda Ronstadt.
This is never more evident than in Rob Epstein and Jeffrey Friedman's fine new documentary, which offers up a complete overview of the singer's career as well as new interviews from her contemporaries espousing her virtues.
This is welcome, as one of Ronstadt's most endearing qualities is her modesty. It's on full display here, the filmmakers having been granted access to the reclusive performer, a woman living quietly as Parkinson's Disease slowly ravages her body, having already robbed her, and us, of her powerful instrument.
We learn that Ronstadt came from a successful Mexican family living in Arizona and was surrounded by music from an early age as she recounts her father's affinity for traditional cultural songs, which were always performed by relatives at family gatherings.
Everyone seems to have played an instrument, and it became evident early on that Ronstadt's voice was unique, her talent ultimately taking her to California with two friends — Bobby Kimmel and Kenny Edwards — who formed the folk group The Stone Poneys.
The trio didn't last long, as Ronstadt's talent was far greater than her partners', each of whom stepped aside so that she might pursue a solo career.
It didn't take long for Ronstadt's voice to cut through the clutter of the California clubs and airwaves. Opening for The Doors and Neil Young, she soon proved her ample talent was big enough to fill huge arenas. Drawing from her own heritage, country music and folk and early rock, she carved a path of her own to be a dominant force in the music industry throughout the 1970s and '80s.
She didn't have to depend on pyrotechnics or sets that would dwarf her on the stages where she performed — her talent was more than enough to pack arenas, sell millions of albums and earn her the clout to record not only pop music but American standards, country chart-toppers and Mexican folk music.
There's been no one like Ronstadt before or since, and if "Sound of My Voice" does anything, it takes a big step toward reminding those who grew up listening to her music of her trailblazing nature and place within the world of pop music. Hopefully, it will be a step toward introducing new listeners to her work, as tragically, there will be no more forthcoming.
For most of the running time, archival footage and interviews with her peers, such as J.D. Souther, Emmylou Harris and Kevin Kline, make up the bulk of the film. We see glimpses of Ronstadt herself throughout, and only at the end do we see her, at a public appearance and in her home.
She patiently answers the filmmakers' questions and finally performs a song in her living room with two friends, her voice that was once able to rattle the rafters of any auditorium now just a barely audible tremble. Her singing rises to barely above a whisper, but the strength of her character shines through, something no disease can take from her.