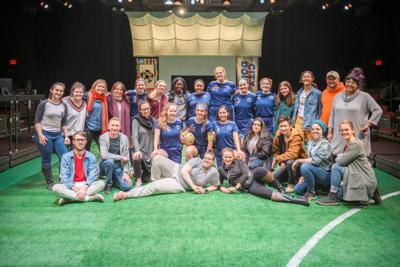 Tuesday's dress rehearsal for the Illinois Theatre production of "The Wolves" included soccer players from two teams.
Joining the cast members of the play — about a high school soccer team — were real high school soccer players from the neighborhood. Teenage consultants from Urbana High were happy to make the short trip to Krannert Center for the Performing Arts in what turned out to be "a pretty fun intersection of the arts and sports locally," Krannert's Bridget Lee-Calfas said.
Approached in the fall about helping out, Urbana High coach David Dunlap was quick to accept, even though "I didn't know what to expect," he said. "I don't know anything about theater. I was like 'Why us?'"
The high-schoolers, it turned out, were a big help, offering tips on everything from pregame stretching to substitution patterns.
"We had a special experience sharing stories and learning about each other's work," "Wolves" director Nisi Sturgis said. "Soccer onstage, so cool!"
To repay the Tigers (above) who lent their expertise — Myra Stevens, Macy Wirtz, Yetzi Badillo-Acosta, Venessa and Ramon Caldera, among others — the Wolves indicated they'd attend a high school match this spring to cheer on their advisers.
Who'd win if the Tigers and Wolves took to the pitch?
"It's clear that they put a lot of time and work into their soccer skills," Dunlap said of the college kids. "That said, we'd still win. Experience goes to us in a real game."