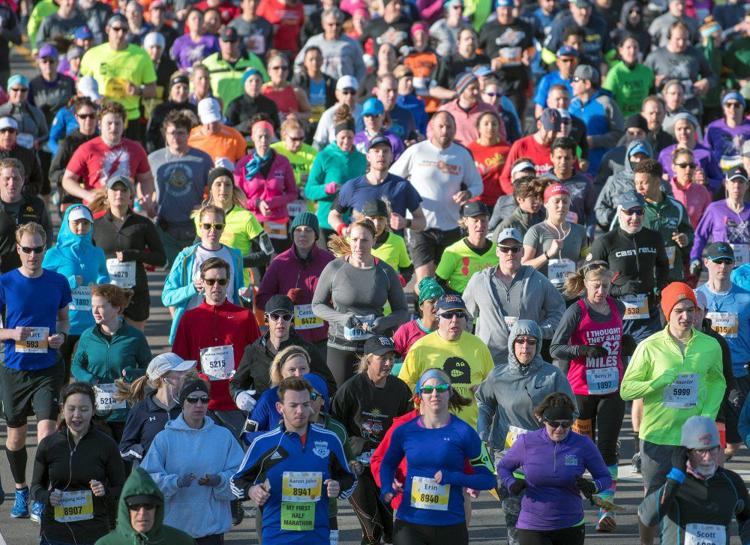 Area runners have a nearly 40-year-old running club, a marathon that brings thousands of participants to the community, and local government officials and businesses that support running and racing. Those factors helped Champaign-Urbana to be named as a runner-friendly community by the Road Runners Club of America.
RRCA makes the designation to about half a dozen communities per year. Its Runner Friendly Community designation recognizes communities that meet its criteria in terms of infrastructure, community support and government support. The application for C-U was submitted by Second Wind Running Club.
Community support includes collaboration between public and private organizations and support by specialty running stores and other businesses. The application highlighted two programs of Second Wind Running Club — a new family-oriented run that is a partnership with Lodgic in Champaign and includes a special child care rate, and a weekly run from Riggs Beer Company in Urbana.
"I thought that was really interesting, and it gets at the heart of the program: working in public and private spaces," said Andy Smith, RRCA's program manager. "With Lodgic hosting runs for families, contrasted with the program at Riggs Beer Company bringing running into a non-traditional space and attracting people who don't want to run on their own with the social aspect — that dichotomy is a perfect example of touching all aspects of running in a community and what goes into making a community runner-friendly."
Smith said the presence of a local running store is a big plus as well. Body n' Sole Sports in Savoy provides a gathering spot for the start and finish of Second Wind's marathon and half-marathon training program aimed at preparing runners for the Christie Clinic Illinois Marathon events.
"Having an active running store that's more than just a place to buy shoes speaks to making a community runner-friendly, and it indicates an interest within the community that such a place can thrive. Having that resource is very important," he said.
Jan Seeley, the co-director of the Christie Clinic Illinois Marathon, wrote a letter in support of the application for the runner-friendly designation. She noted the nearly four decades that Second Wind has been supporting running, the Illinois Marathon that has made C-U a running destination for race weekend and the strong partnership between the two.
Seeley said the number of runners in C-U has increased dramatically since the marathon began, meaning a more active and healthier community. The leaders of both cities and the University of Illinois have been supportive of the marathon, and more than 75 local businesses are sponsors, she said.
"The entire community becomes a big welcome wagon. I think nothing shines a brighter light on the community than Christie Clinic Illinois Marathon weekend, and it shows how hospitable everyone is to our out-of-town guests," Seeley said.
Local governments have a good relationship with the marathon, said Scott Friedlein, who has been the emergency services coordinator for the event after retiring from a career with the Champaign Police Department. City officials, police and fire, and public works collaborate with race officials to make the event a success, he said.
"There's a great deal of pride in how well our communities work together," Friedlein said. "The event is trying to showcase the community and benefit the community. That combination made it easy for policymakers to say, 'This is something we're embracing.' We've never had them say no to our requests. From a law enforcement perspective, it's 'Let's see how we can make this work.'"
For example, the 5K race during marathon weekend shuts down a section of campus to traffic, creating a challenge to respond to an emergency within the race route. The fire departments put an engine within that area to make sure they can respond quickly to an emergency, he said.
Infrastructure, such as networks of pedestrian paths and running tracks, is one of the most important criteria, Smith said. The application for C-U noted the sidewalks and pathways available for running, as well as both indoor and outdoor tracks, he said.
RRCA's Runner Friendly Community designation is valid for five years and can be renewed at the end of that time. Smith said the designation is used by communities for public relations or marking, or to lobby for pedestrian-friendly infrastructure improvements, to bring a race or an event to town or to otherwise encourage investment in this component of the community.
Jodi Heckel, a writer for the University of Illinois News Bureau, is a runner and triathlete. You can email her at prairieathlete@gmail.com or follow her at twitter.com/jodiheckel. Her blog is at news-gazette.com/blogs/starting-line.