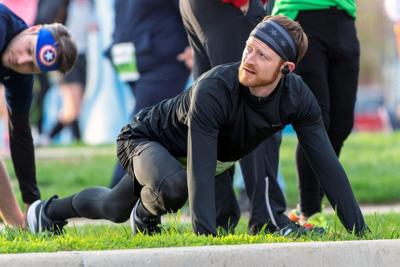 Year's end is when we think about setting goals for the new year, and for runners that might be completing a race at a new distance, setting a PR or running somewhere different, such as on trails or at a destination race.
You may be fired up about your goal on Jan. 1, but what about on Jan. 21? It may be harder to get out the door to run or go to the gym in the third week of February or the middle of March.
But there are things you can do to set good goals and stay on track to accomplish them.
The first step is setting a goal that is specific and achievable.
A guide to effective goal-setting from Runner's World suggests athletes write down their goals. Being specific about a goal allows them to structure their training in order to achieve it. In addition, it helps them think about why the goal is important to them. Understanding why a goal is meaningful can help get you through tough days of training when you'd rather sleep in or stay on the couch and watch TV.
A goal should be both achievable and challenging. If you choose something that is too hard, you risk becoming frustrated and setting yourself up for failure. If your goal is too easy, you'll get bored.
Consider not only the training it will take to get to your goal, but the other things going on in your life. Can you fit in the necessary training around family and work obligations without becoming too stressed? Don't forget to plan for adequate sleep and healthful meals that will support your training.
The SMART acronym is used to set realistic, achievable goals. It stands for Specific — being clear and detailed about what you want to accomplish; Measurable — the ability to track your progress, such as whether you are able to complete your workouts; Achievable — whether you will be able to increase your distance or speed to meet a running goal without getting injured, for example; Realistic — a coach or more experienced runner can help you determine if you have the physical ability or experience to tackle your goal at this time, and you must decide if you can fit the training it will take into your schedule; and Time-sensitive — what you will do each week between now and your goal race to prepare for it.
Once you've set your goals, you can approach your training in ways that will maximize the chance of being successful in reaching those goals. The American Psychological Association provides tips to making a resolution successful, including these:
— Start small. Focus on what you need to accomplish today or this week, so you don't become overwhelmed by the long path it will take to complete a marathon, for example, or run a sub-2:00 half marathon.
— Talk about it. Tell family or friends about your goal to provide some accountability. Find a running partner or training group that will help keep you on track with your weekly workouts. If your goal is training for the Christie Clinic Illinois Marathon or Half Marathon, consider joining Second Wind Running Club's training program. The 16-week training provides mentor-pacers for weekly Saturday runs and a detailed training plan. The program kicks off Jan. 2.
— Don't beat yourself up. If you have to skip a workout — or a few workouts — because of other obligations, illness or injury, don't try to cram all the missed workouts into your schedule. Just pick back up when and where you can. Likewise, don't get discouraged by a few bad workouts. Consistency is more important than hitting a certain pace with each run.
Here are a few more tips for keeping you motivated:
— Keeping track of your progress in a training log will let you see how what you are accomplishing and how far you have come since you started. It can also help you analyze your training and determine if you need an additional rest day or need to move your workouts to a different time of day to better fit them into your daily schedule and make it more likely you'll do them.
— Enter your race. Once you've paid the entry fee, it's harder to skip the training. A destination race can be a greater motivator, if you are taking the time and money to travel someplace fun. Consider a race at a national park. Find out more at vacationraces.com.
— Run for charity. If you are asking others to donate to a meaningful cause, you'll want to be able to tell them you've completed your goal race.
Jodi Heckel, a writer for the University of Illinois News Bureau, is a runner and triathlete. Her email is jheckel@news-gazette.com, and you can follow her on twitter (@jodiheckel).