Jodi Heckel: The Starting Line
The Starting Line | Biking webinar coming up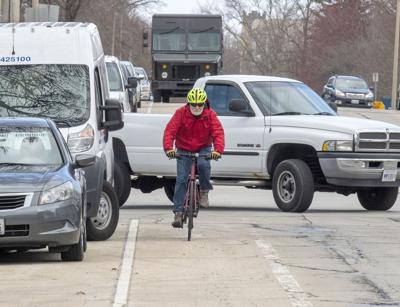 Biking has boomed during the pandemic. Many people staying home got their old bicycles out of the garage or bought a pandemic bicycle and took advantage of fewer cars on the streets.
Champaign County Bikes chairman Charlie Smyth would like to help new cyclists or those who have recently returned to cycling stick with it. He will host "Get Out and Bike," a Zoom webinar at 7 p.m. Wednesday on bicycling basics and safety for people who want to feel more comfortable riding in the community.
"The key thing is that we want to keep people biking and walking as the roads get a little busier. We'll introduce material that lets people ride a lot more confidently in traffic," Smyth said. "If you ride with visibility, signalling, following the rules of the road, you can be safe out there."
The webinar is sponsored by Champaign County Bikes and Ride Illinois. It is free and open to the public, but registration is required. Sign up to attend at champaigncountybikes.org.
The webinar will cover both making sure a bicycle is in working order before a ride and riding safely. Smyth will explain the ABC quick check — checking tire air, brakes, chain and quick releases to make sure a bicycle is in good mechanical condition.
He'll also cover tire and tube issues, basic maintenance, how to properly fit a bicycle helmet, and lights and mirrors.
Smyth recommends the Ride Illinois bicycle safety quiz, which can be found online at bikesafetyquiz.com. It has components for adult and children cyclists, motorists and truck drivers to test their knowledge of Illinois bicycle law. Smyth will talk about the relevant laws and safe riding techniques.
For example, he'll show a video that demonstrates the blind spots for trucks and buses, and he'll talk about the requirement that cars give bicycles a minimum of 3 feet of clearance when passing. He'll go over the best positioning for bicycles to be visible to cars and to avoid some of the most common scenarios in which bicycles are hit by cars — for example, when a driver makes a right turn directly into the path of a bicycle or an oncoming car turns left in front of a bicycle.
Smyth also will talk about local bike infrastructure, including how to use bike boxes to cross busy intersections, such as those at Green Street and Goodwin Avenue on campus, and the best places to ride in the area.
Smyth said Champaign County Bikes will hold a second webinar, not yet scheduled, that will cover more specific types of riding, including bike commuting, road riding outside of town and mountain biking and the types of bicycles and gear needed for each. It will include how-tos for maintenance issues such as repairing a flat and fixing a broken chain.
Smyth hopes to add a third webinar focusing on riding for children.
Cyclists who attend the webinar will have a chance to test their skills at several events planned for Virtual Bike Month in May. Bike to School Day is May 5. Bicycling 123 for Adults on May 8 is an in-person class to practice safe riding techniques for riding with traffic. Group rides between several Urbana parks are planned for May 9 and May 22. More information about these events can be found on the Champaign County Bikes website at champaigncountybikes.org.