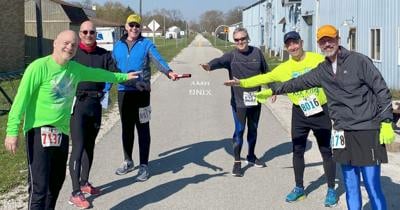 In normal times, I would have spent this past weekend in southern Illinois with seven other runners, taking turns running three relay legs each to cover 80 miles across the bottom of the state.
My team has run the River to River Relay for 20 years. But like all other athletic events this spring, the race was canceled.
Even though the relay takes place on low-traffic country roads and has six different start times to spread runners throughout the 80-mile course, it is the opposite of a social distancing event. Team members spend all day riding together in a van when they aren't running. There are hundreds of volunteers and 2,000 runners who cluster together at each exchange point, cheering for their teammates finishing the current leg of the relay and the next ones heading out.
There was no safe option to hold the event. But many of the runners who missed participating in this year's relay ran versions of the race on their own this past Saturday and shared their experiences. Race director Brad Dillard encouraged runners to pick a leg of the relay, run that distance on their own and post about their runs on the River to River Facebook page.
Dillard even did a virtual starting line. He set up the race clock outside his home and live-streamed the countdown to the 6:15 a.m. race start Saturday on Facebook.
My teammate Don Dodson ran two hilly loops around his hometown of Terre Haute, Ind., for a total of 10.6 miles, about the mileage he would have run at the relay. He picked the routes for terrain that was similar to the relay — one loop with several hills, culminating in a long, steep uphill, and the other a rural route with curving roads and rolling hills.
Pat and Julie Mills of Champaign are longtime River to River runners. They each ran three times Saturday with breaks between the runs to simulate the relay. Pat Mills tried to make each run more challenging to make up for the fact that he was running on the flat streets of Champaign-Urbana rather than the hills of southern Illinois.
"I drank a beer before each one to (make up for) not racing it and not having the hills, and also to simulate the experience of not wanting to get out of the car and run another leg," he said.
At the relay, he saves the beer to celebrate after he's finished his last run.
Julie Mills ran three times on Saturday, with four hours between the start of each run, as she would at the relay, and she ran up parking decks to simulate the hills. Her runs were longer than the usual relay distances. She completed more than 15 miles on Saturday.
Their teammate Sue Anderson of Champaign had been particularly looking forward to completing her 16th relay and her second cycle of running each section this year. She ran on Saturday wearing a River to River bib from a previous relay — the bib for runner one, which is what she would have run at the relay this year.
"It's been a long time since I put a bib on. It felt good, and kind of fun," Anderson said.
The other members of their team also ran on Saturday: the Mills' daughter, Rory, in Florida; Anderson's daughter, Jacqueline Thomas, in Kentucky; and three teammates in the Chicago area. They met on Zoom that evening to celebrate their virtual relay.
My team also got together virtually through Zoom and relived last year's fun.
Barry Dickerson of Champaign did a mini relay on Saturday with several past and present members of his team, the Wandering Elderbarrys. Six of them ran from Urbana to St. Joseph on the Kickapoo Rail Trail, wearing River to River bibs from past years and exchanging a baton each mile.
Dickerson said he and his running partners were careful to stay six feet apart while they were running, and they wore masks while shuttling runners to and from the start and finish of the run. They celebrated with coffee and donuts in St. Joseph after their run and later swapped photos with team members in other states.
"There are old friends coming in from different places, and we have an absolute blast," Dickerson said of the relay. "You've got all these stories and they all come out when you're running. I don't know at the end of the day whether I'm more sore from running or laughing. There's nothing like the bonding you get through running."
Jodi Heckel, a writer for the University of Illinois News Bureau, is a runner and triathlete. You can email her at prairieathlete@gmail.com or follow her on Twitter (@jodiheckel).