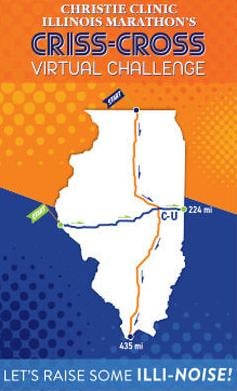 A new virtual race challenge organized by the Christie Clinic Illinois Marathon will provide motivation for runners and walkers to stay active through the winter and spring and help them learn more about the state of Illinois.
The Criss-Cross Virtual Challenge is a 25-week virtual challenge for participants to cover the distance across the state.
Runners and walkers can choose to cross the state from north to south for a distance of 435 miles, from west to east for 224 miles, or to cross it both ways — "The Double" — for 659 miles. Each route runs through Champaign-Urbana.
The challenge began Nov. 5 and runs through May 1. Participants can cover the mileage as individuals or as part of teams of up to 10 people.
Illinois Marathon Co-Director Jan Seeley wanted to offer a virtual event that was more than a one-and-done race. She said challenges covering more miles over a longer period of time are proving to be a popular option with runners who have been doing virtual races for months now.
Seeley began thinking about the challenge as she and Co-Director Mike Lindemann were getting to the point where they anticipated making a decision to pause registration for the 2021 Illinois Marathon races.
"We wanted to stay engaged with our participants, and we wanted to provide something fun and something unique," Seeley said. "Knowing we had this cool virtual results platform at our disposal, we had to come up with something that would be a challenge."
The marathon's registration company, Race Roster, built an interactive tool to support mapping for the challenge. Once a person registers, they can see their progress across the state map as they upload their miles.
The challenge includes an educational piece, in addition to fitness.
Runners and walkers will pass through 73 towns along the north-south route and 35 towns along the west-east route. A virtual guidebook will offer a profile of each. Participants will get the guidebook as a .pdf link, where they can read about the towns.
The marathon also partnered with Human Kinetics to offer webinars twice per month that will feature interviews with interesting people from around the state, including an Illinois historian.
The marathon has a database of entrants for its 12 years of races, and 85 to 90 percent of them live in Illinois.
"Even though we get almost every state represented, they are very Illinois-centric entrants. What a perfect time to learn about our state," said Seeley, who was intrigued by the tiny town of Bonnie, near Mt. Vernon, which lies along the north-south route. "I know nothing about Bonnie, Illinois, and I can't wait to learn about it."
Participants will get a winter cap, a face mask, a T-shirt and a challenge coin instead of a medal, with 3-D images of the University of Illinois Alma Mater, the Champaign County Courthouse, the fountain at West Side Park and the state bird and butterfly.
"The challenge provides a purpose for running and walking, and it allows friends and family to do something together," Seeley said.
For more information or to register for the Criss-Cross Virtual Challenge, go to illinoismarathon.com/races/criss-cross-virtual-challenge/.