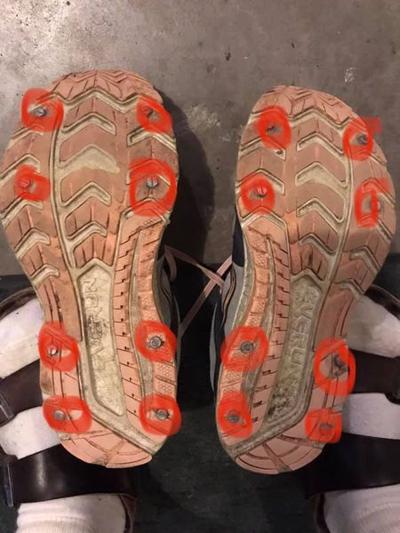 Exercising outdoors has been important for people to safely remain active during the coronavirus pandemic.
Winter weather makes it more challenging though, and we're likely not done with ice and snow this season.
Runners and walkers who don't have access to a treadmill or a gym membership or who are wary of returning to exercising indoors need to know how to keep their footing outdoors.
There are several options:
Screw shoes
The cheapest alternative is to put sheet-metal screws in the bottom of an old pair of shoes.
Place 3/8-inch screws around the perimeter. If you'd rather not do this yourself, Body N' Sole Sports in Savoy will put screws in your running or walking shoes for $5.
Brenda Mehnert of Champaign has an older pair of running shoes with screws, and she said they work well for icy conditions. She wore them a couple of weeks ago on a cold morning when the pavement was wet and looked slick.
"That was perfect. I felt like there was traction," she said.
Joe Bails of Body N' Sole and a local running coach said the screws should go around the edge of the shoes, but not under the ball of the foot. He'll add a couple of screws in the heel if the runner lands more heavily on that part of the shoe.
Bails uses more screws for someone running on a lot of ice or snow or on softer surfaces and fewer screws for someone running on pavement.
Spikes
I use Due North spikes on ice and packed snow in the winter. They consist of rubber webbing that fits over your shoes and tungsten carbide spikes on the bottom for traction.
The spikes are durable and can be replaced when they do get worn down. Body N' Sole carries Due North spikes.
"I feel like they are not ideal to run in if there is not going to be a lot of snow and ice. You don't need this," Bails said. "But if there are parts of (dry) pavement you have to run on, they are not as aggressive as screws. You can feel the screws a little more if you have to run on pavement."
Katoolah also makes spikes that are attached to steel chains that go around the shoe. They are more aggressive than the Due North spikes and are advertised for use hiking or backpacking on rugged mountain trails.
Yaktrax
Yaktrax also fit over your shoes with a series of steel coils on the bottom.
"Some people really like those," Bails said. "They are great for walking but not as durable for running. They are better on snow where they can grip, like chains on car tires."
Bails doesn't think Yaktrax grip as well on ice, and Mehnert agreed. She once wore her pair of Yaktrax hiking on a rocky trail with snow and ice, and they did not hold up.
But she wore them on a snowy training run a couple of years ago, and "they are great on snow."
"That fear of falling is reduced if you have some traction," Mehnert said.