The Starting Line | What makes the Chicago Marathon so special?
The marathoning world has had an especially exciting fall season.
The weekend of Oct. 12-13 saw the fastest-ever marathon times for men and women.
Kenyan Eliud Kipchoge is the first person to break the two-hour barrier in the marathon, running 1:59:40 with a group of pacers on a specially designed course on Oct. 12 in Vienna, Austria.
The circumstances of his run preclude the milestone from being recognized as a world record, however.
Kipchoge holds the official marathon world record of 2:01:39, set in Berlin in 2018.
The Chicago Marathon on Oct. 13 had ideal weather conditions, and Kenyan Brigid Kosgei set a new women's world record, running it in 2:14:04.
The Chicago Marathon served as the Paralympic Marathon Trials, and three University of Illinois runners, Daniel Romanchuk, Tatyana McFadden and Susannah Scaroni, qualified for the 2020 Paralympics in Tokyo.
While the elite runners were setting records, several local runners enjoyed good races at Chicago as well. I asked a few of them what makes the Chicago Marathon special.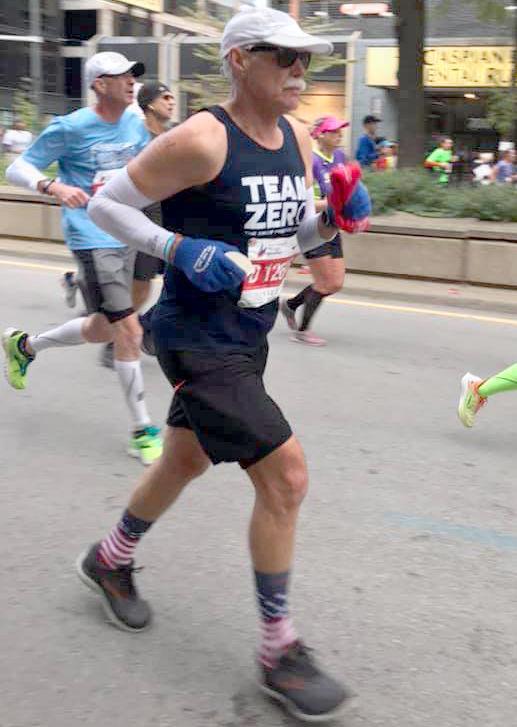 Carl Larsen Jr., Loda, 3:47:18
The 2019 marathon was Larsen's 13th marathon and his seventh at Chicago. He ran a Boston Marathon-qualifying time (he also qualified for Boston in four previous Chicago Marathons), and he raised $1,138 for Team ZERO, an organization that provides money for prostate cancer research and patient resources.
Larsen is a prostate cancer survivor, and his father and grandfather also had the disease.
"In my mind, there is no better start in road racing. I like to start in the very back of D Corral where I usually get a photo of the sign with the folks I am running with that day. It's a really exciting time listening to the start announcer announce the favorite elite runners and wheelchair pros. The music selection is always incredible. Then we are off. The first few miles are downhill and you have to be careful of the "vortex," which I call it. If you get sucked into running too fast in miles 3-5, you will pay for it in miles 23, 24 and 25.
"During my first marathon, my sense of smell was on full throttle. In the neighborhoods you run through, the spectators are grilling and cooking some of the finest ethnic foods on their front porches. The crowds are so supportive. Boystown is a hoot. It's a great way to see a big city safely, and you will never find it boring."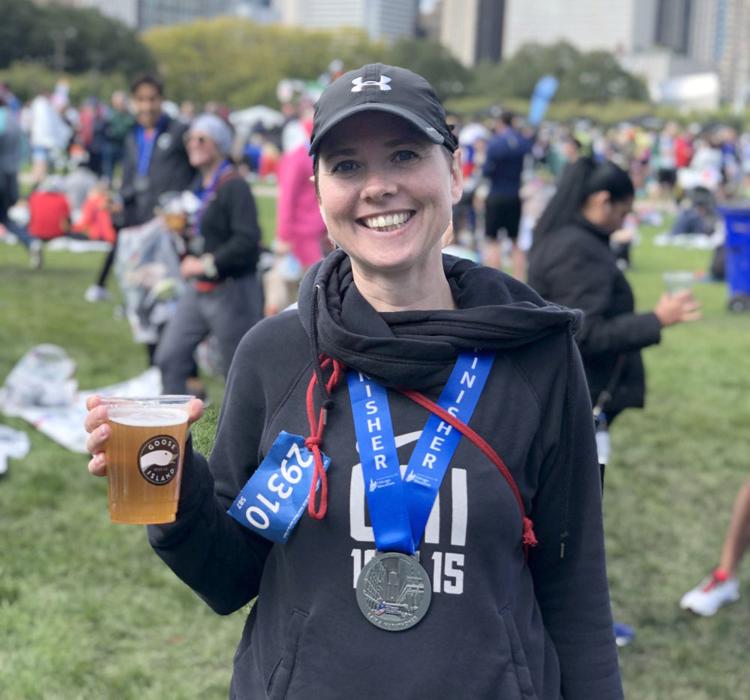 Eila Stiegler, Champaign, 3:52:44
Stiegler ran her fifth consecutive Chicago Marathon, and she got her third consecutive personal record at the race.
"This race could not have gone any better for me. And there is much to love about the race. The scenery cannot be beat. The weather was perfect. The spectators are outstanding. The athletes with disabilities and their guides will always impress me to no end. Heavily armed police rocking out to music and supportively screaming at the runners is a sight to be seen.
"I do love the 'internationality' of the Chicago Marathon. At the start, I found myself next to a German (my nationality), and next to yet another one when I finished. The latter was actually from East Germany, as am I. And the fact that I got to race with 45,000 'class enemies' (an East German term for residents of a capitalist society) will never cease to amaze me."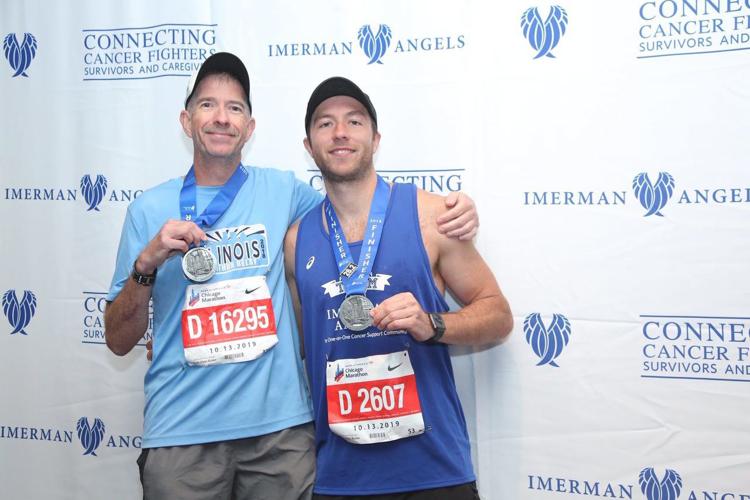 Tyler Ammermann, Chicago, 3:47:00
Ammermann ran his first marathon alongside his father, David Ammermann of Champaign. Tyler Ammermann raised $1,400 for Team Imerman Angels, an organization that offers support to people fighting cancer and to caregivers.
He lost a grandmother to cancer, and his mother and aunt have both overcome cancer.
"I've always heard great things about the Chicago Marathon and how the whole city really gets behind it and comes out to support all the participants, but actually being in the race, the atmosphere is indescribable. Running through the city streets and seeing how unique and diverse our city is in just a few city blocks, and consistently having tons of people all 26.2 miles cheering you on, is what got me through the race. It's the reason I hope to run the Chicago Marathon again."
Jodi Heckel, a writer for the University of Illinois News Bureau, is a runner and triathlete. Her email is jheckel@news-gazette.com, and you can follow her on twitter (@jodiheckel).