Want to purchase today's print edition? Here's a map of single-copy locations.
Sign up for our daily newsletter here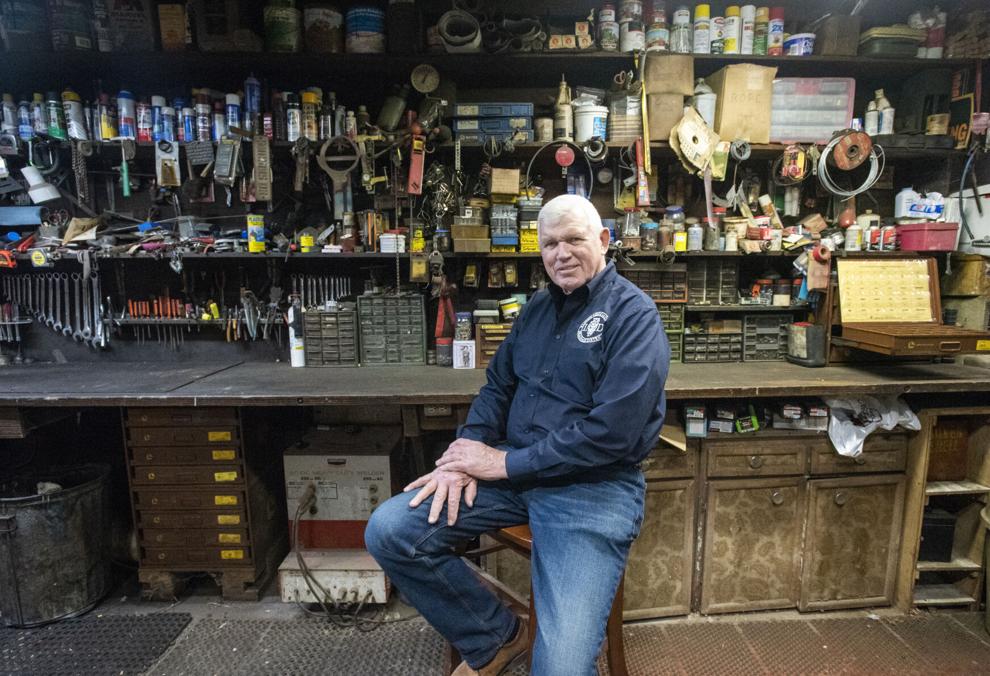 FLATVILLE — John Fredrickson of Kentland, Ind., said he talks to Russell Buhr more than he does his own brother.
One recent day on his farm, Buhr said he had already spoken with Fredrickson five times that day.
There's good reason for that. Buhr and Fredrickson co-chair what has turned into a huge event, the biennial Half Century of Progress farm show that could draw as many as 150,000 visitors this year to the grounds of the Rantoul National Aviation Center.
"Russell's a guy that gets the job done," Fredrickson said of Buhr, who at 70 is still plenty busy.
In addition to still farming part-time with his son, Andy, he is a long-time drainage commissioner for the Spoon River Drainage District; vice president of the Illinois Association of Drainage Districts; has served three terms on the Immanuel Lutheran Church board, including two terms as chairman; was a 10-year member of the Prairieview school board, including six years as chairman; and is a 40-year member of his church's historical committee and member of the boards of the I&I Antique Tractor and Gas Engine Club and the Kopmann Cemetery.
The News-Gazette's 2022 Farm Leader of the Year was never one to take some time off and shoot the breeze at the coffee shop or grain elevator. Too much to do, he said.
Previous farm leader winner Chuck Ehler, who with fellow previous winner Dennis Riggs nominated Buhr for this year's award, called Buhr "someone who's been extremely active in the agricultural community. I just think he's a really good candidate."
Buhr seems like a natural to co-chair the Half Century show. Few people know as much about farm equipment and farm history these days as Buhr. He's also a natural choice as farm leader.
"To be active in the Half Century thing, you have to have a huge, in-depth knowledge of all that type of equipment" — equipment that could span 60-70 years, Ehler said. "He's been a real student of that era for a long, long time. Not just general knowledge, but a good depth of knowledge."
Buhr has more pieces of vintage farm equipment than he knows what to do with — and a story behind each one.
"A lot of people don't know how to work on this old stuff," Buhr said. "It's pretty simple to me. You go into some of these dealerships and you ask for a part, and they don't know what you're talking about. Today, a lot of people call me about tractors. They've got this tractor and ask, 'What's wrong with it? What's it worth?'"
Buhr comes from a long line of farmers, and it looks like the line will continue.
His great-grandparents, grandparents and parents, Siegfried and Irene Buhr, farmed the land before him.
Son Andy, vice president of ag lending at Gifford State Bank, farms with his dad, and Andy's son, Max, also wants to farm, Andy said.
Buhr formerly farmed 1,500 acres with his brother Steve before cutting back and now farms about 700 acres with Andy.
"Enough to keep busy, but not enough to have a full-time living," the elder Buhr said.
Seven hundred acres might have been enough when he started, but not today.
Wheels start turning
Buhr's dad retired in 1987, and Buhr was able to jump into farming with both feet. When he and his wife first got married, Buhr worked at several farm-implement companies in Thomasboro and rural Urbana before going into farming full time.
Buhr also raised livestock in his early farming days.
"I always knew I wanted to farm," he said. "We farmed a lot in the living room with little toy tractors when I was little. If we went to a dealership and got a new tractor, that was really something special."
Buhr and his wife, Marilyn, who were married at nearby Immanuel Lutheran Church in Flatville and now live at Bayles Lake near Loda, will celebrate their 50th anniversary this year.
Buhr and the former Marilyn Sherman of rural Mahomet were introduced by her brother, who went to Parkland College with him.
Was it love at first sight?
"It was for me," Marilyn said.
"I think I was 4 years old, and you were 2 years old, weren't you?" her husband quipped.
Marilyn Buhr said being a farm wife took some adjustment, but she grew to love it.
"I didn't realize you wouldn't have your meals on time, and there'd be a lot of late nights working," she said. "I remember one of the ladies I worked with gave me a book that said, 'When you marry, you marry your husband's occupation.' How true that was.
"The best part (of being a farm wife) was probably being able to look out and watch the kids play and let them see their dad whenever," she said. "Taking him meals (in the field) and opening the trunk and having little picnics. When they were little, they would take rides with him in the combine. Farming nurtures close ties that make life rich in ways that money can't buy."
Marilyn also had a home day care and later worked as a preschool teacher at American Lutheran Church in Rantoul. She later worked for about 20 years at Gifford State Bank until she retired before the COVID-19 pandemic hit.
The Buhrs' daughter and son-in-law, Michelle and Brad Camp, live in Oklahoma with their two children, Ella and Adi.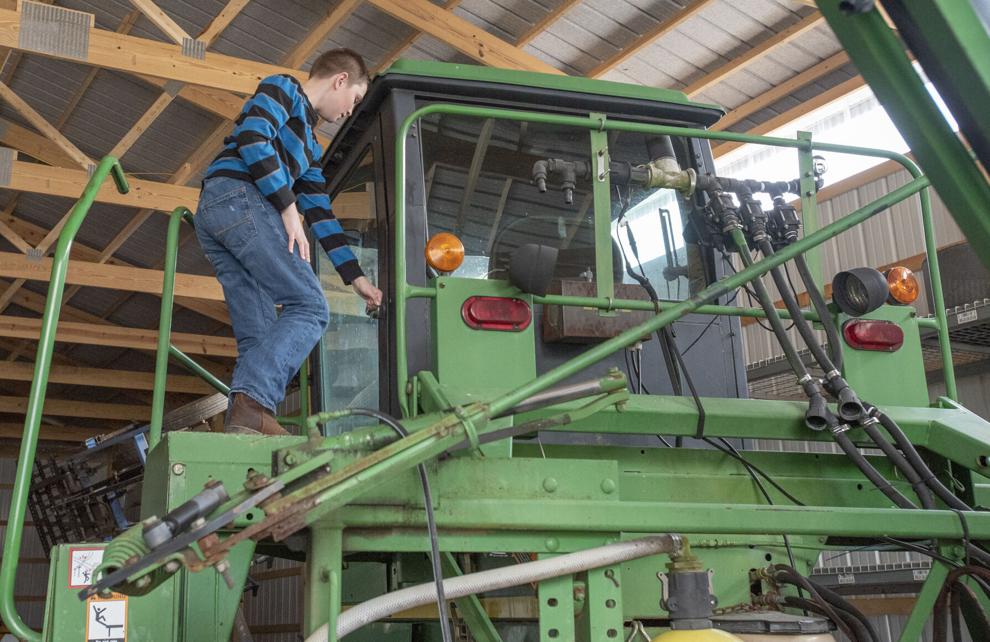 A love of tractors
Russell Buhr likes everything about farming. Even his hobbies are farm-related.
In addition to collecting farm toys, he's an avid tractor puller, a hobby he's passed down to son and grandson.
"I always liked tractors, and that's why Andy liked tractors and pulling," Buhr said.
His favorite antique and pulling tractor: Minneapolis Moline. Buhr has more yellow in his sheds than the Oregon football locker room.
Andy said he was hooked when he went to his first tractor pull at a young age at the Champaign County Fair.
He soon entered and took second place at 7 years old on a Minneapolis Moline they bought for $25 from the Gifford elevator. Like father, like son in many ways.
"I like the yellow tractors," Andy said. "The tractor I built to compete with is a yellow one. It's yellow, but not really yellow inside" — meaning he's heavily modified it.
Now son Max also pulls.
"I'm corrupting him," said Andy, who is on the board of directors of the Illinois Tractor Pullers Association.
In addition to Max, Andy and his wife, Missy, who is the Vermilion County Farm Bureau ag literacy coordinator for Ag in the Classroom, have a daughter, Annie.
Russell Buhr has lots of antique tractors. Maybe too many to count.
"How many antique tractors do I have?" he asked his wife.
"It was bad enough when we moved and he went up in the attic and brought boxes and boxes and boxes of toy tractors out of there," she said.
"I haven't taken inventory in a while," he said of his farm toys.
Buhr's first memory is when he was maybe 3 years old, sitting on his grandfather's knee.
"I can still remember seeing him light his pipe and letting me blow out the matches," he said.
The Buhr farm family lineage dates back to 1871, when Russell's great-grandfather bought their homestead just east of Flatville from the railroad. The family was recognized at the Illinois State Fair in 2021 as a sesquicentennial farming family, meaning they have worked the same farmland for 150 years.
Russell's brother, Kenny, who has a sign business, lives across the road from the original homestead. His sister, Marcie, owns part of the land that Russell farms.
Marilyn said if the tornado that struck Gifford in 2013 had been a little farther east, it would have taken out five Buhr households.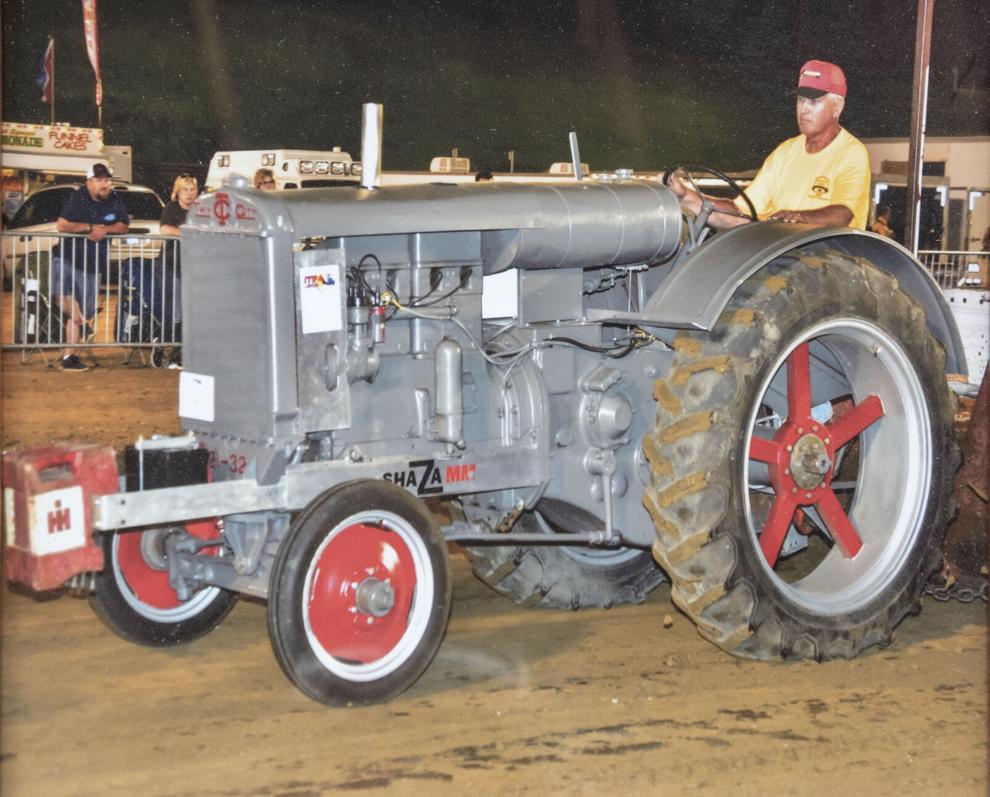 Early introduction
Work on the farm starts early.
"I was probably driving when I was 7 years old or something," Buhr said. "I was always driving a tractor."
There's a lot to enjoy about farming, especially for Russell Buhr.
"I enjoy the spring and the fall both," he said. "The fresh dirt. That smell is something. Farming has changed a lot.
"When we first started farming we were putting corn in the corn crib, picking ear corn. That was kind of a neat thing. It was fun. Lot of work. Having the livestock growing up and picking ear corn and baling hay. When you're in the corn crib and that fresh corn is in there, it's hard to explain that."
Added Marilyn, "'No matter the innovations in technology, farming remains largely an act of faith in our creator."
Fredrickson isn't surprised Buhr was named farm leader of the year.
"Russell's very well respected within the (I&I) club and the community," Fredrickson said. "Good family. Well respected in the community and a good friend."
Ehler said Buhr doesn't go looking for recognition.
"It's just something he does," he said of Buhr's many involvements. A lot of us just really, really appreciate him."