On Tuesdays and continuing through harvest season, The News-Gazette's Dave Hinton will spotlight a Farm Family of the Week. Email nominations to dhinton@news-gazette.com.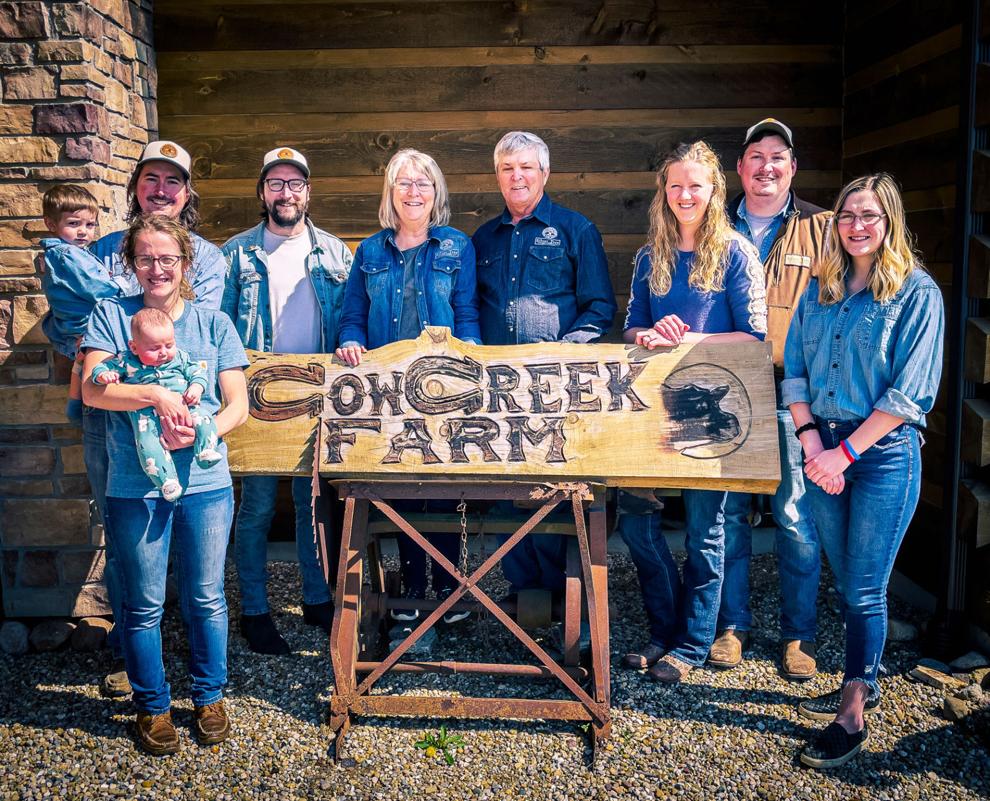 Next up: The Glaziks of rural Paxton. The Glazik family is nothing if not innovative.
They have more than your traditional corn and soybean operation. They raise a variety of organic crops that are sold to a variety of markets, and also started a distillery. And dad Jeff raises cattle.
How long has your family been farming?
My brother Dallas and I (Will) are fifth-generation farmers in Champaign and Ford County. Our family came over in 1861. We grew up on a part of the family farm, and I currently am raising my family in the house where I grew up. The Quinlans (mother's side) came over from Ireland in 1869, then moved to the northeast side of Ludlow in 1870. Our father's side originated in Poland and also came to Ludlow/Paxton area in the late 1800s-early 1900s from southern Illinois. The siblings also include Clayton and Abby.
Where is your farm operation?


We are located outside of Paxton. Since the farmhouse is on the west side of that farm and the fields were always to the east, our grandfather coined the term "heading down east" when going to work in the fields. That is how we came up with the name Down East Vodka, says Dallas Glazik.
What does your
farming

operation consist of?

We run a pretty diverse farming operation. Currently, we are raising 14 different certified organic crops. These go to a wide variety of markets. Some is sold for feed, some for cover crops. The food-grade grain is sold for flour or cornmeal as well as breweries and distilleries. The Glazik brothers started a distillery and are making vodka and whiskey with grains that they raise. Our dad runs cattle on the home farm, and we have a neighbor running cattle on another farm that we call "Jaci's." Our name and logo, "Silver Tree Beer & Spirits," has many symbols that focus on this history and our farm. Since we are predominantly of Irish descent and Ireland is famous for its impact on the spirit world, we chose to look at the Celtic tree. Celts used to plant a tree within their forts to show the growth of their clans.
How many people in the family does the operation support?


Mom and Dad (Jeff and Rita) are living off of the farm, and Mom keeps a part-time job. I farm full time and do some crop consulting. My wife, Laura, is finishing her veterinary degree from the University of Illinois. Dallas farms and works full time as a biologist for Pheasants Forever; his wife, Courtney, works at the University of Illinois. And our adopted farm family includes Jaci Davis, who lives on her farm that we share crop as well as Sally Lasser, who owns a farm that Dallas manages. We are also starting an organic grain apprenticeship program, which will provide a teaching opportunity for a farmer wanting to learn how to transition land to organic grain production.
How have you seen farming change over the years?
There has been a growing acceptance to organic production as well as some conventional farmers starting to use cover crops. Also, utilizing technology like GPS has been a game-changer on our operation. Another big shift that we have made in the last few years is focusing more and more on food/brewing crops rather than feed grade organic crops.
Your farm equipment: Green (John Deere), Red (Case IH) or other?
We run a non-discriminative rainbow of equipment.
What makes farming a good vocation?
Farming is an amazing vocation because there are so many opportunities to take pride in your work. We are proud when the seed that we planted and tended grows and is harvested. Then we take pride in processing that crop into a consumer product like flour, oatmeal or whiskey.
Finally, we take pride when people buy those products and are able to enjoy consuming them. It is truly an amazing experience to see a person enjoying the fruits of your labor, whether that's a loaf of sourdough bread or a bottle of vodka.
If you could change one thing about farming, what would it be?


I wish that we could bring more people back into production agriculture. There was a large movement of people away from production agriculture, and I think the whole world would benefit if we started bringing people back from the cities to farms. That would allow for more people to gain an appreciation of where and how their food is produced.
What's the best time of year to be on the farm?
That's a matter of opinion. I (Will) love harvest time. Dallas loves planting time, and my dad loves calving time.