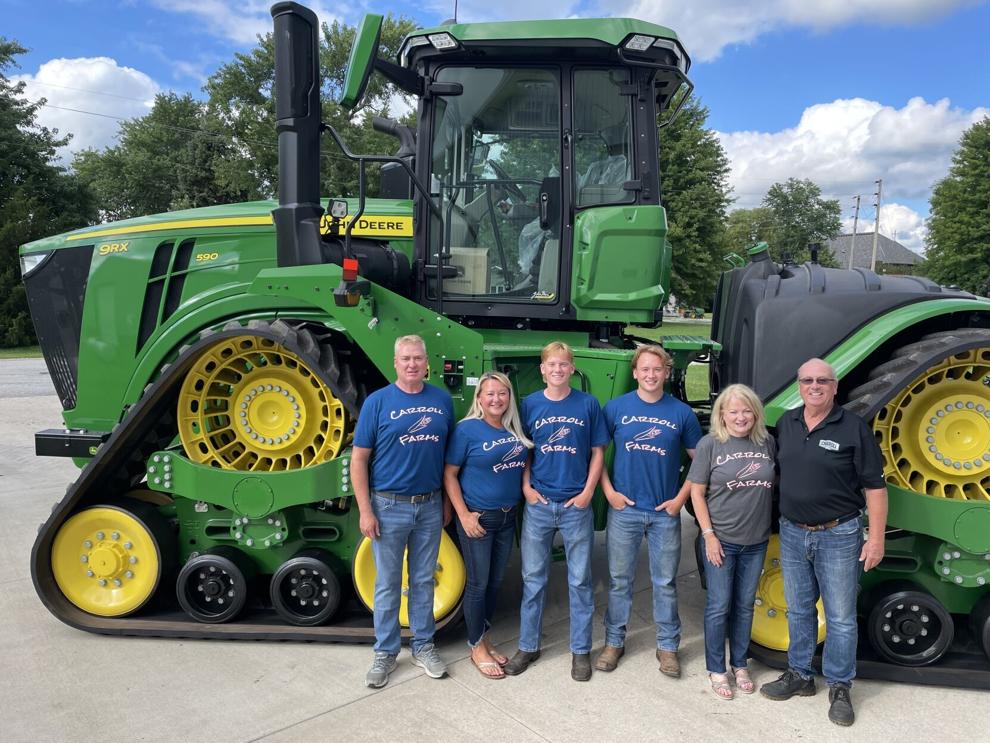 People who don't like a job routine with the same thing happening every day might like life on a farm. It's never boring, says Dan Carroll, a fifth-generation farmer. For the Carroll family, having a love for agriculture has been a good thing.
How long has your family been farming?
My family has a long history of farming. We can trace back seven generations of farmers in my family, starting in 1849, when my great-great-grandfather, Valentine Snyder, purchased land and started farming in the Moweaqua area. In 1941, my grandparents moved their farming operation from Moweaqua to Cisco. Upon returning from World War II, my father, Kenneth Carroll, and mother, Anita (Snyder) Carroll, joined my grandparents in Cisco and started their own farming operation in 1949. For as far back as I can remember I had been helping my grandfather and father on the farm. I officially started my own business in 1972. In 1996, my son, Shannon (our sixth-generation farmer), joined the farm operation full time.
Where is your family farm located?
Today, our base farm operation remains in Cisco. We also farm in Monticello and surrounding counties.
How many people in the family does your operation support?
Two of our families are supported by our operation. My son, Shannon, is now the managing partner in the business. My wife, Barb, and Shannon's wife, Jenn, are a very important part of our operation, especially during the spring and fall. My grandsons, Will and Wade, are already on their way to being our seventh generation of farmers, though they both are still in school — Will is a junior at Purdue University, and Wade a senior at Monticello High School — they are involved and eventually plan on joining our operation. Our employees and their families are an important part of our farm operation. We really appreciate their dedication and long hours.
What does your farming operation consist of? Is it strictly a grain operation, or do you have livestock?
Our farm is strictly a grain operation. We grow corn and soybeans.
Do you have any members of the family in the farm operation also working other jobs?
Yes, Jenn is a fifth-grade teacher at Mahomet. Barb also worked in education for years but left to contribute more hours to the farm operation.
How have you seen farming change over the years?
I have seen many changes during my years of farming. The agricultural industry is always evolving. Technology has by far been one of the biggest changes. Farm machinery is much larger, more technical and more expensive. Now we have GPS technology and self-driving equipment. There is always new information to learn. It's never boring. Having a good, effective marketing plan is more important than ever for a farm to be profitable and sustainable. Improved seed varieties have been a valuable change.
Is your farm equipment green (John Deere), red (Case IH) or other?
We use John Deere equipment.
What makes farming such a good vocation?
Farming is not only an occupation, it's a way of life. I find it very rewarding to know that my family and I are helping to feed the world. Being a self-employed farmer allows me the flexibility to make decisions and try new farming practices. I also get the opportunity to work with my son. Each new generation of farmers bring fresh ideas and energy to the family farm.
What's the best time of the year to be on the farm?
I believe fall is the best time of the year to be on the farm. The long days of fall harvest often (12 to 16 hours) can be exhausting and exciting at the same time. Fall is when I get to see the rewards of my spring planting and summer growing seasons. Fall is a family affair on our farm. Everyone pitches in to help, whether it is going to pick up parts for equipment repairs, bringing food to the field or moving equipment. Everyone gets involved. Even my youngest grandchildren, Frances and Collin, like to be involved. Combine and tractor rides are a favorite for them during harvest. Fall is a time when we all get to work outdoors and enjoy the crisp air and beautiful fall colors.