Just Askin' | About those fallen trees at Allerton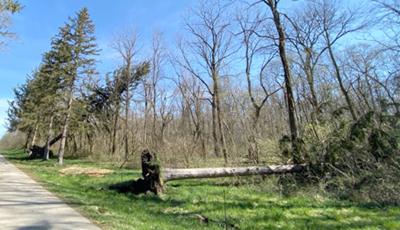 Why are several trees knocked over at Allerton Park?
The evergreen trees lining the south entrance into Allerton Park were the victims of age and a "gustnado" in April.
The storm came through Piatt County April 8 with winds of 80 to 90 miles per hour, according to the Piatt County Journal-Republican.
It snapped 28 straight utility poles along Illinois 105 and left 970 homes without power.
The park was already in the process of replacing the trees when the storm came through, director Derek Peterson said, and the coronavirus has delayed this further.
"Everything is a few months behind this year," he said. "We do have a plan for replacement."
The south entrance to the park was reopened in 2012, and more visitors are coming from that direction, Peterson said.
Allerton Park hopes to complete the "Evergreen Allée" replanting within the next 5 to 10 years, depending on fundraising efforts.
New Norway Spruce trees cost about $225 each, and are similar to the originals planted there by Robert Allerton.