Just Askin' | Area crop update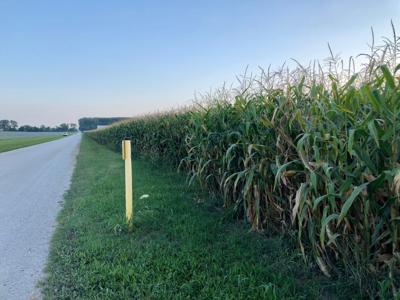 After a wacky summer of weather, how are crops shaping up ahead of the fall harvest?
It's been a "tale of two halves," according to Wesley Walbaum of Advanced Agrilytics, an agronomic tech company.
"The first half of the growing season, we went from dry concerns and having some risk on water-limited acres," he said. "Then late June, rains came, and the story switched basically overnight to issues with too much water and concerns of denitrification and nitrogen loss in saturated areas."
Conditions were rife for crop fungi like tar spot, rust and grey leaf spot, and a lack of sunshine in the back half of summer may limit yield potential.
Despite the mid-season switch
and other concerns, it's still led to a "pretty good" crop through the county area.
"We got off to a better start in 2021 than both 2019 and 2020, with great stand establishment and really good early field conditions," he said. "We've had our fair share of issues to limit yield potential, however, this year is shaping up to be a better crop than the past two years."
Some early planted corn was already tasseling by the fourth of July, Walbaum said.
"I think corn and soybeans will both be good crops, but some growers may be disappointed in areas with high nitrogen loss or where disease and plant health may not have been managed," he said.
A little more precipitation could help the local soybeans, said Brad Uken of the Champaign County Farm Bureau.
"A lot of farmers are saying one more good rain is really going to help their soybean crop. August is really the time frame for soybeans," he said.