"Full-blown ag nerd" Makayla Learned didn't grow up on a farm, but appears to be headed toward a career in agriculture.
The ag influence is a natural one, although it must have skipped a generation — coming from grandfather Larry Frerichs. (Mom Kimberly is an occupational therapist and dad Billy works with computers.)
Learned, from rural Penfield, spent a lot of time on Grandpa's farm. She raised cattle there and has her own small herd of purebred Angus and Chiangus.
"I've had cattle my whole life, since I was 8 years old," Learned said.
During her high school days at Armstrong-Potomac, Learned would head for her grandfather's farm after classes, did chores and then homework.
But there were plenty of extracurriculars involved as well.
While she played volleyball and was on A-P's successful archery team, Learned found FFA appealed to her more. She earned its highest degree, the American FFA degree.
"It gave me more opportunities, going to conferences and being an officer and serving as Illinois FFA Section 18 president," she said.
Learned, 19, took general studies at Danville Area Community College while she finished her FFA Section duties before transferring to Southern Illinois University in Carbondale.
"It is beautiful," she said of the SIU campus. "I grew up with the U of I, but I definitely love it here with the campus being all together. The teachers are amazing. It's definitely a good experience. I already call Carbondale my home even after a few weeks."
Learned is majoring in livestock production with a minor in compute science. She hopes to earn an advanced degree in livestock bio informatics.
"Bio informatics is fairly new," and Learned believes her love of working with livestock and computer science would be a perfect fit.
"I wanted to be a vet when I was little," she said.
But after a meeting with her adviser, who told her about the ag informatics field of study, she changed her mind.
"It was like a light bulb went off," Learned said.
The university recently recognized Learned and her family as the Transfer Family of the Year, an honor added only this year.
The theme for this year's Family Weekend was "Salukis' Funniest Home Videos," and contestants were invited to submit short, creative or amusing home videos with their entries, which Learned's family did.
The college also honored the Courtney Hallock family of Murphysboro as the "legacy" Saluki Family of the Year and the Makaila Ballah family of Randallstown, Md., as the "non-legacy" Family of the Year.
Learned's parents, grandparents and brother attended the celebration.
They received box tickets to the Salukis' football game against North Dakota, got to meet Chancellor Austin Lane and were able to go onto the football field.
Learned's brother, Blake, seems to have many of the same interests as his sister. A sophomore at Armstrong-Potomac, "he is just as big of an ag kid as I am," she said. "He definitely loves crops and cattle. But in school, he ... loves baseball and ag shop."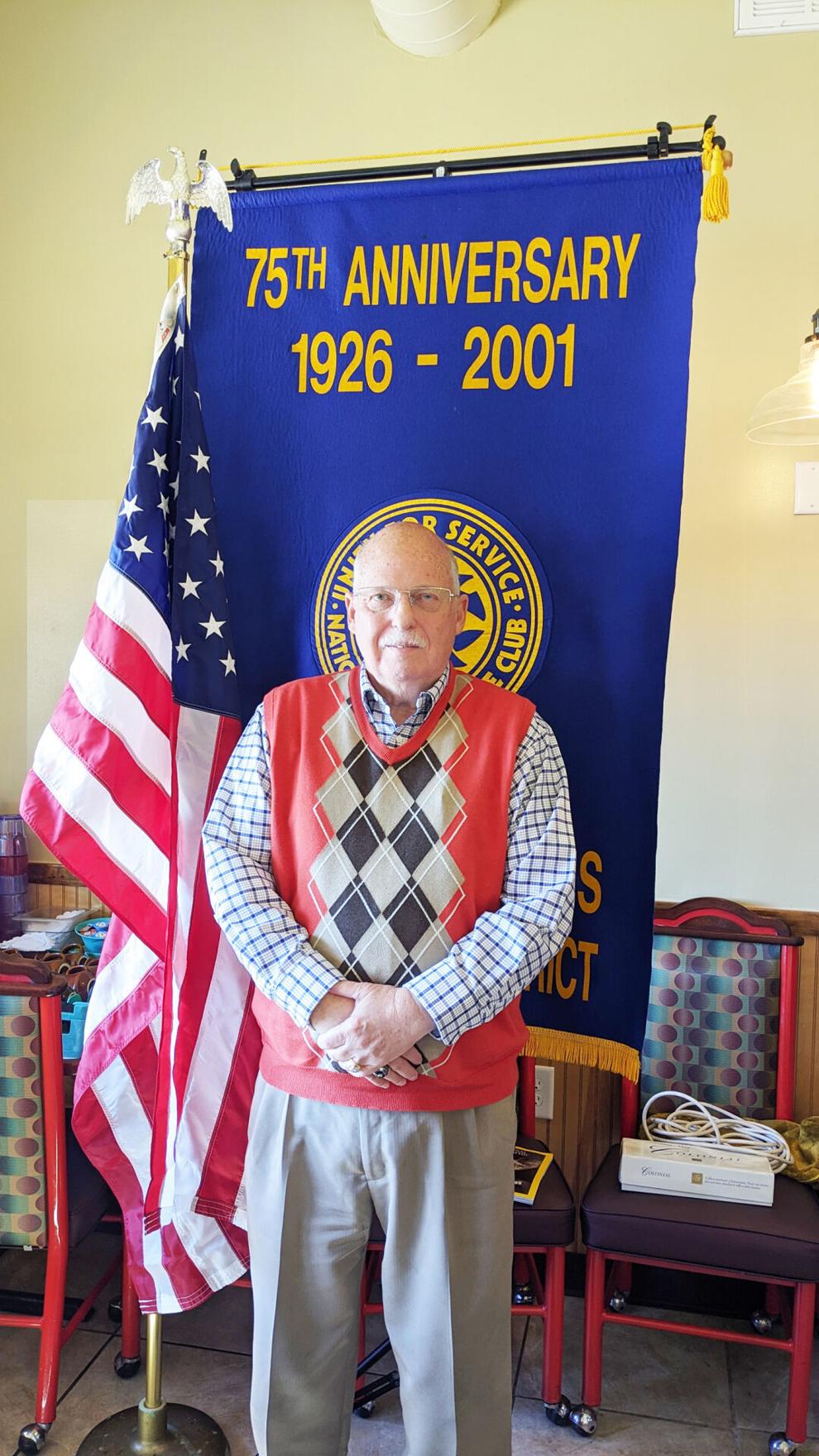 Exchange Club to honor Williams
Thomas Williams Sr. of Champaign, a 49-year member of the Champaign Exchange Club, will be inducted next month into the National Exchange Club's Court of Honor in a special ceremony and dinner at national headquarters in Toledo, Ohio.
The annual ceremony is highlighted by the engraving of the honoree's name on a granite pylon. The the Court of Honor is a living memorial — a symbol of the spirit of Exchange clubs.
The Court of Honor was established as a way to honor and pay tribute to Exchange Club members who have shown outstanding commitment to the mission of The National Exchange Club. Inclusion in the Court of Honor is the highest and most lasting recognition of dedication to the ideals of "unity for service" that Exchange bestows.
People nominated for induction into the Court of Honor have demonstrated, through a history of service, the highest and best traditions of Exchange. Their example serves as the standard of excellence for future generations of Exchange Club members.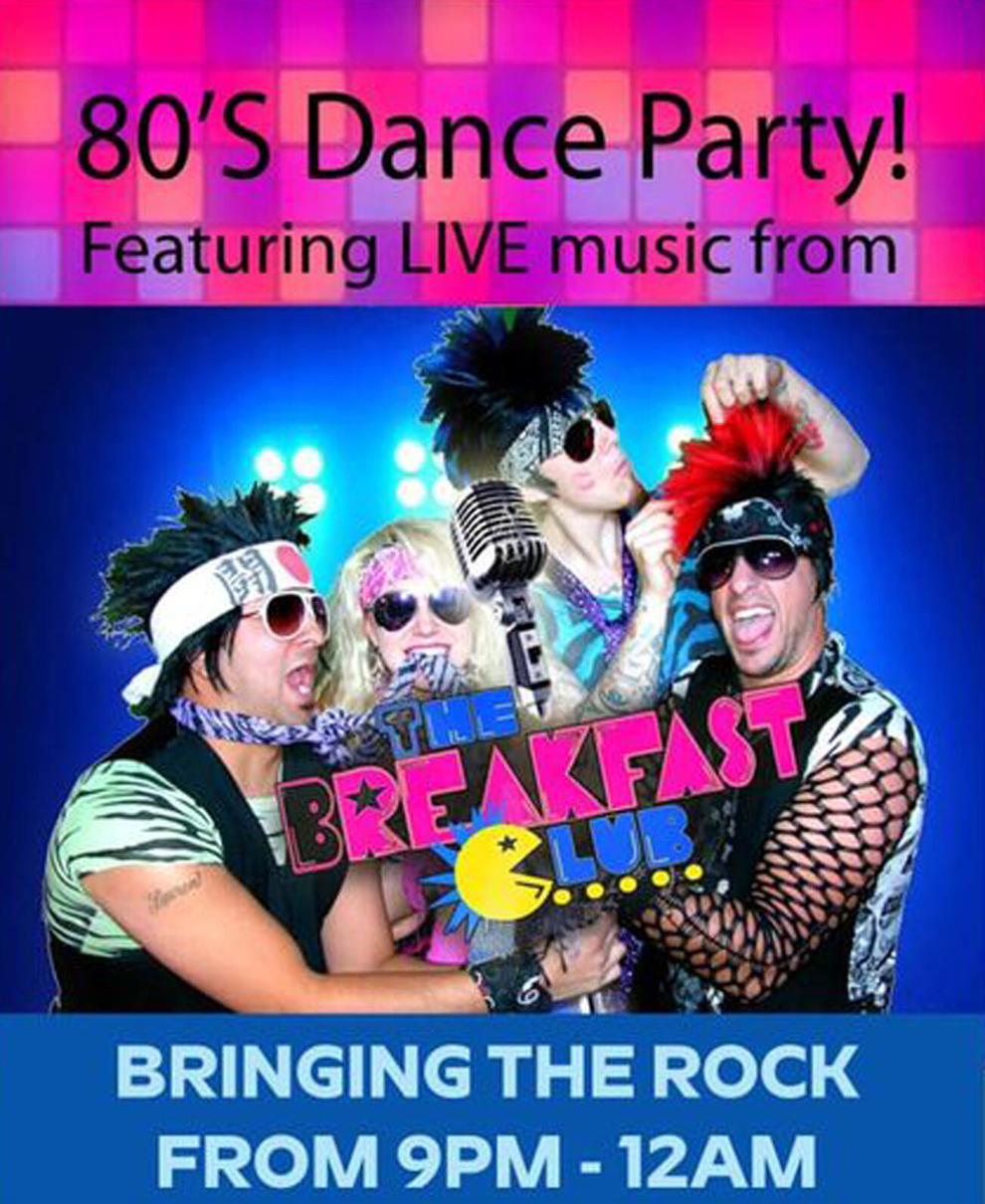 Gibson City Rotary will rock it
There will be big hair and some cowboy hats present when Gibson City Rotary Club holds a Rotary Rocktober event Saturday, Oct. 15, at Mark's on First.
In addition to '80s rock music, there will be some who prefer music of the country variety. Country singer Michael Dean Lewis II will perform from 6-8:30 p.m. The Breakfast Club, an '80s tribute band, will be on stage from 9 p.m. to midnight.
There will be music and dancing.
Advance tickets are $10 or $15 at the door. There will also be a $100 drawing.
Tickets are available from Rotary members or Mark's On First.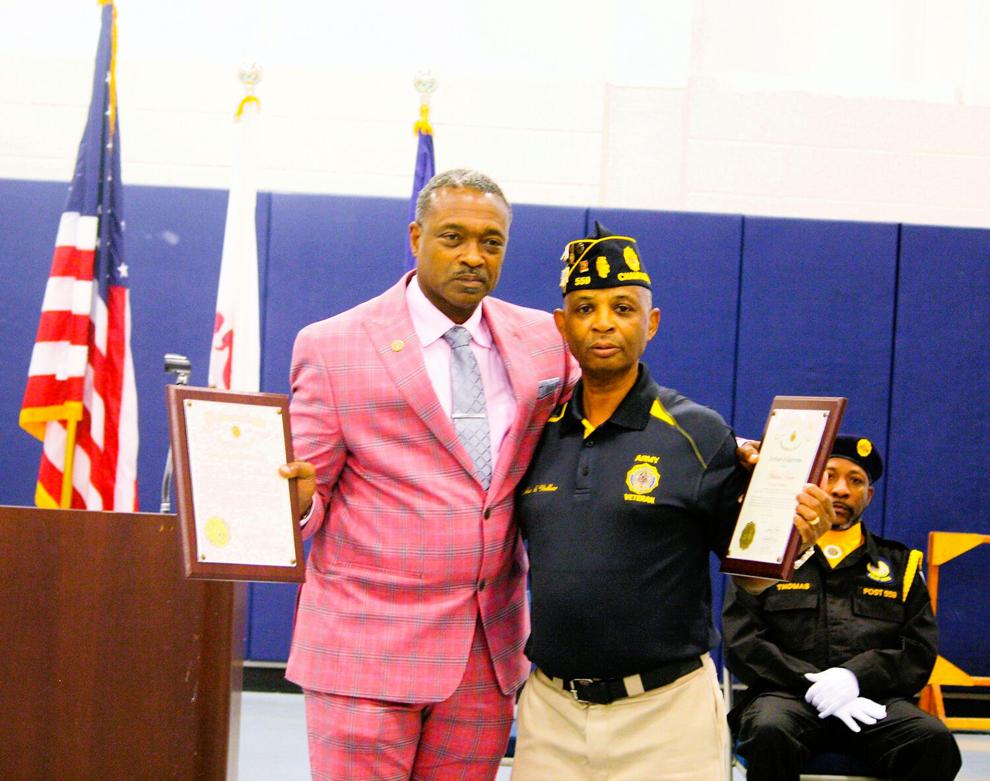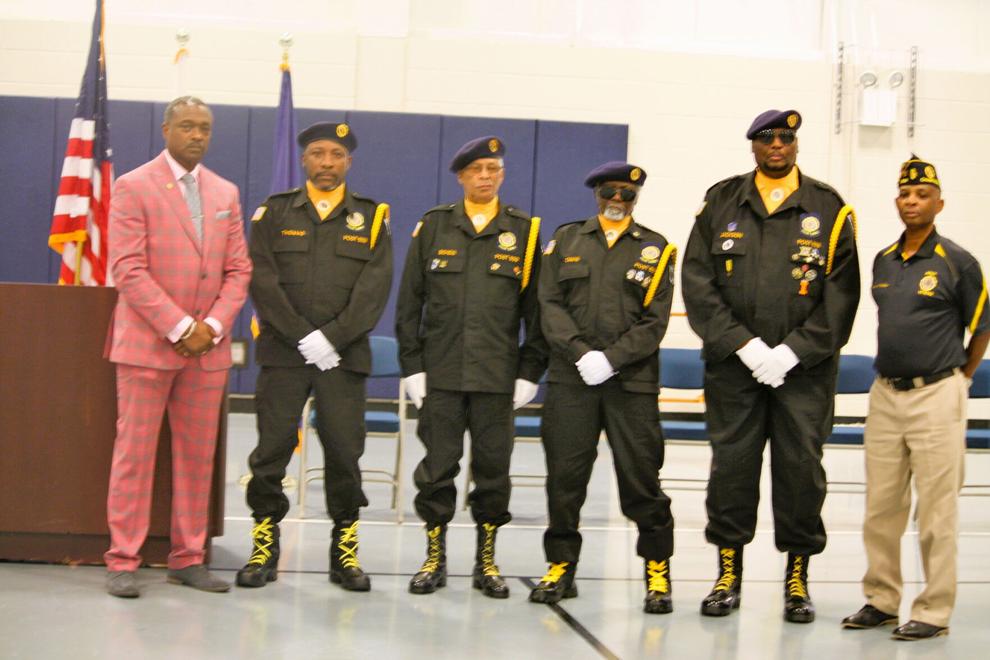 For remembering Pearl Harbor
Certificates of appreciation were presented to Lincoln's Challenge Director Maurice Rochelle from The American Legion Department of Illinois and Post 559 in special recognition of the continued support of and participation in American Legion Post 559 annual Remember Pearl Harbor event.
The event was founded by former Lincoln's Challenge Director Peter Thomas, executive secretary Renee Schoonover, Post 559 Honor Guard Commander Jay Jackson and Past 19th District Commander Robbie Walker.
The collaboration has been held annually since 2008 except for 2020.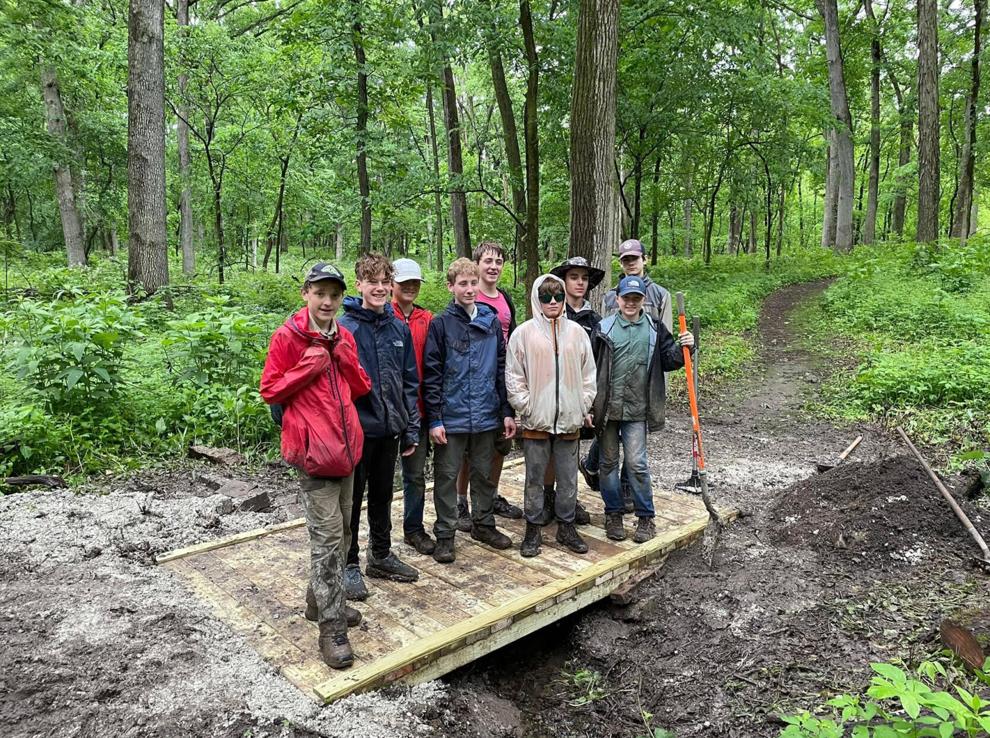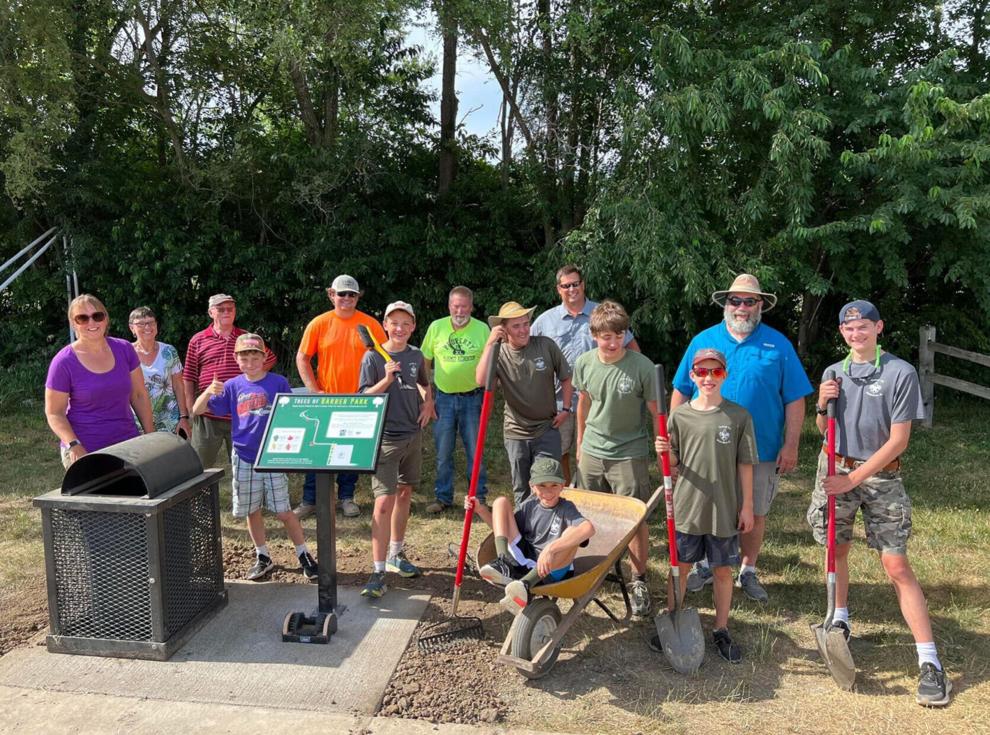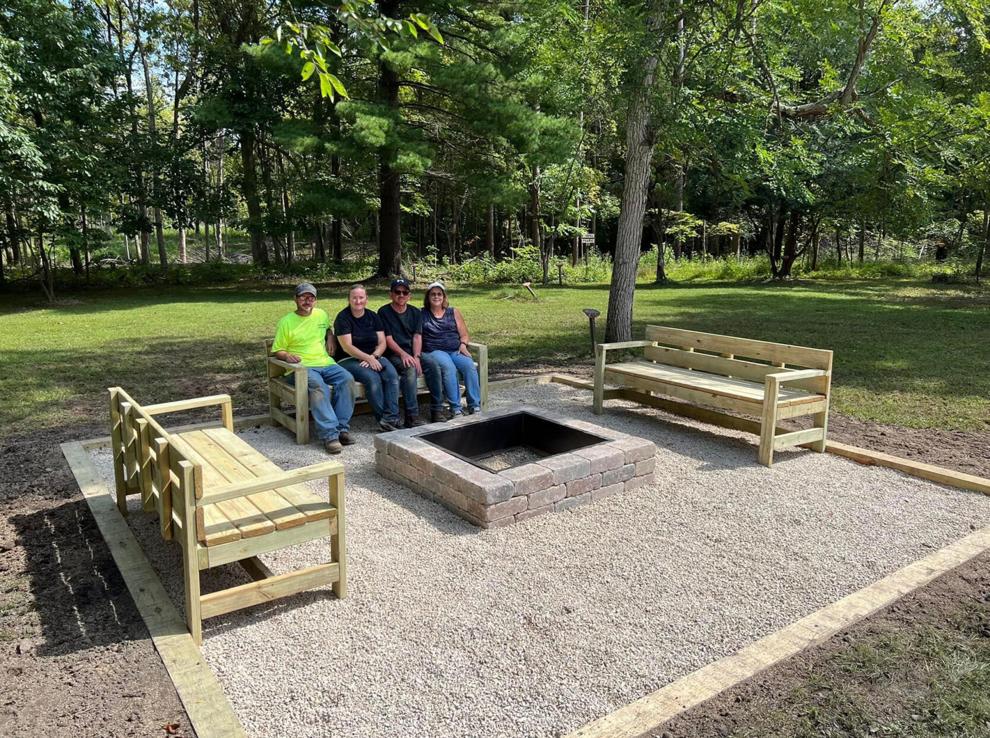 Mahomet Scouts an active troop
Members of Boy Scout Troop 25 of Mahomet, in cooperation with the Bantz family, built a memorial fire pit at Camp Drake near Oakwood to honor former Scoutmaster Bob Bantz.
Twenty scouts from Troop 25 ranging in age from 12 to 17 along with leaders and the Bantz family built the fire pit.
The project was one of many completed this year by Troop 25.
Conservation and access to natural resources are important principles to Troop 25. Two recent Eagle Scout projects involved improving parks in Mahomet. One of the projects was identifying trees in Barber Park, and the other was building a bridge within Lake of the Woods.
The troop has also participated in projects with other organizations, such as the Upper Sangamon River Conservancy mussel survey and the Friends of Mahomet Public Library book sale.
The troop enjoys outings and excursions that promote a lifelong appreciation of the outdoors. In addition to campouts, various high adventure activities are sought out based on the scouts' interests.
A group of scouts and leaders went on a six-day canoeing trip to the Boundary Waters canoe area near Ely, Minn., in July.
A group is preparing for a backpacking trek in July at the Philmont High Adventure Scout Ranch in New Mexico. The preparation for all of these activities happens within weekly troop meetings held at 7 p.m. every Monday at Mahomet United Methodist Church.
For more information see the troop's website at troopwebhost.org/Troop25Mahomet or Facebook Mahomet Boy Scout Troop 25.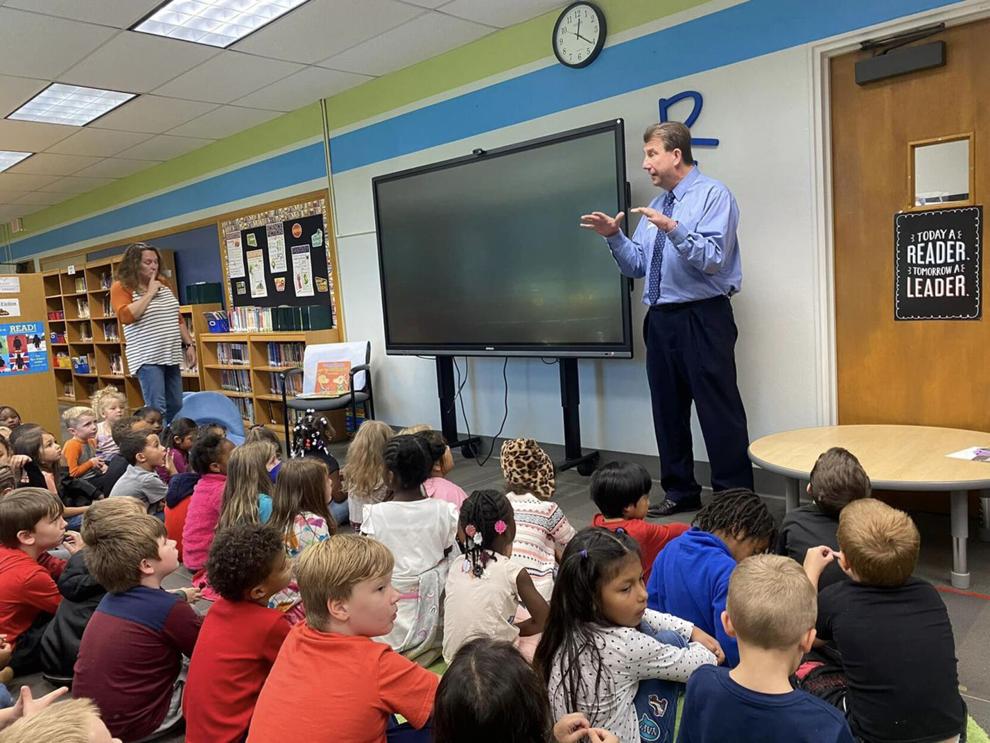 Eisenhauer provides advice to students
Rantoul Village Administrator Scott Eisenhauer spoke this week to K-2 students at Rantoul's Northview Elementary School. Eisenhauer talked about how village funds are used to support the community.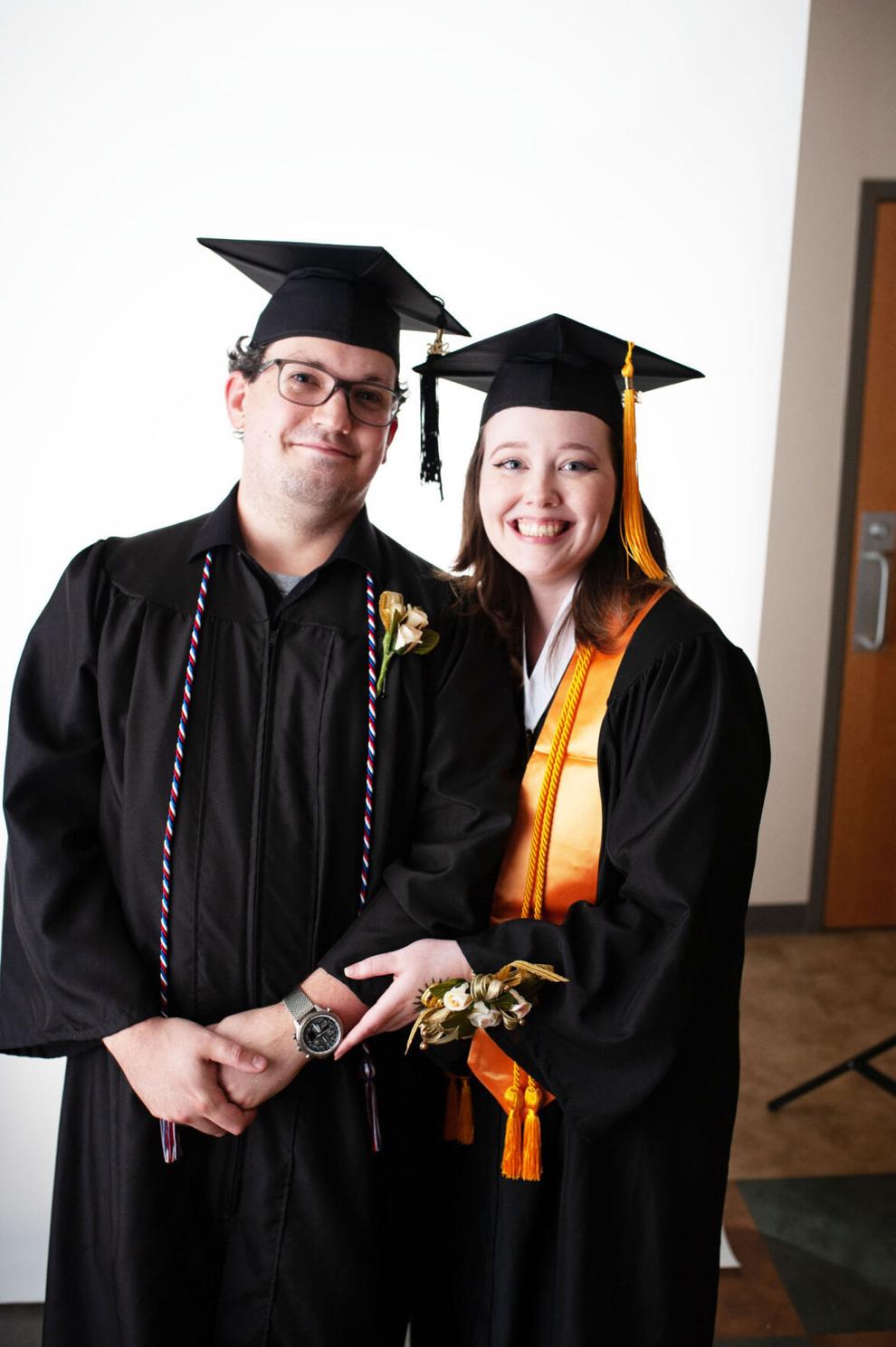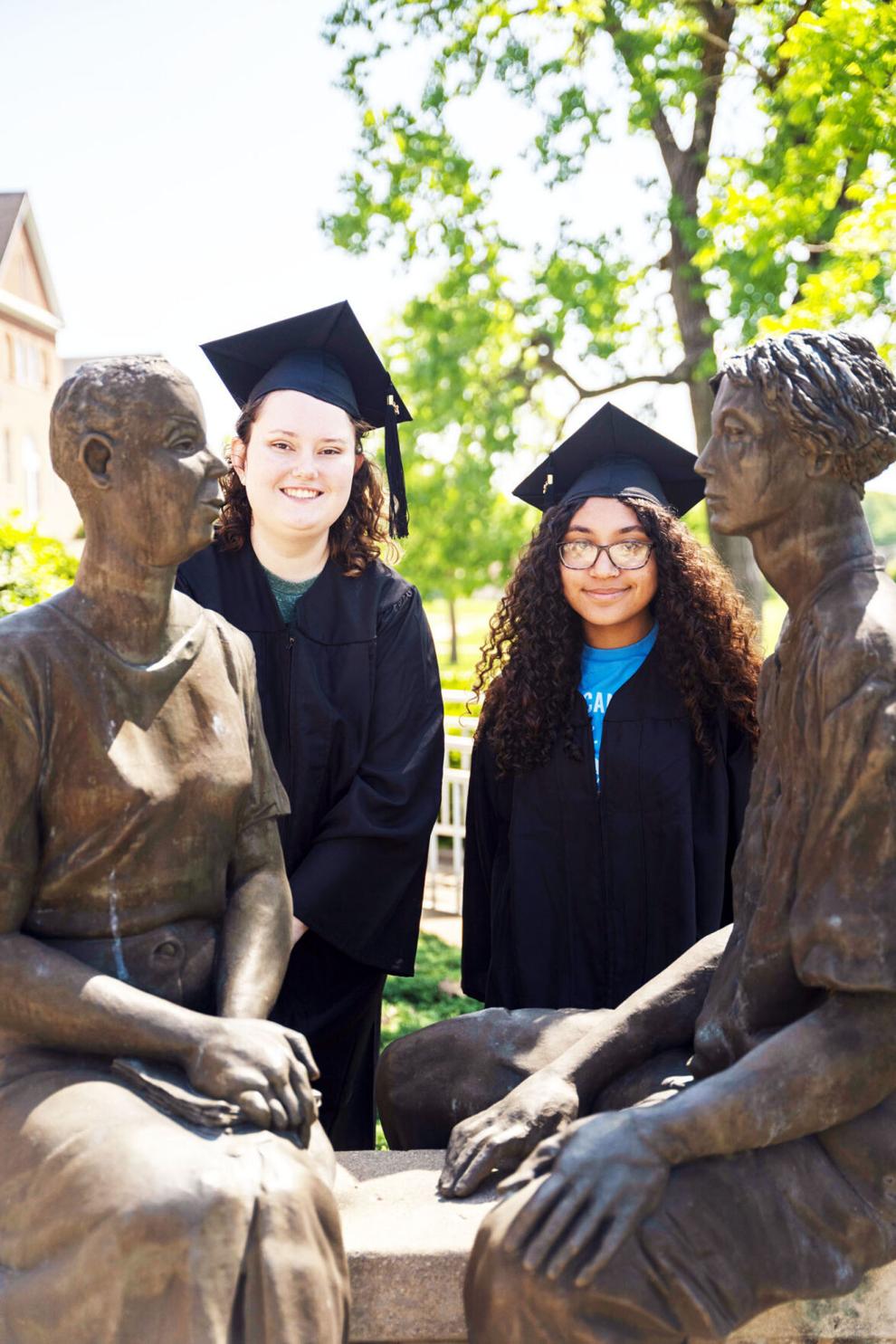 DACC tours graduation rate
A 43 percent score may not seem all that great on a calculus final exam. But in the world of community colleges, a 43 percent graduation rate has Danville Area Community College among the nation's elite.
This year, 511 students earned associate degrees or certificates at DACC.
"Graduation rate is the percentage based on students graduating 'on time' — which for community colleges means within three years," DACC Director Tom Carey said.
DACC's 43 percent graduation rate is the highest on record since the college transformed from being a transfer-only junior college known as DJC to an open-access, comprehensive community college.
According to the National Center for Education Statistics, 22 percent of the nation's community-college students graduate on time.
"Achieving a graduation rate that's nearly double the national average is a tremendous accomplishment," DACC President Stephen Nacco said. "You have to give credit to the college faculty and staff, the board of trustees, the DACC Foundation for providing scholarship support and to the students themselves who came to DACC to work hard and succeed."
Over the past six months, Academic Affairs Vice President Carl Bridges has implemented a "DACC Academy" program to help raise high-school students' awareness of the services available to them at the College.
Said Bridges: "As I look at enrollment numbers for this fall semester, we've seen a tremendous increase in the number of students taking dual-credit classes at DACC. Because of this, I would say that the message is spreading throughout the district. Dual-credit classes not only help defray the high cost of a university education, they also give students a tremendous advantage on the road toward getting a college degree."
A key factor in the steady improvement of DACC's graduation rate has been growth in high-school dual-credit enrollment. Dual-credit classes give college-bound students a head start toward graduating. In the past year, more than 40 local students had earned at least one year of college credits (or 30 or more) when they graduated from high school and seven graduated from high school with DACC associate degrees.