Top of the Morning, Sept. 4, 2020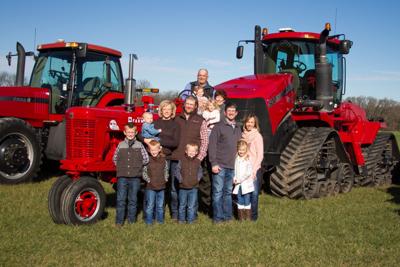 Rod Loschen no longer has Hall of Fame bragging rights at the family's farmhouse just east of Ludlow.
His wife, Connie, is among this year's Illinois 4-H Foundation Hall of Fame class, one of four locals to be honored, joining Nancy Boose (Vermilion County), Andy Hughes (Champaign County) and Larry Haigh (Iroquois County).
Rod was inducted in 2012. Connie was honored during a virtual ceremony in August.
"I'm right there with him now," she said.
Connie, a lifelong 4-Her, is the backbone of a 1,200-acre operation in Champaign County. She's done a little bit of everything over the years, from driving the tractor to keeping the books to mowing the grounds. But with seven grandchildren between the ages of 4 and 11, "I've been demoted from the field," she said.
Not that she minds spending most of the fall closer to home as Rod and their two sons oversee the harvesting of corn and beans.
"I love watching the kids," she said. "I really do."
Connie, 62, was raised on a farm near Ludlow. The 1976 Paxton High grad joined the Ludlow Merry Busy Bees 4-H Club as a young buck and hasn't stopped learning or volunteering since.
Farming "is a way of life," she said. "It's always been that way and probably always will be for me."