Beyond the Boardroom: Parkland president-in-waiting Pam Lau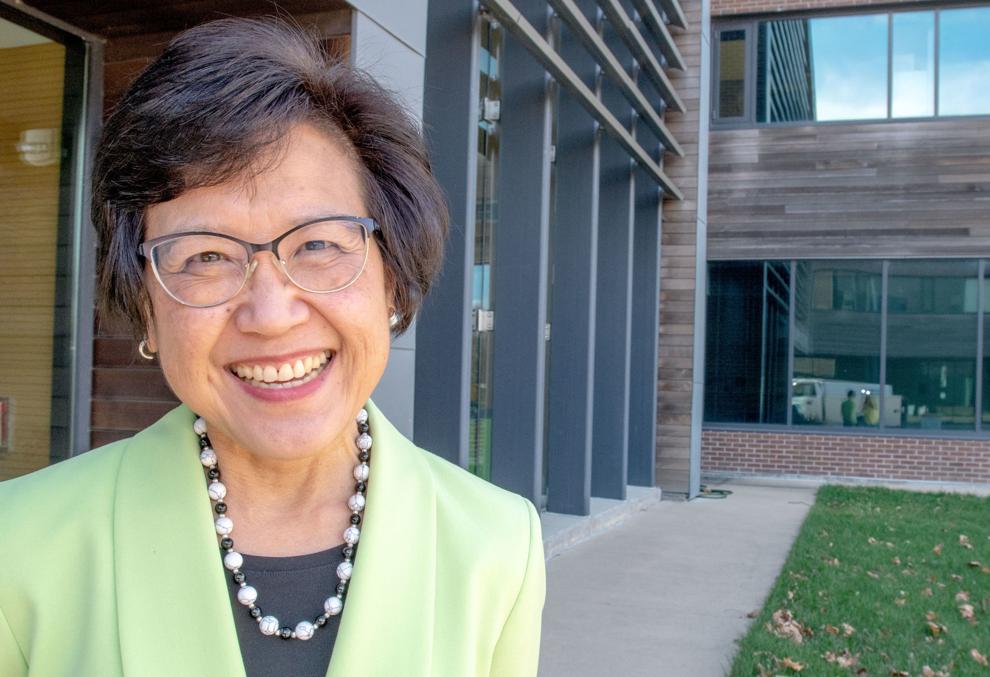 Four decades later, the visiting U.S. lecturer's name escapes her. But PAM LAU still remembers the sinking feeling she had, day after day, while taking that survey course in English literature back in her native Singapore.
"What I have not forgotten is his loathing for our then-Asian approach to learning," she says. "We were raised to show the highest of deference to our teachers, deference that translated into our taking copious notes during lectures, memorizing them and faithfully reproducing them in our papers and exams.
"He literally yelled at us one day, made us put away our notepads and pens, and forbade all note taking in his class. It was quite devastating, as I recall. He demanded critical thinking but never helped us cultivate it.
"But this turned out to be the start of a turning point for me, prompting me to think more analytically and question what I heard."
And look at Lau now — holder of three academic degrees, including the master's in philosophy from the University of Chicago that brought her to America in 1981, and the president in waiting at Parkland College, which she joined as a part-time faculty member in 1995.
A year and change before she's set to succeed the retiring Tom Ramage, Lau took time out to answer a few questions from Editor Jeff D'Alessio in the 49th installment of our weekly speed read spotlighting leaders of organizations big and small.
---
The hardest thing about being a leader is … discerning, choosing and doing the right thing as opposed to just doing things right — and being able to tell the difference.
I'm frugal in that ... I shop at Aldi. As brand-new international students back in the 1980s with no allegiance to brands but clearly aware of budget constraints, we were introduced to Aldi.
We have not stopped shopping there since. The spending disciplines of grad school life have not quite worn off.
When it comes to leadership, my role model is … a composite, one drawn from mentors and leaders over my two decades of work at Parkland. Leaders I have learned from have consistently modeled integrity, courage, decisiveness and a single-minded focus on what is good for the college and its mission of teaching and learning.
I can't live without my ... face mask — at least in terms of my day-to-day routine.
On a more serious note, it's family. My husband, Lawson, keeps me grounded, as do my children, Andreana and JohnMark. More important, I can't live without my Christian faith in God.
The last luxury in which I indulged was ... air-flown, sustainably-caught wild salmon from Alaska.
Each month over the summer, a box of salmon arrives at our door step with the best of coho, keta and king salmon. For an Aldi shopper, this is indulgence.
My one unbreakable rule of the workplace is ... have integrity. We may make mistakes, but we learn, adjust, amend and move on. But trust when broken is a hard thing to rebuild.
The worst job I ever had was ... a three-month summer stint as an office assistant just before college.
I had no issues with the clerical work I was assigned. The extra income was welcomed. I was not treated badly.
What was bad was my overhearing my boss and his associates chat merrily about after-work sexual exploits. This inadvertent eavesdropping just about shocked the socks off my feet. I had hitherto led a rather cloistered life where the salacious side of human behavior was confined to novels written by authors far away from Singapore.
A first lesson about integrity and walking the talk.
My single favorite moment of all-time in this job comes at … commencement. Seeing students walk across the stage to receive their diplomas and hearing their family and friends respond with resounding cheers present such a meaningful reminder that the hard work of the previous year has achieved its purpose and that Parkland College continues to make a positive difference in the lives of our students.
I'm up and at 'em every day … no later than 6 a.m. On days when I have scheduled meetings at 8 a.m., the alarm is set for 5.30 a.m.
My exercise routine consists of … a daily "gentle" jog every weekday morning. About 25 minutes or so.
On the weekends, I take an hour-long walk at the Lake of the Woods, weather permitting.
On a 1-to-10 scale, the impact of the pandemic … hovers somewhere around 9 to 10. As with the rest of higher education, the jarring impact of the pivot to remote learning on students and faculty continues to reverberate.
We did not have the luxury of time and multiple pilot studies to figure out changes to teaching and learning using new technologies, re-thinking pedagogy and assignments, ensuring accessibility for all, and managing health and safety guidelines. Boom. Bang. We had to deal with everything all at the same time.
But not all the impact is negative. The old adage that necessity is the mother of invention has proven true. I have been astounded by the innovative and persistent spirit demonstrated by faculty across the divisions in figuring out different approaches to help students learn.
And over and over again, the anecdotes of resiliency I hear remind me that we remain indomitable. We will emerge on the other side of the pandemic stronger in our commitment to engaging the community in learning.