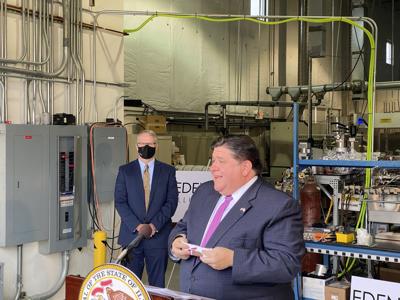 CHAMPAIGN — During a visit Tuesday in Champaign, Gov. J.B. Pritzker announced plans to create two community college–based manufacturing training academies.
The Illinois Department of Commerce and Economic Opportunity will provide a total of $15 million for two capital grants through a competitive application process.
The manufacturing training academies will be constructed in downstate Illinois, where the DCEO said there's a shortage of skilled laborers.
Pritzker made the announcement at Champaign-based Eden Park Illumination, which was founded by two University of Illinois professors and makes ultraviolet lighting for various industries.
"We're investing directly in communities and in companies with programs that will allow businesses to grow, retain and attract new talent for higher paying jobs of the future," Pritzker said. "... Through this program, we will bring investments where they are most needed, specifically for downstate communities, where these cutting-edge training opportunities have not been as widely available."
During COVID-19, it has been focusing on its disinfecting lamps, and according to a news release, Eden Park is tripling its hiring.
CEO John Yerger said that the new academies will help train the skilled laborers his company is looking for.
The DCEO partnered with the Illinois Community College Board to develop the training academy proposal.
Community college districts or coalitions of community college districts in downstate Illinois will be eligible to apply for the funding opportunity.