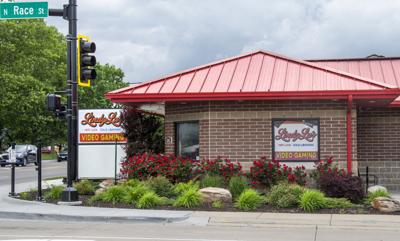 How much are area towns benefiting from video gambling?
Rantoul Village Administrator Scott Eisenhauer wasn't shy about the benefits that video-gambling revenue brings to his city.
Of the $5.68 million in income that Rantoul terminals made in 2021, 5 percent of it — more than $284,000 — went into the municipality's general fund.
"You're talking about three more police officers on the street, more programming we can offer in recreation," Eisenhauer said. "It's what we call a 'tax of choice.' Nobody requires you to go in and play video gaming."
Through April of this year, Rantoul gambling terminals have raked in $94,000 for the village.
"Without those dollars, the choice is less programs and police officers on the street, or to turn around and tax the residents," he said. "Here, residents are taxing themselves in choosing to spend their money that way, which takes that burden off of the typical property owner."
Here's a breakdown of how much has been bet and won at the top three video-gambling spots in 10 East Central Illinois municipalities from January to April 2022, sorted by the amount of tax revenue heading to each local government.
In Illinois, the net income of each video-gambling terminal is taxed at 34 percent, of which 29 percent goes to the state and 5 percent goes to the municipality.
The difference between the amount of money bet at each terminal and the amount won is known as net wagering activity.
2022 first-quarter video-gambling revenue
| Business | Address | Total Bet | Total Won | Net Wagering Activity |
| --- | --- | --- | --- | --- |
| CHAMPAIGN: $403550.72 in tax revenue | | | | |
| Mach 1 | 902 W. Bloomington Rd. | $10043328.57 | $9156118.42 | $887210.15 |
| Dotty's | 501 S. Mattis Ave. | $4714164.36 | $4341972.44 | $372191.92 |
| Circle K | 4202 W. Springfield Ave. | $4247365.66 | $3865370.57 | $381995.09 |
| | | | | |
| DANVILLE: $189,419.64 in revenue | | | | |
| Business | Address | Total bet | Total won | NWA |
| Marathon | 3401 E. Main St. | $4733382.71 | $4273441.37 | $459941.34 |
| Jack Flash | 510 N. Gilbert St. | $3638188.10 | $3326766.58 | $311421.52 |
| Dale's | 1217 E. Fairchild St. | $3072977.54 | $2790018.56 | $282958.98 |
| | | | | |
| URBANA: $176039.96 in tax revenue | | | | |
| Lindy Lu's Place | 202 W. University Ave. | $4261184.77 | $3897983.23 | $363201.54 |
| Ruby's IV | 510 N. Cunningham Ave. | $3668760.81 | $3388499.55 | $280261.26 |
| Emma's Eatery | 114 Vine St. | $3585130.45 | $3299323.61 | $285806.84 |
| | | | | |
| RANTOUL: $94108.32 in tax revenue | | | | |
| Vegas Place | 187 E. Grove Ave. | $5373721.93 | $4889991.67 | $483730.26 |
| Circle K | 220 S. Murray Rd. | $4144705.10 | $3711222.78 | $433482.32 |
| Caroline's Lucky Stop | 425 S. Murray Rd. | $3384950.41 | $3116680.58 | $268269.83 |
| | | | | |
| TUSCOLA: $56740.90 in tax revenue | | | | |
| Lambo's | 1000 E. Southline Rd. | $4417607.36 | $4044933.23 | $372674.13 |
| Fuel Mart | 1207 E. Southline Rd. | $3763126.96 | $3469355.28 | $293771.68 |
| Road Ranger | 1112 E. Southline Rd. | $1884969.40 | $1724648.16 | $160321.24 |
| | | | | |
| MONTICELLO: $47420.46 in tax revenue | | | | |
| Debbie's | 404 W. Center St. | $2837515.21 | $2601730.47 | $235784.74 |
| Friend$ | 313 W. Main St. | $1727549.65 | $1614008.40 | $113541.25 |
| Circle K | 802 Iron Horse Place | $1717050.08 | $1561971.51 | $155078.57 |
| | | | | |
| GIBSON CITY: $39123.69 in tax revenue | | | | |
| Country Kettle | 810 S. Sangamon Ave. | $2867451.01 | $2639609.71 | $227841.30 |
| American Legion Post 568 | 203 N. Sangamon Ave. | $2050472.98 | $1859904.25 | $190568.73 |
| Gibson Variety Liquor | 115 & 119 W 8th St. | $1348209.70 | $1236023.11 | $112186.59 |
| | | | | |
| MAHOMET: $23265.18 in tax revenue | | | | |
| Circle K | 506 S Prairie View Rd. | $2843352.67 | $2549652.51 | $293700.16 |
| Lake of the Woods Bar & Liquors | 204 S Prairie View Rd. | $1246031.28 | $1141833.76 | $104197.52 |
| Project 47 | 101 N. Lombard St. | $717589.31 | $663826.61 | $53762.70 |
| | | | | |
| TOLONO: $21048.32 in tax revenue | | | | |
| Lu & Denny's | 105 N. Long St. | $2020964.70 | $1827678.01 | $193286.69 |
| Traxside | 4 E. Holden St. | $1203901.17 | $1107200.79 | $96700.38 |
| Jack's Tavern | 106 E. Main St. | $867314.93 | $784494.43 | $82820.50 |
| | | | | |
| PAXTON: $20849.15 in tax revenue | | | | |
| Business | Address | Total bet | Total won | NWA |
| Ruby Belle's | 763 E. Pells St. | $1888823.30 | $1708596.82 | $180226.48 |
| Arcade Café | 132 N. Market St. | $1148763.09 | $1042995.21 | $105767.88 |
| The Public House | 130 S. Market St. | $777731.20 | $708044.66 | $69686.54 |