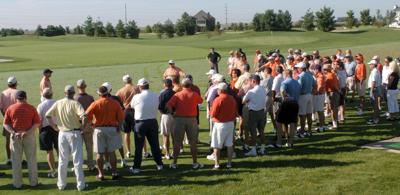 On the heels of Monday's news that the Urbana course is closing: A look at five notable events Stone Creek Golf Club hosted in the last two decades.
One last time
The Illinois men's golf team last played a competitive match in Champaign-Urbana at Stone Creek on April 14, 2018. The Illini and Bradley teed off in an 18-hole match-play event, with Illinois winning 5-2. "To play in front of these fans and see the smiles out on the course," UI coach Mike Small said, "it was special."
Home to Gill and friends
The annual golf outing hosted by former Flyin' Illini Kendall Gill that benefits Cunningham Children's Home just wrapped up its 30th year, doing so last June at the UI Course in Savoy. But for a number of years in the 2000s, Gill, Lou Henson and other well-known names in the community participated in Gill's outing at Stone Creek. Just like Deron Williams did during a charity outing of his own in 2011 at the course.
Postseason play
Always a popular site for regular-season high school golf matches, including the annual Sam Wells Memorial Tournament in honor of the late St. Thomas More and Parkland golfer who lost his battle with cancer in 2014. The venue was a frequent host in regional and sectional rounds, too, for both area boys' and girls' golfers looking to advance to the state tournament.
Annual event
The area golf calendar is littered with events, starting in April and running through October. While the Stone Creek Open never rose to local prominence like the Twin City tournament or the UI Open, the early August tournament always featured competitive golf. Craig Toler, a former Parkland golfer, won the final Stone Creek Open with a 10-shot victory in August 2019.
Odds and ends
The Illinois women's golf program hosted the Big Ten Championships at the course in 2002, placing fifth at the tournament. ... Former Illini Steve Stricker, who will serve as the U.S. captain at the 2020 Ryder Cup in nine months, frequently held a fundraiser at Stone Creek to help out the Illinois programs. ... The Illini Rebounders, the official booster club for the Illinois men's basketball team, regularly held their annual golf outing at Stone Creek, with their latest one last August.