Beyond the Boardroom: Champaign Fire Chief Gary Ludwig
Editor Jeff D'Alessio's weekly chat with a local boss about leadership, management style and more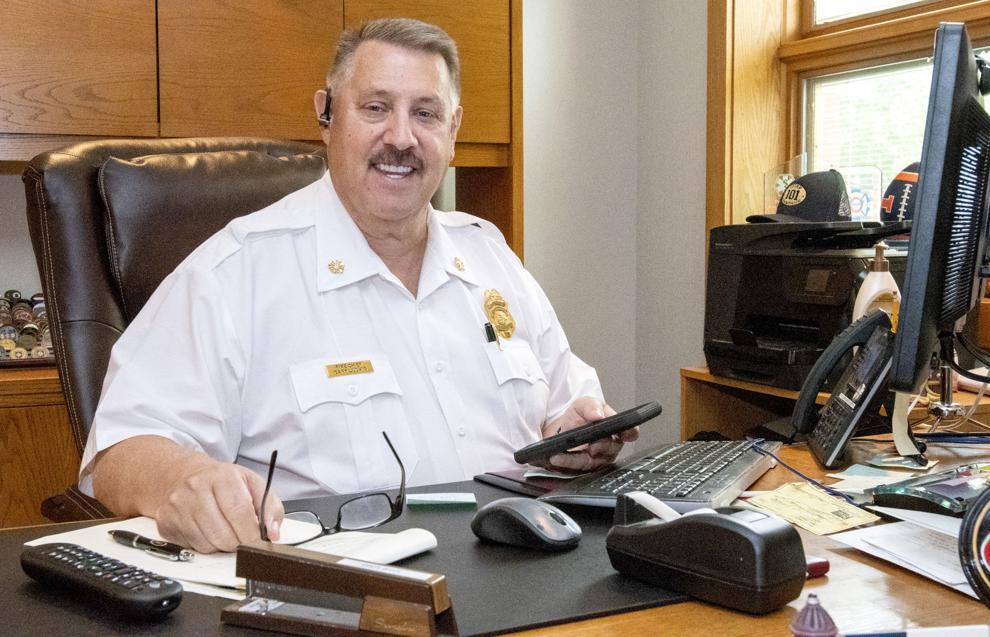 The worst job Champaign Fire Chief GARY LUDWIG ever had?
Pass.
"I have never had a bad job. I have been a part of the fire and EMS profession since I was 18 years old," says Ludwig, who's been on the job here since November 2014.
"However, there are aspects of my job that can be difficult at times, especially when it comes to the tragic and sudden death of a young child."
Ludwig is in his fifth decade of a career that began in 1977, when he was hired as an emergency medical technician in St. Louis. Seventeen years later, he was named chief paramedic of the St. Louis Fire Department, which led to his being hired as director of emergency services for Jefferson (Mo.) County, then deputy fire chief in Memphis.
The author, in-demand speaker and president of the International Association of Fire Chiefs took time out to answer a few questions from Editor Jeff D'Alessio in the 28th installment of our weekly speed read spotlighting local leaders of organizations big and small.
---
I can't live without … my boat. It is my getaway and safe space to relax — especially at sunset.
My business role model is … Henry Ford because he was self-made. His many quotes ring true, also — like "Vision without execution is just hallucination."
I'm frugal in that … I only shop in Champaign and only eat my meals at restaurants in Champaign.
I firmly believe if my paycheck comes from the city of Champaign, that is where I will spend it.
My one unbreakable rule of the workplace is … they must be respectful to each other and the citizens we encounter every day. Our job should be public interest and not self-interest.
The hardest thing about being a leader is … terminating an employee, regardless of what they have done. There is no joy in taking away someone's ability to feed their family, put a roof over their head and have a career.
This is why I take the process of terminating an employee very seriously and will do so if necessary, but only with justification, and ensuring the process has determined that they need to be separated.
Even then, it should be done in a respectful and humane way.
The biggest business risk I ever took happened when … my brother and I opened a restaurant and bar in south St. Louis from the ground up.
We rehabbed a building. It was tough for the first several years but it eventually paid off.
When it comes to the last luxury in which I indulged … my wife and I took a Hawaiian cruise last December and bought one of the nicer suites.
To our surprise, three weeks to the day after we took a helicopter tour of Kauai, the helicopter and pilot we were flying with crashed and seven people were killed, including the pilot.
My philosophy on meetings is … I am not a proponent of them unless there is value and there are action items that come out of it.
I got rid of many of the different committees and meetings when I came to Champaign Fire. All we were doing was meeting with no takeaway action items. In fact, it seems the more people in the meeting, the less productive you can be.
Many times, organizations have regularly scheduled meetings and will meet, just to meet. You can have regularly scheduled meetings, but if there is nothing to meet about, cancel it.
I'm up and at 'em every day … between 5 and 5:30. I automatically wake up without an alarm clock. I sleep very little.
I usually switch between news and financial channels as I go through email and read articles of interest online.
When it comes to my exercise routine … I am bad during the winter months but when the weather gets nicer, I usually ride my bike three to four days a week and usually do about eight miles while listening to an audio book.
The most beneficial college class I took was … Abnormal Psychology at Saint Louis University. It gave me insight into why some people act as they do.
As far as my single-favorite moment as Champaign fire chief … I have two equal moments — the first is when I promote a firefighter to a new rank, pin their badge on and see their excitement, and the second is at our annual awards ceremony, when we reunite firefighters with people who have been in cardiac arrest and were resuscitated.
It's amazing to see the appreciation of those who know they have been given a second chance at life.