Beyond the Boardroom: Champaign Planning and Development Director Bruce Knight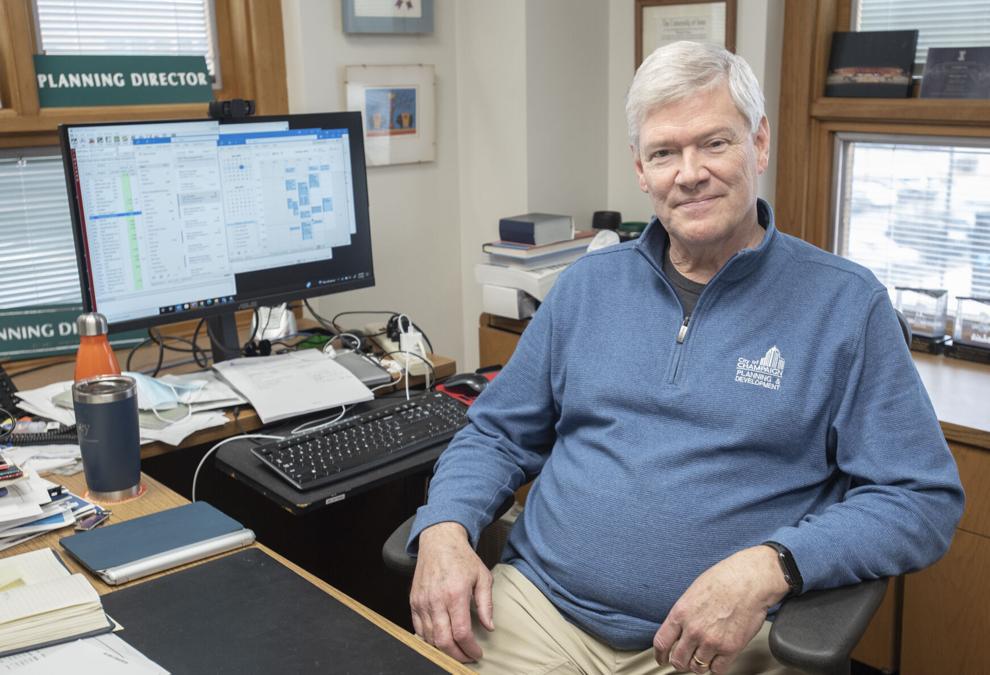 He's said it before and he'll say it again: To his first boss at the city of Champaign, BRUCE KNIGHT can't thank you enough.
"Retired Champaign City Manager Steve Carter," Knight says. "Steve took a flier on a 34-year-old to take over as Champaign's second-ever planning director, let me make the job mine by giving me enough rope to hang myself, but he also never let me actually get hung out to dry."
And look at Knight now — 34 years on the job as planning and development director of a city that's seen its population grow by more than 24,000 over that period, jumping from No. 15 to No. 9 on Illinois' largest list, passing Arlington Heights, Cicero, Decatur, Evanston, Schaumburg and Waukegan.
A Minnetonka, Minn., native with a bachelor's degree from Iowa State and a master's from Iowa, Knight leads a team of 10 responsible for long-range planning, management of land development, administration of the zoning ordinance and economic development.
He took time to answer questions from Editor Jeff D'Alessio in the 124th installment of our weekly speed read spotlighting leaders of organizations big and small.
---
The hardest thing about being a leader is … remembering that leadership is earned, not given by position. Need to work to earn it every day.
I'm frugal in that … I taught myself to cut my own hair during the pandemic — and I'm still cutting my own hair.
If I could trade places for a week with any other business person in town, I wouldn't mind switching with … Mark Dixon, president of The Atkins Group. Mark and I have worked with each other since we were young men — in fairness, he is still much younger than me.
It might be fun to be in his shoes and work on the land development side for a while versus on the side of regulating land development.
My one unbreakable rule of the workplace is … don't say or do anything if you wouldn't be comfortable seeing it on the front page of The News-Gazette.
I can't live without my … family. We're lucky to have our adult kids and grandkids here in town and to spend time with them regularly. That was so important to us during the pandemic.
My philosophy on meetings is ... that they are necessary for coordination when multiple people are involved in a project — and they almost always are when working for government — but they should start on time, have a purpose, have an agenda, make sure everyone has a chance to participate, end by defining next steps and end on time.
When it comes to my favorite moment of all-time in this job … that's a tough one. I've gotten so much enjoyment over the years seeing our community become a more enjoyable place to live and work as a result of our efforts.
One moment I do remember vividly is sitting at the sidewalk café at the Esquire the first night it opened in 1999. After a lot of discussion, sidewalk cafes were being allowed for the first time in Champaign as a one-year pilot project because of concerns about allowing service of alcohol on our city sidewalks.
That night, watching the reaction of people walking and driving by, and those who were also there enjoying the space, I knew immediately that it had all been worth it and that adding outdoor seating in downtown was going to be a success.
At that time, there were 150 outdoor seats and now there are over 1,500 and it is something often pointed to as what people enjoy about our downtown.
Three adjectives I hope my staff would use to describe me are … honest, fair and supportive.
On my office walls, you'll find … mementos from a 46-year career in urban planning.
I wind down after work by … hanging out with friends and family, preferably in downtown Champaign.
The last luxury in which I indulged was ... a weeklong trip with my wife to Steamboat Springs, Colorado during peak fall color. Beautiful scenery and a relaxing getaway from the realities of dealing with the pandemic.
As far as my most beneficial college class goes ... 45 years after graduation, it's hard to point to a college class that I'm still drawing on what I learned then to help me today. What I learned is the importance of being a lifelong learner who is always open to new ideas.
My planning staff is always looking for new and improved ways to make our community better, and they regularly challenge me to be open to new ways of doing things.
I'm up and at 'em most days ... between 6:30 and 6:45 a.m. typically. I am more of a night person than a morning person. A career of evening meetings will do that.
When it comes to my exercise routine ... pre-pandemic, I was biking to work every day. Unfortunately, two years working from home got me out of that habit.
I try to walk regularly, and we belong to the YMCA so I'm working out there whenever I can.
The worst job I ever had was ... working behind the counter at a Baskin-Robbins for a few months in high school. I didn't enjoy it because it would take people forever to decide what flavor they wanted — after multiple samples — resulting in a line of people waiting to be served who were then impatient.
Lesson learned: 31 choices is too many for the average person.
On a 1-to-10 scale, the impact of the pandemic has been a … 10 — based on seeing the impact it had on our community, especially our small, locally owned businesses. A big part of my job is promoting the economic development of Champaign and we know there is still much work to be done to fully recover from the impacts of the last two to three years.