Beyond the Boardroom: Community Foundation of East Central Illinois' Angie Hatfield Marker

ANGIE HATFIELD MARKER learned more in her first job — undergraduate student equipment manager for Ron Turner's Illini football team — than any other she's had since.
Some of those lessons are applicable to her new gig. Others, not so much.
"I learned the importance of teamwork and good coaching, how to win and lose," she says, "and how to string curse words together for maximum effectiveness, a skill set I rarely use now."
Earlier this month, the UI alumna assumed one of the biggest philanthropic jobs in the region — she's the new president/CEO of the Community Foundation of East Central Illinois, succeeding the retired Joan Dixon.
The mom of two and 2008 Central Illinois Business magazine Forty Under 40 honoree took time out to answer questions from Editor Jeff D'Alessio in the 84th installment of our weekly speed read spotlighting leaders of organizations big and small.
---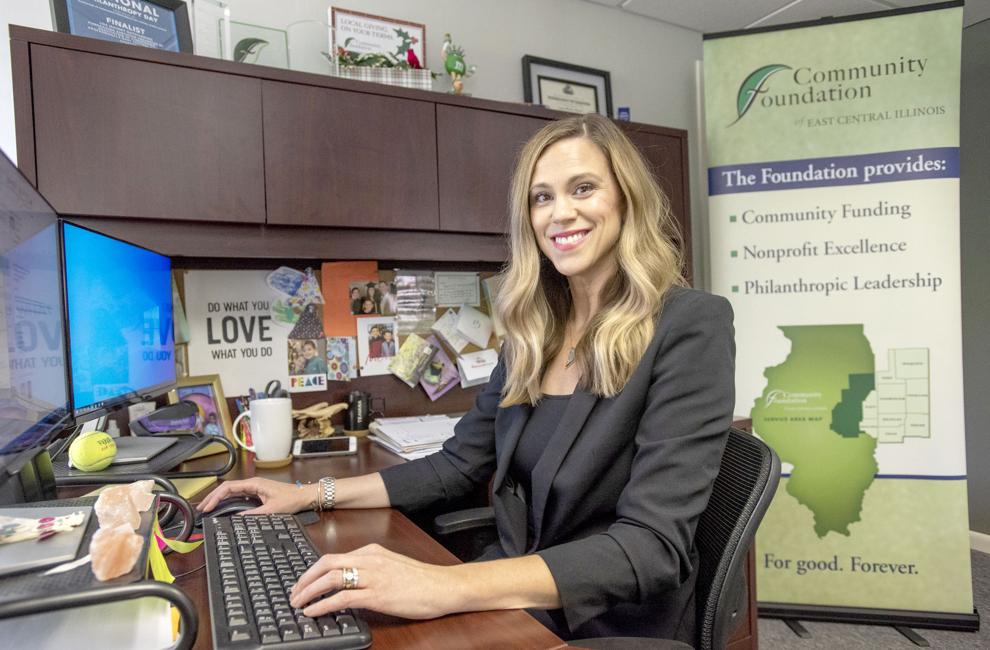 The hardest thing about being a leader is ... knowing it's much more than just a title.
It's coaching — knowing your team's strengths and weaknesses and what motivates each of them as individuals. It's being present. Vulnerable. Authentic. Egos can make that hard — or at least mine sometimes can.
I think the best leaders create environments where the entire team feels inspired to do their best, most purposeful work.
Creating that environment can be hard with limited time and resources, especially in the nonprofit sector.
When it comes to my business role model ... I have a few, but I like to keep them close to the vest. They're all experts in their fields and they all share one common characteristic — generosity of spirit. They're generous with their teams. With their clients. With their community.
My mom was a teacher and my dad was a fundraiser. They've been great coaches and role models for me over the years too. And my dad's advice to always "know your role" stays evergreen.
I'm frugal in that ... I love a good deal. I'm not afraid to negotiate. That's probably the recovering car saleswoman in me.
Our former CEO, Joan Dixon, ran a pretty tight ship at our Community Foundation for almost 20 years and she's rubbed off on me a bit when it comes to our bottom line. I'll continue keeping a close eye on our expenses.
We owe that to our donors and our nonprofit partners.
My one unbreakable rule of the workplace is ... tell the truth. That's my one unbreakable rule for life too.
We all make mistakes. Own them. Learn from them. Make amends. And move on.
My single favorite aspect of my job can be summed up in ... this poem I love about fundraisers, in which the author calls us "brokers of hope." That's been my favorite aspect — working with so many generous humans who want to make a difference and being lucky enough to be the one who's able to offer them some opportunities to do so.
My philosophy on meetings is ... I like them informal and ongoing. I think I'll be more of a "Hey, fill your coffee cup, sit here with me and let's talk through a few things" kind of CEO.
Jim Turner, my former boss at O'Brien Auto Park of Urbana, operated this way. He always had an open-door policy with our team. And you always knew whatever your problem, he'd help you work through the solution.
The most beneficial college class I took was ... a graduate course I took last year. Multi-Sector Convergence and Social Responsibility.
We're lucky in our community — each of the sectors knows their role and we work well together. But there's always room for more collaboration.
I'd love to teach something similar at the University of Illinois someday. Social responsibility is an important concept.
I can't live without ... well, this year it's been a mask and hand sanitizer. And certainly, my husband Danny, our sons, Johnny and Deano, and our family and friends.
I really, truly can't ever get enough of each of them. This year made me really appreciate my relationships.
I'm up and at 'em every day by ... 5 a.m. We have a pretty good morning routine. We go to bed early too, though. Anyone who knows us, knows we're down for the count by 8:30 or 9 p.m.
When it comes to my exercise routine ... I just registered for the Run to Remember 8K. So I'm trying to run a little more. And I practice barre and hot yoga.
As far as the last luxury in which I indulged ... I work for a nonprofit, so I don't indulge in many luxuries. But I did just buy a pair of new neon yellow Hoka One One running shoes. I fractured my heel two years ago and Hokas have been my saving grace.
On a 1-to-10 scale, the impact of the pandemic has been a ... 9. This has been a hard year for so many. But I'm proud of the generosity our community has shown our nonprofits. Because of that support, there was very little interruption in local vital programs and services.
We've all been impacted, though — and certainly had to adjust the ways we help our friends and neighbors.
Fifty years ago, our founders wanted to "endow the community." And the Community Foundation they created has done just that. Because our assets have always been invested and protected, the financial impact of the pandemic was minimal for our organization.
We were able to distribute $1.2 million on behalf of our donors this past year — more than any other year in our 50-year history.
The pandemic also helped us understand our Community Foundation's full capabilities and the role we play within our local group of funders. We have a strong network and trusted relationships. These networks and relationships proved especially crucial this past year-and-a-half.
In a year that nonprofits and the people they serve needed support more than ever, we collaborated with United Way of Champaign County to raise and distribute an additional $1.2 million in funding to those most affected by the pandemic.