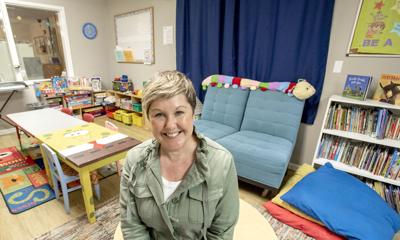 ELIZABETH McGREAL COOK's favorite moment so far in a job she's held for a smidge under two years?
It's a too-big-to-count tie for first.
"I have a new favorite moment every time I see someone on our team find a new way to solve a problem, innovate or show leadership they weren't sure they had in them," says the CEO of Courage Connection, the Champaign-based nonprofit that provides housing and support to those who face domestic violence. "They're doing transformational work. I'm grateful for the front-row seat."
She's had it since June of 2019, when the 12-year UI advancement leader was chosen to succeed Isak Griffiths as CEO.
The Champaign native, one-time Centennial High newspaper editor and Southern Illinois-Edwardsville grad took time out to answer a few questions from Editor Jeff D'Alessio in the 68th installment of our weekly speed read spotlighting leaders of organizations big and small.
---
The hardest thing about being a leader is … helping team members to recognize and develop the leader in themselves.
This is also one of the best parts of being a leader.
I can't live without my ... family. That includes my 80-pound Labrador Retriever. He's a snuggler.
My philosophy on meetings is ... they are essential to move people and organizations forward.
Zoom meetings have been rough. Research suggests the value of meetings comes in the margins — the conversations we have between agenda items and the rapport we build during those interactions.
I've struggled to find ways to build that kind of engagement on Zoom.
My business role model is … Marcus Aurelius — and not because of "Gladiator." I've been a student of Stoicism for many years.
My one unbreakable rule of the workplace is … act with integrity and kindness.
The biggest business risk I ever took was ... early in my career, when I decided I'd bring more value if I had experience working in several different industries. As a result, my career has taken me from private industry to higher education to nonprofit.
Each move has been a risk and has come with high learning curve. But it's been so worth it.
I've been stretched and challenged. And I've had the chance to work with so many amazing people.
The last luxury in which I indulged was ... working with a personal trainer. Being active is very important to me.
Over the past year, my fitness routine got a little stale. I wanted to rediscover why I love fitness, and I found an awesome teacher.
As far as my exercise routine goes … I'm active most days. I've always been committed to cardio — running, walking, biking. Working with a trainer has helped me to embrace strength training.
The most beneficial college classes I took were ... in grad school, Leadership Development with Dr. Leonard Bogle at the University of Illinois at Springfield. He introduced me to The Leadership Challenge. It completely changed my definition of leadership.
Dr. Scott Day and Dr. Karen Swan had a huge impact on me, as well. I loved every minute of grad school.
I'm up and at 'em every day by … 5 a.m. Yes, I'm a total morning person.
The worst job I ever had was … during my undergrad, when I spent a summer working at a clothing store that sold swimsuits.
I'm pretty sure I spent the entire summer attempting to restock the hundreds of bikinis left on the floor of the fitting room. Bikinis and hangers are not friends.
On a 1-to-10 scale, the impact of the pandemic has been a ... 10-plus. Rates of domestic violence have reached record levels since the pandemic began. The impact of COVID-19 will be felt for years to come.
Courage Connection is here for everyone. If you are experiencing domestic abuse, please call our locally staffed 24/7 hotline at 217-384-4390. Our clients are brave and resilient. I'm inspired by them every day.
I'm equally as inspired by our outstanding team. Last March, we had only a few hours to decide how we would provide services during the stay-at-home orders. We immediately committed to providing our full services. Over the past year, we've even launched new programs and are reaching more members of our community than we have in the past.
I'm so proud of the innovation and leadership staff has shown.