For agribusiness inspiration, the president of Murray Wise Associates need look no further than the name on the company letterhead.
"Murray Wise, the founder of our company, is a pioneer in our industry," ERIC SARFF says. "It's been wonderful being able to tap into his knowledge base and get a front-row seat to how he approaches business."
A little over a year ago, Sarff was promoted to president of the Champaign farm management and farm real estate company started by one of the industry's giants.
Like Wise, Sarff grew up on a farm (in southern Mason County) and holds a degree from the University of Illinois (BS '03, agribusiness).
The Havana native and father of two took time out to answer questions from Editor Jeff D'Alessio in the 112th installment of our weekly speed read on leaders of organizations big and small.
---
Three adjectives I hope my employees would use to describe me are … hard-working, loyal and open-minded.
On my office walls, you'll find … various U of I and agriculture-related items, but my favorite is a picture of my 5-year old son and I at a recent Illini game.
We sat right behind the basket, in the same section I would have sat in when I was in the Orange Krush 20 years ago, and he got his picture taken with some former Illini players who were sitting near us. It was a special day.
My philosophy on meetings is … start on time and make them as efficient as possible.
There is nothing more frustrating than using one meeting to set up a future meeting about the same topic.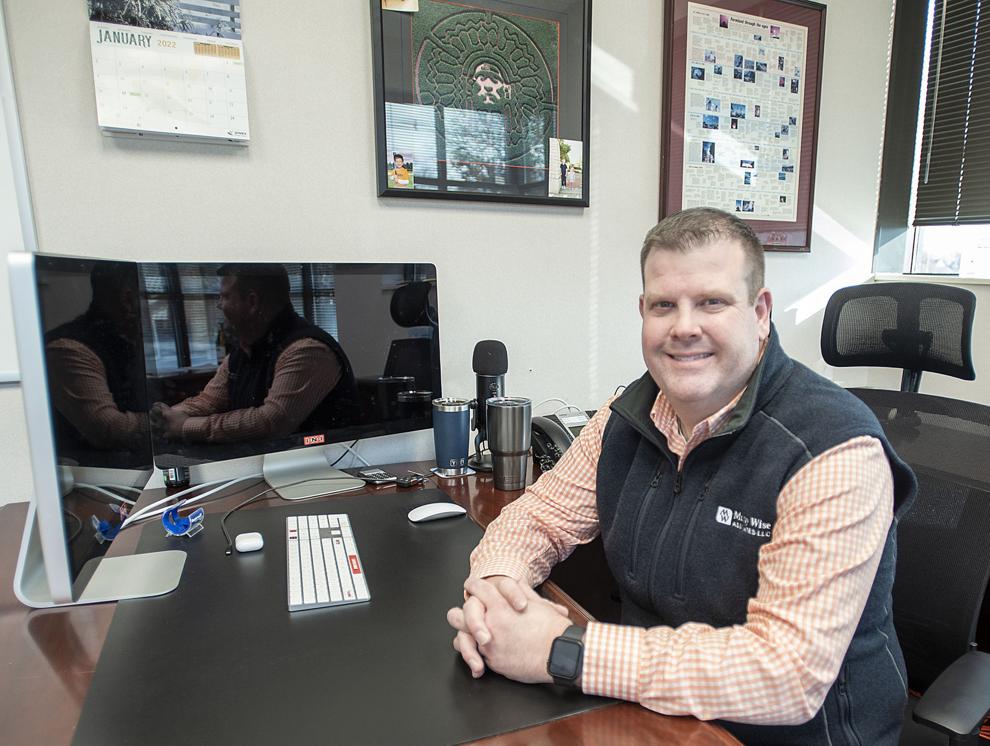 If I could trade places for a week with any other business person in town, I wouldn't mind switching with … my barber. He gets to visit with a wide cross-section of people every day and is always up to speed on the latest gossip around town.
The hardest thing about being a leader is … always looking ahead and trying to anticipate the next hurdle before you get to it.
My single favorite moment of all-time in this job was … when we recently assisted a long-time client in selling a number of building lots on a large lake outside of Roanoke, Virginia. We held the auction in a ballroom at a beautiful historical hotel in downtown Roanoke.
Between the beauty of the lots themselves, the great auction location, the camaraderie of our team all being together and the sale price being way over expectations, it made for a special moment.
I can't live without my … time in the evenings with my wife and kids. I love hearing about how my kids got along at school and daycare. It's amazing watching how much information they soak up on a daily basis.
I also really value the brief time my wife and I get to ourselves to talk about the day after the kids go to bed. She's my sounding board when I struggle with something and she always points me in the right direction.
I'm frugal in that … we try to do as much grocery shopping as possible at Aldi.
My one unbreakable rule of the workplace is … don't get complacent. There is always more to learn and ways to better yourself.
I wind down after work by … driving home. I have about a 45-minute commute from the office to my house and it gives me a lot of time to reflect on the day and unwind.
The last luxury in which I indulged was … an underground irrigation system we recently had installed at our house. I am looking forward to not having to lug the hose and sprinkler around anymore, although I am not looking forward to more mowing.
The most beneficial college class I took was … Agricultural Finance with Dr. Bruce Sherrick at the University of Illinois.
The class was a big part in me transferring from the School of Business to the School of Ag and made me realize I wanted to stick with my roots and be involved in agriculture for my career.
I'm up and at 'em every day by … 4:30 usually. I joke that it's the farm boy blood in me, but I have always been a natural early riser, even when I was younger.
When it comes to my exercise routine … calling it a routine is generous, but I always try to get my workout in in the morning before the rest of my household gets up. I like the various workouts on the Apple Fitness+ platform.
The worst job I ever had was … cutting weeds out of soybeans. I was not upset when our farm transitioned to Roundup Ready soybeans and that task was made obsolete.
On a 1-to-10 scale, the impact of the pandemic has been … probably a 5. On a day-to-day basis, we don't have many customer-facing activities, so we could for the most part continue business as-is.
Where it affected us was on public auctions — we could no longer pack a large group of people into a room for a farmland sale. Fortunately, we had been doing online streaming for a few years prior to COVID hitting, so we had the basics already figured out for online sales and were able to transition to fully online auctions fairly efficiently.