Beyond the Boardroom: OSF Heart of Mary President Dr. Jared Rogers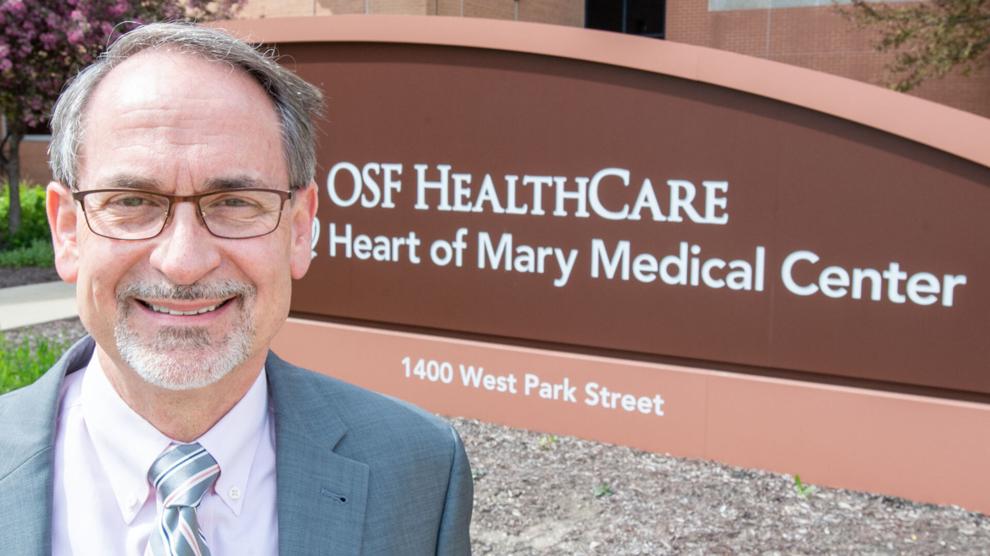 As painful as the past 13 months, three weeks and change have been for so many, the pandemic hasn't entirely lacked in uplifting moments.
Take it from OSF Heart of Mary Medical Center President DR. JARED ROGERS, whose single-favorite moment on the job came in the last year, after an employee recovered from a severe case of COVID-19.
"He had been in the intensive care unit for weeks on a ventilator," Rogers says. "On his way out of the building, we lined the hallways cheering him onward. He has since been able to return to work."
With vaccination numbers on the rise and coronavirus cases on the decline, the Urbana-based family medicine physician took time out to answer a few questions from Editor Jeff D'Alessio in the 74th installment of our weekly speed read spotlighting leaders of organizations big and small.
---
My philosophy on meetings is ... whether it's with one person or one hundred, have the meeting last only as long as necessary to accomplish what is needed.
I can't live without my ... wife Jannie and Breyer's vanilla ice cream — in that order.
My business role model is ... Ronald Reagan. Even though he wasn't technically a business leader, by being the President of the United States and leader of the free world in the 1980s, he absolutely affected countless businesses around the globe.
The personal ethics and morals he applied to leadership were clearly stated and very powerful. He was steadfastly a believer in free markets, was strongly anti-communist and was without question ardently pro-life. He was a Christian man who loved people and life itself.
He sought to lead in such a manner that others could be free to pursue their dreams based on their own merits and own efforts, but at the same time, he was compassionate to those who needed a hand.
I'm frugal in that … I always save paperclips and rubber bands for the future when I'll need them and try to use zip-lock bags more than once, but only if they're clean.
I don't wash those zip-locks; that is where my frugality stops.
My one unbreakable rule of the workplace is … that the welfare of the patient is always of the greatest importance.

The biggest business risk I ever took was ... going from being a successful small business owner in a private medical practice to a salaried position in academic medicine at Methodist Medical Center of Illinois and the University of Illinois College of Medicine at Peoria.
It paid off in that it led to higher positions in leadership within health care, including being president of two OSF medical centers.
When it comes to the last luxury in which I indulged ... it's hard for me to pick between my blacked-out 2020 Ram 1500 Limited pickup and my new Milwaukee drill.
They are, of course, very different, but each is great to have when you need it.
The most beneficial college class I took was … Organic Chemistry at Western Illinois University. It convinced me that as long as I knew what the outcome was supposed to be, there was usually a logical path to be found in getting there.
It also taught me that there are occasionally no paths to reach a particular end, in which cases, it is best to move on and find other challenges.
I'm up and at 'em every day by ... 4:45 or 5 a.m.
My exercise routine usually consists of … five days per week doing a combination of running, biking and strength training. I've been a runner for over 45 years, and love it — even though it's getting less enjoyable in the knees as the years go by.
The worst job I ever had was … during the summers between the ages of 12 and 15, walking beans. It was usually hot, the biting and stinging insects were always plentiful, the fields were unfailingly huge, and it didn't pay particularly well.
But, when I was that age, just about any way to earn money was worth the misery.
On a 1-to-10 scale, the impact of the pandemic has been a ... 9. It has impacted everyone's life in one or more ways. This impact for any one of us is likely a combination of more than one of the factors of social isolation, anxiety of becoming ill, restriction in our ability to go places, financial hardship, deterioration of physical or mental health, personally experiencing COVID-19 or experiencing the heartache of having a loved one ill or dying from COVID-19.
It's surely not over yet, but at least I believe we are starting to see the beginning of what could be the end of the pandemic despite the recent indication of another surge. We as a population need to remain committed to continuing the measures keeping us safe while we pursue herd immunity as fast as possible with vaccinations.
The reason to not give this dreadful pandemic a 10 is that I have a vivid imagination and can always think of how it could be worse. I hope and pray my imagination is mistaken.