Beyond the Boardroom: Patrick Brown
Editor Jeff D'Alessio's weekly chat with a local boss about leadership, management style and more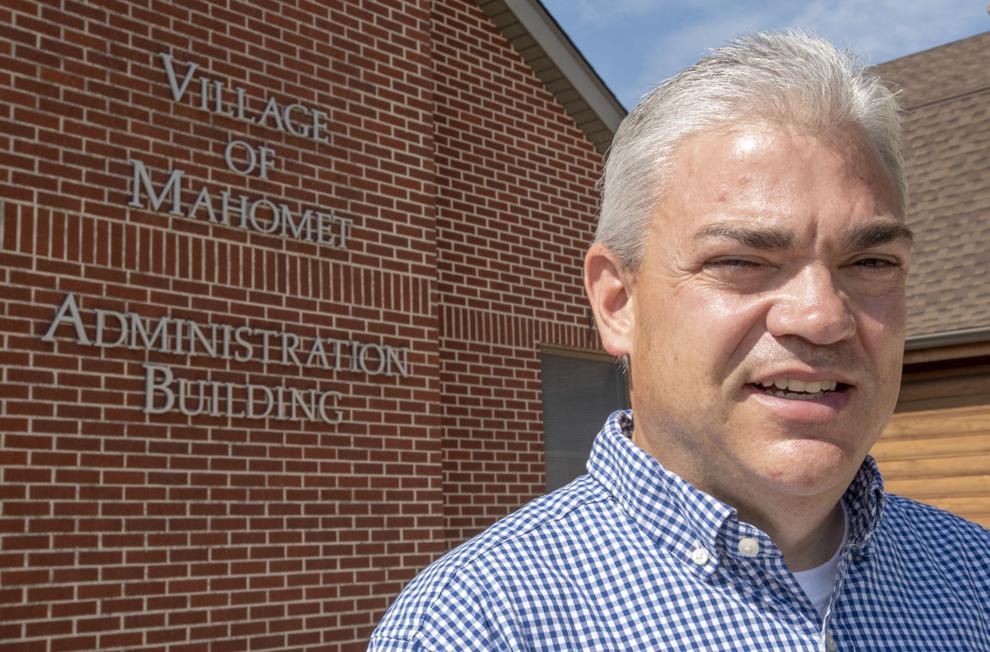 The No. 1 item on PATRICK BROWN's short list of don'ts for those he manages in the village of Mahomet?
"Poor service, or 'no' being the first answer," he says. "Customer service is very important to me. We want our residents to be happy. We know, just like in business, you cannot make everyone happy, but we can certainly try our best.
"My leadership style is empowering and trusting our employees to own problems, be responsible for their jobs and to make decisions. I have too much on my plate to worry about doing someone else's job. I want our employees to live the Golden Rule and treat residents the way they would want to be treated."
Last year marked Brown's fifth in a job he took on after spending six years as a Mahomet trustee, then close to two more as village president. Year 6 as town CEO has been more challenging than anticipated because, as Brown puts it, "everyone loses out during COVID-19."
The Southern Illinois-Carbondale and Horizon Hobby alum took time out to answer a few questions from Editor Jeff D'Alessio in the 37th installment of our weekly speed read spotlighting leaders of organizations big and small.
---
The hardest thing about being a leader is ... when you finish your day, you feel an awful lot like a counselor who at times has a heavy weight on them.
When you have employees working for you, it is important that you are there for them and help lift up their spirits when they are having a bad day or help them make the right decision for work when they are struggling.
They unload both work problems and personal problems. Being a great listener is very important.
I can't live without my ... phone. I am not glued to it, but certainly rely on being connected to email both during the workday, evening and even vacation.
It allows me to stay connected to the news because I really stopped watching news on the TV, except local.
My business role models are ... two people. First is someone I consider a strong mentor — Ron Summers, who ran the Du Quoin State Fair back in the 1990s.
I interned for him and we remain friends. He was a businessperson before being a public servant and proved government can operate like a business. Instead of the fair losing money, he put it on the right path by privatizing certain elements that lost money.
Second is Rick Stephens, founder of Horizon Hobby, where I worked for 16 years. He is a great entrepreneur, leader and believes strongly in the Golden Rule. He demonstrated how important customer service is to the success of your business, which is something that I believe is just as important in the public sector.
I'm frugal in that … I usually only buy clothes when they are on sale or clearance — and I wear them until they get sloppy and my wife usually has to tell me I cannot wear it anymore. By being frugal, it does allow me to be able to splurge on some nice things occasionally.
The last luxury in which I indulged was ... in the summer of 2019, when my family went to Italy on vacation for two weeks. That was a luxury to me.
Then, part of the trip we stayed four nights in the Amalfi Coast region, and because of the peak season, the hotel was very expensive. I would never have considered paying that much a night and probably never will again in my life, but we were really stuck. In the end, we created great memories, and it was all worth it.
The most beneficial college class I took was ... Moral Decisions at Southern Illinois University in Carbondale. The class taught me how to argue for and support a position.
One of the actual cases in class was to take a pro-life position, but you were not allowed to base it on moral or religious reasons.
The class was a good lesson in learning how to really be more analytical in my thinking and be able to take a position that you can strongly support with much more evidence.
The class, in my opinion, was great preparation for both private and government sector work and life in general.
I'm up and at 'em every day by ... 6 a.m. I am not a morning person, but still get to work by 7 a.m. every day.
I find that you can be very productive when the office is quiet.
When it comes to my exercise routine ... during spring, summer and fall, my wife and I ride our bikes about 10 miles a day and usually average about five days a week. During the colder months, we have a Peloton bike for indoor riding. We also walk a lot.
My philosophy on meetings is ... I would like to keep them to 30 minutes and certainly not more than one hour. Meetings are necessary to get everyone on the same page and working together.
However, I am a big believer in less meetings because they keep you from doing your work. I find that no matter the intention, they will drift off topic and waste a lot of time.
I am never afraid to cancel meetings.
As far as the worst job I ever had ... this is hard because every job I ever had was a learning experience for me.
I guess I would say I had a temporary job for a couple months making BBQ grills. The job was not necessarily difficult, but the experience was like going back to high school and dealing with all the drama. I was glad when that was done, but I did learn a lot about people and making grills.
On a 1-to-10 scale, the impact of the pandemic has been a ... 10. The real impact is felt by our business community and our village finances.
This is going to mean reduced funding from the state and other local revenue, which will impact local projects and programs.