Beyond the Boardroom: Style and Grace Salon & Day Spa's Tracy Brucks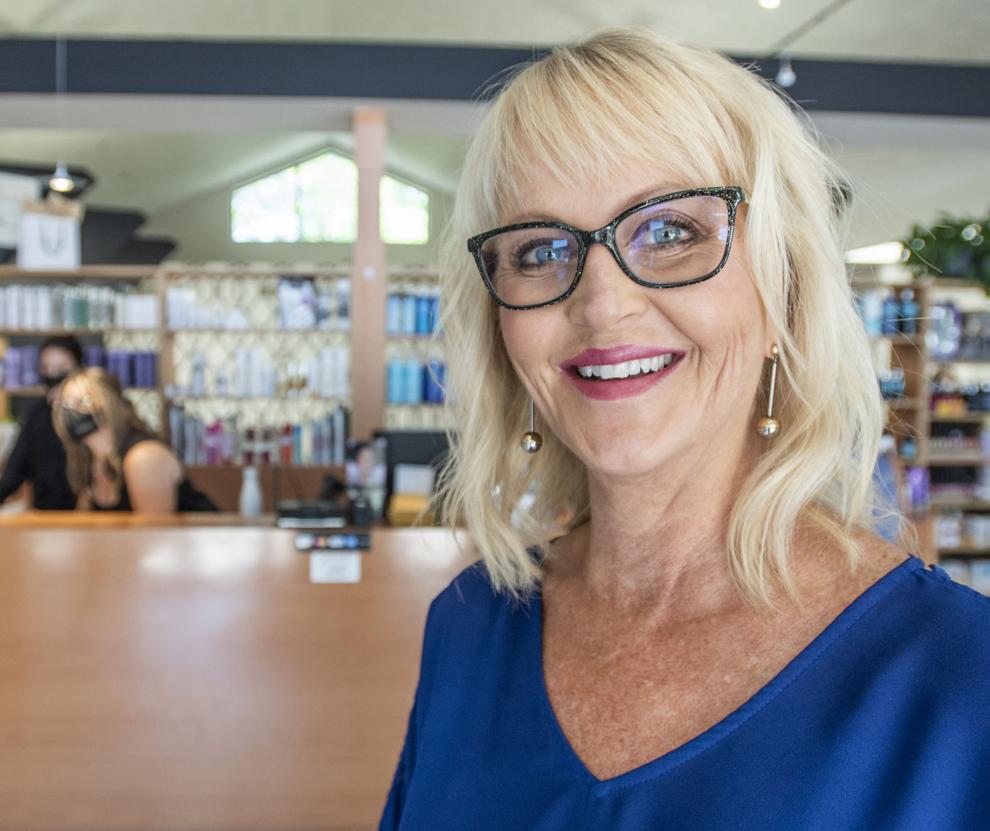 Long before she became a boss herself, then-Centennial High 16-year-old TRACY BRUCKS got a crash course in how not to treat employees.
"Blockbuster Video. The night I quit was because of coworkers," she says. "I had just vacuumed the entire store and realized my coworkers were sitting on the counter watching me. I put the vacuum away to be greeted with: 'Tag, you're it. You need to clean both bathrooms,' while they were still sitting on the counter.
"I did go into the bathroom. I did not clean. I changed my clothes, walked out and told them to have a nice night."
That was then. This is now: Last week, the Champaign business Brucks owns repeated as the "People's Choice" winner for best hair salon and the best place to get a mani-pedi. And Style and Grace Salon & Day Spa added a third top finish in The News-Gazette's reader-driven contest, for best massage service.
Brucks took time out to answer questions from Editor Jeff D'Alessio in the 93rd installment of our weekly speed read spotlighting leaders of organizations big and small.
---
My single favorite moment of all-time in this job happened ... on my wedding night. Let me explain.
The first year of ownership, we threw a wonderful holiday party. We had a sit-down dinner, DJ and pop-up wedding. My now-husband and I surprised the whole staff and had a pastor in the audience.
During my husband's welcome speech, he said a few nice words and then asked me to marry him. I said yes and the pastor proceeded to the podium.
By the end of the night, we were all dancing, and "We Are Family" started playing. They put us in the middle and we all danced. The whole night was completely surreal.
I can't live without my ... peanut butter. It would be a sad day if the world stopped producing peanut butter.
My philosophy on meetings is ... I like having meetings in person as much as time allows. Reading someone's body language really helps me get the full picture on how someone stands on the subject discussed.
Also, I strive to stay on topic as much as possible. Everyone's time is valuable. It is easy to get off topic and leave a meeting with the feeling that nothing was accomplished if the topic keeps switching.
The hardest thing about being a leader is ... finding a balance between having a leadership role and a sincere connection with my staff, being able to lead with both managerial and personal effectiveness.
My business role models are ... the former owners of the salon I purchased. Many business practices I agreed with, so I adopted them.
They never left my side after purchase. Now it has been three years and I rarely need to call them for day-to-day operations but I know if I ever need them, they will be there.
My one unbreakable rule of the workplace is ... to be kind and respectful to each other. No one should ever show their feelings of being elite.
I strive for a family environment. Families should always be there to lift each other up.
The biggest business risk I ever took was ... purchasing the salon I worked in for 23 years. Biggest risk and scariest.
To walk in and tell co-workers that you are now the new owner/boss and ask them if they would work with you — not only was this a business risk, it also changed all my relationships I previously had.
Fortunately, the team stood with me, and we are doing great.
I'm up and at 'em every day ... whatever time I need to be up to proceed with my day. If it is an early meeting day, I get up earlier.
Late meeting, later.
When it comes to my exercise routine ... I love to walk. I try to go twice a day.
We recently adopted a rescue dog. She keeps me motivated.
On a 1-to-10 scale, the impact of the pandemic has been ... a solid 8.
I chose to close the salon before the stay-at-home order was issued. I saw fear in both my guests' eyes and my staff because of the unknown. So much went into keeping the business going.
Just calling clients for 32 technicians multiple times — remember, the date for going back kept changing — was a huge task. Then creating new safety protocols, rearranging the whole salon. Decreasing the number of technicians per day and the number of clients.
Switching staff's schedules to better accommodate everyone. Educating the clients of our new protocols so they would feel safe to come back. Constantly watching the CDC guidance to make sure I was always up to date with the mandates.
This list can keep going. Some days were a 10 because I felt so defeated. Fortunately, the salon made it through and is doing well.
I salute all business owners that were able to reopen their doors.