It's Your Business | Boxing club taking a swing at bigger location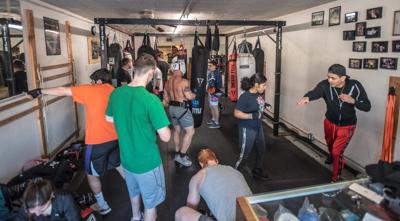 Luyando Boxing is planning a move to a larger space in downtown Champaign at 500 N. Walnut St. in May.
The number of students training and taking classes at the current space at 219 S. Locust St., C, has grown significantly, according to Kayliegh Loseman, one of the owners.
The new location will be 6,700 square feet, and it will have 21 heavy bags, nearly double what's available now, plus a competition ring, treadmills, free weights, power racks and more, she said.
Luyando Boxing was launched in 1994 by Coach Nelson Luyando, and it's now owned by Luyando's son, Nathan Luyando and Loseman — though, Nelson Luyando still has a presence at the gym, Loseman said.
They're hoping to have not only more space for their current members but to introduce more of the community to boxing, Loseman said.
Now open
Near the future site of Luyando Boxing is Wood N' Hog Barbecue's newly-opened second location at 500 N. Walnut St. C.
The menu is the same as the one at Wood N' Hog Barbecue at 101 W. University, U, and it includes half and full slabs of ribs hand-tossed in an original rib rub and then double cherry and hickory log-smoked.
Choices also include turkey tips, jerk tips, chicken, fish, hot links, daily specials and sides such as corn bread, okra, cabbage, coleslaw, baked beans, baked macaroni and cheese and fried green tomatoes.
Hours are 11 a.m. to 9 p.m. Sunday through Thursday and 11 a.m. to 10 p.m. Friday and Saturday.
Food is available for dine-in and carry-out and catering is also available, according to the owners, Michael McDonald and Okema Battle. Soul food on Sunday will be available soon, Battle said.
Expansion at DACC
Danville Area Community College wants to add more space for its in-demand nursing, radiologic technology, sonography and echocardiography programs.
The college has been in the process of purchasing the former U.S. Army Reserve building at the northeast corner of the campus and is in the beginning stages of plans to renovate it to add more space for the health professions programs.
"The health professions programs in most places across the country have a waiting list," said David Kietzmann, DACC's executive vice president for instruction and student services. "Our program is similar, because we get more applicants typically for the program than we have capacity to fill."
Nursing is one example: The college typically has 80-100 nursing students at a time, some in their first year, some in their second year and some part-time nursing students who are admitted every other year. And Carle, OSF HealthCare and Christie Clinic have all indicated they need more nurses in the Danville area, Kietzmann said.
Adding capacity for health professions takes more than adding space, he said. It also requires enough faculty.
"We would love to add capacity," Kietzmann said. "The reason that colleges will typically limit admission to those programs is because the faculty-to-student ratio for these programs is pretty small. In nursing, it can sometimes be eight to one."
Step one to expanding is adding the square footage, he said. DACC has bumped the building renovation project to the highest priority on its resource allocation management plan, and raising the money for this initiative will be included in an upcoming DACC Foundation capital campaign, Kietzmann said.
Estimates and a timetable for the building remodeling will be forthcoming, he said, but "we would like to do that as soon as possible."
The college already has received its first donation for the renovation project — $5,000 from the Hoopeston Area Healthcare Foundation.