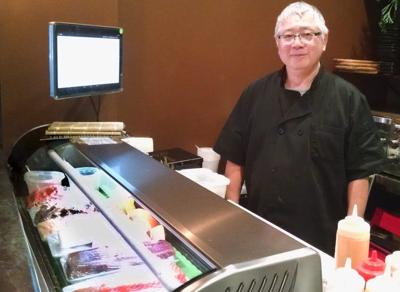 Do you love sushi? Thai food?
Sushi Siam, a new restaurant at Old Farm Shops at the corner of Kirby and Mattis avenues, Champaign, has both.
Menu items are available for both dining in and carry-out.
Hours are 11 a.m. to 3 p.m. and 4:30-9 p.m. Monday through Saturday, and the restaurant is closed on Sunday.
The restaurant owner, Arun Pathela, also owns Sushi Rock, 621 E. Green St., C.
Winning weddings
Several Champaign County wedding businesses have been named winners of WeddingWire's 2020 Couples' Choice Awards.
An online marketplace that helps connect consumers with professionals in the wedding industry, WeddingWire made its choices based on reviews of such service categories as dresses and other wedding attire, DJs, cakes, salons, bands, transportation, flowers, officiants, event rentals, photo booths and videography.
Champaign County winners include:
— Bugbee's DJ Plus, Champaign.
— Oak Street Salon, Mahomet.
— WhollyMatrimony4U, Champaign.
— Inspire Your, Savoy.
— Cakes by Lori, Mahomet.
— Elite Bridal, Champaign.
— Michelle's Bridal and Tuxedo, Urbana.
Calling for nominations
If you know of any entrepreneurs or small businesses in Vermilion County deserving of some recognition, you can nominate them for honors.
The Small Business Development Center at Danville Area Community College is seeking nominations for awards in five small business categories, including:
— Small Business of the Year: A small business operating at least two years.
— Small Business Start-up of the Year, less than two years old .
— Entrepreneur of the Year: A small business owner who has accomplished a goal or overcome adversity.
— Legacy Business of the Year, in operation for 10 years or more.
— Incubator Small Business of the Year: One that is home-based or operating out of a co-work space, incubator, commercial kitchen or consignment spaces.
Nominations are due by 5 p.m. March 6, and winners will be recognized May 7.
Online nomination forms are available here: dacc.edu/sbdc.
New for parents
Urbana psychologist Dr. William Gingold has a new online program available for parents of babies and toddlers to help nurture their children's learning and development and promote parent-child bonding.
The founder of Dr. G's BrainWorks: The Brain Fitness Store and More, Gingold said the program called Watch Me Grow was released a couple of weeks ago based on years of research and testing.
Developed by child development experts working with kids and parents under Gingold's guidance, Watch Me Grow provides individualized activities that parents can do at home with their children.
Parents who enroll observe their kids' actions and reactions to playtime activities and provide answers to questions that will be analyzed by Watch Me Grow and used to select more activities best suited to each individual child.
"Everything is developmentally designed, based on developmental age, not chronological age," Gingold said.
The program has been released free to parents for now, he said.
For information about the program: watchmegrowprogram.com
Grand opening
The CBD Store at 512 S. Neil St., C (which opened Dec. 14 and was featured recently in this column) will have a grand opening celebration Jan. 31.
It will include free samples of CBD products, giveaways and refreshments.