It's Your Business | It's all working out for new gym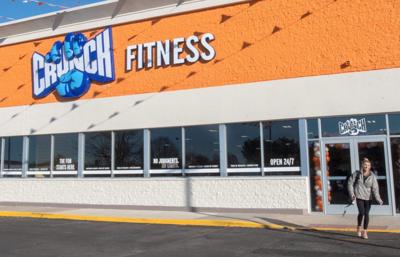 The kids' toys are long gone, but Crunch Fitness — now open 24/7 in the former Toys R Us store building at 40 E. Anthony Drive, C — aims to make serious exercise fun.
Some of what's offered: Strength and cardio equipment, a sauna, personal trainers, high intensity interval training, tanning beds, sunless tanning, HydroMassage beds and group fitness classes for every level — beginner through expert.
Among the classes Crunch offers are body Zumba, Cardio Tai Box, Bodyweb TRX, Yoga Body Sculp and Fat-Burning Pilates.
Memberships start at $9.95 a month and child care is available.
New York-based Crunch Fitness has more than 300 locations.
The owners of the Champaign Crunch, Brian Hibbard and John Armatas, run 10 Crunch gyms. The Champaign gym is a 36,000-square-foot club.
Manager Josh Huddelston said Crunch's philosophy — "no judgments" — is taken to heart. This is a fitness club for all ages, all fitness levels and everyone.
"We are absolutely all about diversity," he said.
Shop local
Champaign Center Partnership is offering one more reason to shop local for the holidays.
A brand new event — Hometown Holiday Shop & Stroll — will be held from 1-5 p.m. Dec. 14 in Champaign's downtown, Midtown and Campustown areasat participating businesses with treats, discounts, chances to win prizes, activities for kids and free gift-wrapping, according to Genevieve Kirk, the group's executive director.
Participating will be Ten Thousand Villages, Jane Addams Book Shop, Walnut Street Tea Company, Circles Boutique, Dandelion, Habitat for Humanity's ReStore, Furniture Lounge, Live Action Games, Austin's Sportswear, Joseph Kuhn & Co., WEFT Community Radio, Eden Supportive Living, Orpheum Children's Science Museum, Bossa Nova, Cold Stone Creamery and Neil St. Blues.
Champaign Center Partnership will be providing all participating businesses with cookies, so every location can offer treats, Kirk said.
Activities will include:
— The Orpheum's Snow Globe indoor sledding, treats and games event from 1-5 p.m. and 30-minute trolley rides through downtown and Campustown.
— Punch cards and a chance to win a gift card: Visit at least eight locations and your punch card will be entered in a chance to win a $100 gift card at a member business.
— Find Frosty scavenger hunt from 1-4:30 p.m. Clue cards can be picked up at the Orpheum.
— Free giftwrapping for your purchases at Eden Supportive Living from 2:30-4:30, with free hot chocolate and cookies.
— Photos with Santa from 1-3 p.m. at Neil St. Blues.
— Strolling holiday carolers downtown from 3-4 p.m.
For pets
Ending the life of a sick and suffering pet has to be about the toughest call a pet parent has to make.
Dr. Joyce Eisold, a Champaign veterinarian, hopes to make the process less stressful through an in-home euthanasia service for companion animals called Peaceful Journey.
And for those pet owners who aren't ready to take that final step, she said, she will also provide in-home hospice care for terminally ill pets — administering appropriate pain control, IV fluids and other care to help keep pets comfortable.
In-home euthanasia may be a good option to consider when the time comes because making a trip to the veterinarian's office can be an upsetting experience for pets, Eisold said.
"A lot of pets don't like going to the vet, so to have that be the last experience that animal has is very upsetting to the owners," she said.
Families losing their beloved animals also can grieve more privately in their own homes, she said.
Retired from the former Animal Emergency Clinic of Champaign County, Eisold said she's extending her in-home service in Champaign-Urbana and the entire vicinity bounded by Paxton, Monticello, Oakwood and Tuscola.
In addition to dogs and cats, she will also come to owners' homes for rabbits, birds and other exotic pets.
She'll also remove the pets' bodies from the home if the owners want and take them to a local pet crematorium or the family veterinarian if that office is open.
Eisold and Peaceful Journey can be reached by calling 217-390-0206.
Contact Deb Pressey by calling 217-351-5229 or send an email to dpressey@news-gazette.media. News about your business can also be mailed to The News-Gazette c/o It's Your Business column, P.O. Box 677, Champaign, IL 61824-0677.