It's Your Business | Longtime jeweler on the move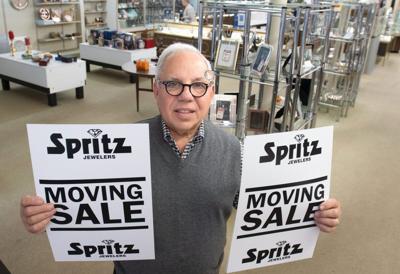 Spritz Jewelers will move from its longtime location at 205 N. Neil St., C, to a new, smaller space early next year.
Owner Jim Greenfield said he's sold the building, but isn't disclosing his new store location at this time because he hasn't signed a lease yet.
What he can say is that he plans to downsize his store space to 1,000 square feet and his new spot will have plenty of parking. And, he said, hopefully it will be in the downtown vicinity.
In addition to jewelry, he'll still be selling some gift merchandise such as clocks and crystal and items for babies, he said. He'll also continue offering repair service.
Spritz Jewelers was founded in 1922 in Terre Haute, Ind., and at one time operated 12 stores. The Champaign store opened in the 1940s, and it's the last remaining store, Greenfield said. He bought the building at 205 N. Neil St. in 1979.
Guth & Associates is marketing the 205 N. Neil St. building for lease, with two floors, each 5,860 square feet, available as vanilla box space available early next year. An exterior renovation is planned.
Changing
Mettler Center plans to drop fitness memberships and classes at the end of this year to focus on expanding its physical therapy, massage therapy and personal trainer services.
If you're accustomed to working out at Mettler Center, at 2906 Crossing Court, C you can still do that. But you'll need to work with a personal trainer at least once every other week to get complimentary gym access, according to Joy Sheehan, director of membership, fitness and wellness.
The upcoming change also means Mettler Center won't be honoring Silver Sneakers memberships next year.
What if you already paid for membership beyond this year?
Mettler's website says anyone who doesn't request a refund by Jan. 31, 2020 will have their remaining membership balances applied as a credit on their accounts for other Mettler services.
Retiring and farewell
C&A Inspirations, 313 N. Mattis Ave, C, will close early next year after 24 years in business.
Karen Santarelli, the owner, is retiring.
She and her husband started the store after ordering a First Communion gift by mail for their son, Chris. When their second son, Anthony, made his First Communion a few years later, Karen Santarelli saw the need for a local Catholic religious store and decided to open one.
The store started with just a fraction of its current 2,100-square feet and inventory has expanded over the years from books and religious gifts to also include church supplies, school uniforms and other items.
A closing/retirement sale got under way Thursday and will run for about eight weeks or until remaining inventory is sold.
Sales hours are 9:30 a.m. to 5:30 p.m. weekdays and 9:30 a.m. to 3 p.m. Saturday.
Insty-Prints of Champaign, 1822 Glenn Park Drive, plans to close and will stop taking new orders after Nov. 25.
Owners Rich and Roxanne Bishop are retiring, and decided not to renew their franchise.
The Bishops have been in business providing commercial printing and graphics services since 1977.
The shop will remain open until about the end of the year to wrap up existing orders and move, Rich Bishop said.
Sold
Cream & Flutter's downtown Champaign bakery at 114 N. Walnut St. closed last Sunday.
Its bakery in Cashiers, N.C. is remaining open through Nov. 30.
Each shop is being sold to a different owner bringing in new branding and menu items sometime next year, according to the business' Facebook post.
Cream & Flutters first opened in Champaign as Cakes on Walnut in 2008, and was renamed Cream & Flutter in 2011.
Owner Amanda Wyatt couldn't be reached. The Facebook post said she staying in Cashiers for now and will be focusing on her family and her construction consulting business.
Contact Deb Pressey by phone at 217-351-5229, by email at dpressey@news-gazette.media or by mail at The News-Gazette, c/o It's Your Business column, P.O. Box 677, Champaign, IL 61824-0677.