It's Your Business | Mexican grocery on the move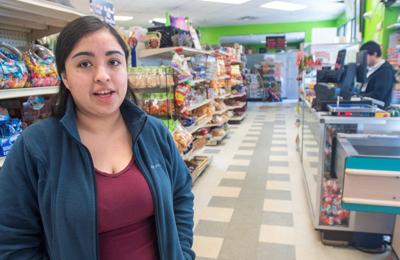 The Urbana El Progreso grocery store will be moving to its new location next spring, possibly in May, depending on how quickly the construction goes, said Marly Corado, one of the owners.
The store will move up the road from 510 N. Cunningham Ave., U, to 1302 N. Cunningham Ave., U.
Some of what this full-service Mexican grocery carries includes international foods, produce, ready-to-cook seasoned meat for tacos, ready-to-cook seasoned meat, peppers and onion mixes for fajitas and freshly-ground meat from cuts of beef customers choose themselves, Corado said.
"A lot of the Latin American population here are used to picking out their own meat, and that's what we cater to," she said.
The size of the new store, 5,000 square feet, will be about the size of the current one. The move is being made to be able to start selling some cooked foods, Corado said.
El Progreso is a family-owned business and serves a broad ethnic base of customers, she said.
She and her father operate the store in Urbana and her uncles operate the Champaign store.
For holiday shopping
Riggs Beer Company, 1901 S. High Cross Road, U, has a new German Christmas market open four days a week through the weekend before Christmas.
It's offering German Christmas market-style foods such as potato pancakes, crepes, brats, curry-wurst, pretzels and more. There are also vendors selling wreaths, ornaments, preserves, honey, soaps, jewelry and other gift items.
Riggs is offering hot spiced wine and hot cocoa in addition to its beers, wines and other beverages. The seasonal market is open from 4-8 p.m. Thursday and Friday and 2-7 p.m. Saturday and Sunday each week, and is set to wrap up for the season Dec. 22.
Hospital recognized
Gibson Area Hospital and Health Services, Gibson City, has been honored for launching a dental clinic to fill an urgent need among patients covered by Medicaid and those without dental insurance who can't afford private dentistry.
The IMPACT award from the Illinois Critical Access Hospital Network was presented to health system officials last month.
Gibson Area Hospital and Health Center opened its full-service dental clinic last year. It's been in such demand, it's served people from 110 zip codes, according to hospital spokeswoman Renee Sier.
Services being offered include routine cleaning, sealants, fillings, crowns, bridges, dentures, implant surgery, root canal therapy, extractions, veneers and more.
The dental clinic accepts several commercial insurers along with Medicaid, and also offers financial assistance based on patients' ability to pay.
Without this clinic, many people in need of dental care waited six months or drove to the University of Illinois-Chicago for care. Hospital officials decided to start the dental clinic as a better option for people coming to the emergency rooms and getting incomplete care for dental pain, according to Sier.
Chain rewarding customers
Jimmy John's announced that it's rolling out its customer loyalty program nationwide after a six-month pilot program. Customers who sign up for "Freaky Fast Rewards" will get a free eight-inch sandwich after their first order.
Prior to taking this program nationwide Monday, 1.8 million customers had already signed up in the pilot program markets, the chain said.
Deb Pressey can be reached at 217-351-5229 or dpressey@news-gazette.com. You can also mail news about your business to The News-Gazette, 15 Main St., Champaign, IL 61824-0677 c/o It's Your Business column.