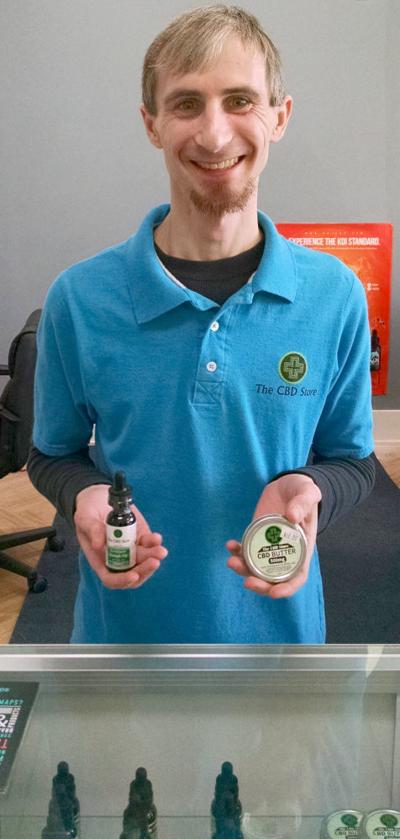 If you've wondered whether marijuana could help what ails you, but you don't want the intoxicating effect that comes with it, the operators of The CBD Store in Champaign say they can help with that.
The CBD Store at 512 S. Neil St. sells CBD (cannabidiol) products such as tinctures, body lotions, salves, edibles and beverages that are either THC-free or contain a trace amount of THC below the legal limit of 0.3 percent, according to business owner Eric Sweatt.
THC (tetrahydrocannabinol) is the psychoactive compound in cannabis. CBD is a non-intoxicating compound made from hemp and cannabis plants.
This is the fifth CBD Store operated by Sweatt. There are two others in Illinois, in Pekin and Lincolnwood, and two more in Colorado.
Sweatt said CDB products won't make you high, and even those with trace amounts of THC won't lead to flunking a drug test, Sweatt said.
"Our target market audience are police officers, firefighters, CDL drivers, teachers, pregnant women, Grandma and Grandpa, people who don't want THC in their medicine," he said.
The Champaign store will also house Medical Cannabis Outreach, which will be moving there from Savoy.
Dec. 12 was the last clinic date for Medical Cannabis Outreach, the cannabis education and patient advocate organization co-founded by Sweatt and his wife, Caprice Sweatt. The next clinic will be held in mid-January at The CBD Store, Eric Sweatt said.
He advises people to check with their doctors about using CBD products, especially those taking prescription medications.
The store also sells CBD products for dogs and cats to help with their ailments, and has products that can be ordered for horses and cattle, Sweatt said.
He gives his own nearly 16-year-old dog one drop of a CBD product a month to help boost his energy and appetite, he said.
"I truly believed a couple of years ago that he was going to die," Sweatt said.
While the store in Champaign is already open, a grand opening is planned for Jan. 31.
Learn beekeeping
Long Lane Honey Bee Farms in Fairmount is accepting registrations for its beginner beekeeping workshop, being offered from 1-6 p.m. Feb. 1 and again at the same time on March 7 at the farm's training center in Fairmount.
David Burns, a certified master beekeeper with 25 years experience, will be the instructor. He operates the business with his wife, Sheri.
Class participants can purchase the equipment they need and order bees from this business, he said.
The two courses coming up are targeted to people who want to get started in beekeeping, David Burns said. Advanced classes are also available for experienced beekeepers.
You don't need to live out in the country or have a lot of land to raise bees, he said. Some people keep bees in their own back yards, he said.
"The bees fly up to three miles away, so you don't have to have all the flowers in your yard," he said.
At Long Lane Honey Bee Farms, David and Sheri Burns keep about 20 hives for educational purposes and others for making and selling honey, David Burns said. Sheri Burns is also working on a new line of flavor-infused honey products, he said.
New Paxton store
Will Brumleve of the Ford County Record reported the opening earlier this month of Junebug Crafty Gifts in downtown Paxton.
The store at 165 S. Market St. sells handmade items such as American flags, coffee tables, trays, wooden signs, candles, bath bombs, pillows, magnets, indoor/outdoor furniture and tiki torches.
The store is owned by Brianne Dinaso and her fiance, Ronald Knapp.
Deb Pressey can be reached at 217-351-5229 or dpressey@news-gazette.media. You can also mail news about your business to The News-Gazette c/o It's Your Business column, P.O. Box 677, Champaign, IL 61824-0677.