It's Your Business | Opportunity to retreat yourself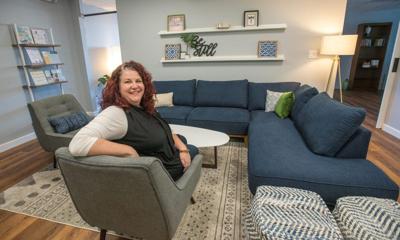 If the holidays — and life in general — are leaving you feeling frazzled, you might want to check out the new Soul Care Urban Retreat Center in Urbana.
Kelly Skinner opened this retreat center in October, and said it's offering opportunities to help busy people recharge and learn how to bring some spiritual wellness and self-care into their daily lives.
"People are booked out. People are depressed, feeling isolated and lonely. They don't know how to connect with themselves, with others," Skinner said. "They don't know how to find their purpose."
Some of what's offered at this center are yoga and meditation classes, spiritual direction and life coaching, and coming next year, reiki — an alternative medicine focusing on energy healing.
Also available are individual and group retreats, including one mini-retreat each Friday that focuses on contemplative prayer, Skinner said.
From Soul Care's brochure: "We invite people of all identities, genders, ages, life experiences, beliefs and backgrounds into the Soul Care community, while striving to honor each person's uniqueness and where they are on their personal spiritual journey."While this center isn't affiliated with any institutionalized churches, its programs offer spiritual practices from a variety of traditions to help people listen to the voice of the divine in whatever way they define that and get in touch with their authentic selves, Skinner said.
"Some people are moving away from institutional religions and are looking for other ways to seek spirituality," she said.
This center also has five drop-in quiet rooms where people can get away from devices and other distractions, take a nap, listen to music, write in a journal, color, etc. Skinner said she can provide things such as coloring pages and journaling prompts.
"You can use it to be still," she said.
The center is on the second floor of PNC Bank at 507 S. Broadway, U.
The space includes a porch over the drive-through with views of downtown buildings, and Skinner said she has plans to add plants and curtains for the breeze to toss around when the weather warms up.
Skinner, who lives in St. Joseph, has a master's degree in student affairs, and formerly worked with college students on leadership development, mentoring and coaching. She's also worked with nonprofits and for Carle in internal communications and in marketing for the University of Illinois housing.
Soul Care is open every day but Monday. Gift certificates are available, and there's more information about what's scheduled for the rest of this month and next year on the center's Facebook page.
Bakery on the way
Tasty Tart, a Taiwanese bakery, is under development at 405 S. Neil St., C.
A friend of owner Eric Kuo said Kuo is an experienced baker, but has baked largely for family and friends in the past.
The shop will sell a variety of tarts, and an opening date hasn't been set, she said.
The sign out front says, "Opening soon."
Shopping countdown
If you still have holiday shopping to do, some stores are in extended hour mode through Christmas Eve.
Market Place mall hours for Sunday and Monday are 8 a.m. to 10 p.m., and on Christmas Eve from 8 a.m. to 6 p.m.
Kohl's is open 24 hours Sunday and Monday and remaining open on Christmas Eve through 6 p.m.
If you want a mini-break from shopping at the mall, the Magic Snow Show is still going on until Christmas with snow show times at 12:25 p.m., 3:25 p.m. and 6:25 p.m.
Four snow machines over the Christmas tree in the center court will make it snow for six minutes, and there will be three holiday songs played.
Market Place General Manager Dennis Robertson said people have been enjoying these snow moments and taking a lot of selfies.
Some additional mall happenings to take note of:
— The Sprint Store at Market Place has closed, Robertson said.
— You may have seen the fencing around the former Bergner's set to be demolished to make way for the new Costco store. Work is already under way on the interior, and more extensive work will begin after Christmas, Robertson said.
A hole in the west wall has been created to remove materials and a temporary exit corridor is being built next to the Justice store that will become available as an emergency exit in that wing once the entrances by the former Bergner's are closed, Robertson said.
Deb Pressey can be reached at 217-351-5229 or dpressey@news-gazette.media. You can also mail news about your business to The News-Gazette c/o It's Your Business column, P.O. Box 677, Champaign, IL 61824-0677.