It's Your Business | Picture-perfect ending for family shop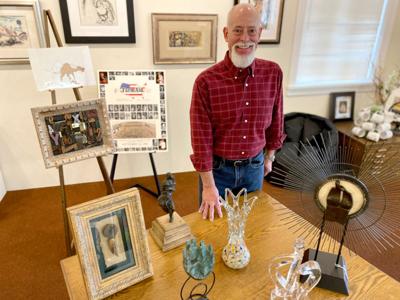 Rob DeLong opened his custom picture-framing shop in Champaign 38 years ago, and he's decided the time has come for him to retire.
The last day of business for Framer's Market, 807 W. Springfield Ave., C, will be Dec. 15.
"We had a really nice run," DeLong said.
DeLong said he's stopped accepting custom orders, and he'll be selling out inventory and artwork over the next two weekends.
Framer's Market has been a family business from the start.
DeLong started the custom framing business and his dad started DeLong Photography after retiring from the insurance business, and father and son operated in the same building. DeLong's mom kept the books.
"It's all in the family," DeLong said. "My sister-in-law does the books for me now," he said.
Over the years, DeLong served both residential and commercial clients, with Carle and the I-Hotel being among the commercial clients, he said.
Many of Framer's Market's customers have been bringing their business to his shop for decades, he said.
Here are the details of the closing sales:
The shop's half-price sale will run from 10 a.m. to 4 p.m. Dec. 7 and noon to 4 p.m. Dec. 8.
Whatever is left will be sold for 75 percent off from 10 a.m. to 4 p.m. Dec. 14 and from noon to 4 p.m. Dec. 15.
A lot of the art that will be sold is from his own personal collection, DeLong said.
Among the art for sale will be contemporary pieces, landscapes, sculptures, some vintage items and posters, buttons and photos from the 1985 Farm Aid concert in Champaign. DeLong said he also has a lot of University of Illinois memorabilia available, plus some limited edition drawings by John Lennon.
Nearly all of Framer's Market's years have been spent in the current building, which is also for sale, DeLong said.
What's next for DeLong? Part of his plans include being able to travel more.
"I'm going to relax a little bit," he said.
Check out what's going to be in the close-out sale at framersmarket.net.
Downtown Urbana store expands
Bohemia at 135 W. Main St., U, has doubled its space, adding an adjoining room called Bohemia Home.
Owner Milea Hayes said the new space features custom-made furniture such as one-of-a-kind tables by Allen Paul Strong and her brother, Doug Beck, a master carpenter. Also on board is interior decorator Angie Taylor, who is reupholstering and updating vintage pieces, according to Hayes.
Bohemia also carries the works of about 26 mostly local artists, gift items, a line of bedding, boutique clothing, chandeliers and more.
The store first opened in 2013.
New owner
Collegiate Marketing Inc., the parent company of Gameday Spirit Fanstore, has acquired The Illini Shop.
Gameday Spirit will take over operation of The Illini Shop and its location at 707 S. Sixth St., C, effective Dec. 5.
Gameday Spirit said it intends to retain the current staff and location of The Illini Shop along with Gameday Spirit's existing retail locations for the near future.
The Illini Shop's e-commerce operations, however, will be rolled into gamedayspirit.com starting Dec. 5.
"There was a unique opportunity for Gameday Spirit to make this strategic acquisition to shore up our presence on the University of Illinois campus, and we felt the timing and opportunity were a great fit," said Gameday Spirit owner Ryan Majeres.
The Illini Shop, formerly T.I.S. College Bookstore, has served the UI campus as a retail outlet for textbooks, licensed apparel and gifts since 1991, according to Gameday Spirit.
Custom gift shop opens
Introducing: Bespoke Gift Company.
That's the new name for Jeff's Design Shed, Monticello, which has transitioned from being a home-based business to a new retail store at 107 W. Main St., Monticello.
Owners Jeff Zumwalt and Tasha Dunaway rebranded their custom gift shop when they moved into their new store.
A few things Bespoke Gift Company offers: Tumblers and accessories personalized with names, favorite sayings, company logos, etc., personalized cutting boards and dual-layer, wooden etched wall art created from topographical maps that can be personalized with landmarks and special dates of the customer's choice.
Zumwalt is a former deputy coroner in Champaign County and works full-time in the business. Dunaway has a background in sales and marketing and works in information technology for Health Alliance Medical Plans.
Their business was the winner of Monticello's fall boot camp for small business development. The business was awarded a $5,000 grant that can be used for storefront costs such as rent and utilities.
Dunaway said store hours will vary for now.
Contact Debra Pressey by phone at 351-5229, by email at dpressey@news-gazette.media or by mail at The News-Gazette, c/o It's Your Business column, P.O. Box 677, Champaign, IL 61824-0677.