Debra Pressey: It's Your Business
It's Your Business | A good — and kind – idea playing out in Arcola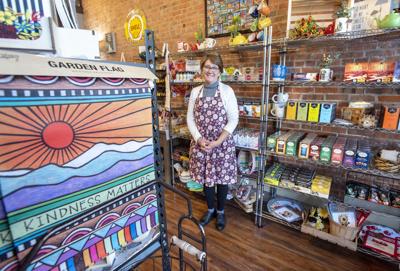 If you could use a little more kindness in your life, Dorinda and Mike Prince have made that the theme of their brand new Arcola shop: D&M Fueling Station.
"We call it goods and gifts to fuel your daily adventures," said Dorinda Prince.
The store is decorated with a vintage gas station theme, and carries gift items and specialty food items such as hot sauces, marinades, spices, jams, jellies, local chocolates and candies, local honey, coffees, teas, soup and scone mixes and local homemade noodles.
Gift items are things that promote kindness and goodness, such as plaques and journals, plus kitchen gadgets, coffee mugs, towels, candles, soaps, sachets and bath bombs, Dorinda Prince said.
She also makes up gift baskets for special occasions.
"We call them fueling kindness gift baskets," she said.
Dorinda Prince is an Arcola native, and she and her husband just recently moved back to the community.
They once owned a welding supply business, and wanted to open this new shop to give back to the Arcola community, Dorinda Prince said.
Open for the season
A longtime ice cream and burger spot in Farmer City reopened for the season Thursday.
Dewey's Drive-In, at 620 E. Richardson St., isn't bringing back indoor service for now, due to COVID-19 restrictions, but has added more picnic tables outdoors, all covered by a pavilion, said PJ Foster, who has owned Dewey's with her husband, Jim, for the past 11 years.
Dewey's is famous for its burgers and barbecue, but it also has a full menu of sandwiches (some of which are hot dogs, coney dogs, Polish sausage, pizza burgers, fried ham and cheese and breaded tenderloin) plus sides, salads and ice cream treats.
The soft-serve ice cream comes in chocolate, vanilla, twist and lemon and a special flavor that changes every two weeks, with the first one this season being Georgia peach, Foster said.
Now curbside
The Aldi grocery stores in Champaign and Danville are now offering curbside pickup service, the company announced.
Customers can choose items at shopALDI.us, fill online carts and select a pickup time and location at check-out.
Designated parking spots are marked for this service, and Aldi employees will load groceries into customers' cars.
New job
Jeff Troxell has been named Commerce Bank's executive vice president in Champaign-Urbana.
He will focus on expanding the bank's commercial banking presence in the Champaign-Urbana region and also serve as a key leader for commercial real estate lending.
Troxell holds a bachelor's degree in sociology from Miami University. He is active on the Champaign Rotary board of directors and is a member of the Champaign County Chamber of Commerce finance committee.
"Jeff has shown he is an outstanding banker and leader in the community. With nearly 24 years of banking experience, he has deep expertise and knowledge of the Champaign-Urbana region," said Illinois market CEO Brent Eichelberger.
Commerce Bank is a subsidiary of Commerce Bancshares Inc., a bank holding company with $32.9 billion in assets.
Pizzeria closes
Legacy Pizzeria, which opened last year at 2501 Village Green Place, C, announced in a Facebook post Wednesday that it was closing effective immediately.
Posted by owners Ana Fuentes and Brian Davis:
"We want to thank everyone for their support. We really enjoyed making those pizzas. Please reach out to us through our website if you purchased a gift card and we will refund the amount. We hope in these interesting times all of you may find safety, happiness and kindness. Thank you all again."