Debra Pressey: It's Your Business
It's Your Business | Books, bakery and more in downtown Champaign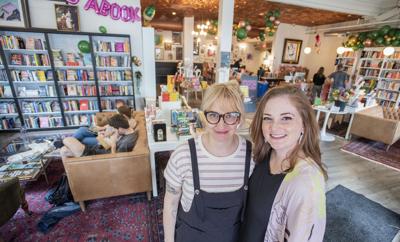 After a soft opening week, The Literary, a bookstore serving wine and beer in the evening, and a second location for Hopscotch Bakery and Market held their grand opening on Wednesday.
They're located in the same space at 122 N. Neil St. in downtown Champaign, in the building that housed the former Hank's Table restaurant, which closed in 2020.
Jenny Shima had planned to call her bookstore/bar Lit, but changed the name to The Literary, she said.
The Literary is already hosting events, which will include stories for kids, book-signings and speakers.
Hopscotch is serving food, including its bakery and coffee drinks.
Hours are 9 a.m. to 9 p.m. Wednesday through Saturday and 9 a.m. to 7 p.m. Sunday, Shima said.
Check out this Facebook page for events at The Literary: facebook.com/literarybookbar.
And for a look at some of what Hopscotch is serving, check out facebook.com/hopscotchcakes.Union expanding
UA Local 149 Plumbers and Pipefitters is expanding its building in Savoy to accommodate growth. A new 6,000-square-foot building south of the current one at 1005 N. Dunlap Ave., Savoy, is under construction and will become the new union hall facility.
The existing building is being turned over to the Local 149 Joint Apprenticeship Committee. It will be remodeled to create more classrooms and workshop space.
Local 149 Business Manager Matt Kelly said the last application process to enter the five-year apprenticeship program attracted 250 applicants, 18 of whom were chosen.
Some reasons this trade isn't suffering for new recruits: Kelly said it's the top-paid trade in this area, and it offers steady work not generally affected by the weather.
Brand new apprentices earn $21 an hour with a full benefits package, and journeymen earn $47.10 an hour plus benefits, he said. "I'd say our members average between $70,000 and $90,000 if they work steady," Kelly said.
Local 149 has just under 100 apprentices now, the most it's had, but would still like to expand the program more, partly because of the journeymen nearing retirement, Kelly said.
The apprenticeship program opens for new applicants each spring, and starts a new group each June, Kelly said.
The new union hall is projected to open in May.
Local 149 represents more than 600 members in East Central Illinois working at more than 40 companies and at the University of Illinois.
New president
Stefanie Pratt has been named the new president of the Champaign County Association of Realtors.
Pratt, who is with Coldwell Banker Real Estate Group in Champaign, got her real estate license in 2003 and formerly served as president of the Realtors group in 2015-16.
She's also served on several committees for the association, including professional development involvement, government affairs, professional standards and grievance committees.
Pratt is also a member of the Champaign West Rotary and has served on the board of directors for the Don Moyer Boys and Girls Club. She has also been involved in fund-raising for several organizations, among them the American Heart Association and March of Dimes, and has served on the capital campaign for the Champaign County Humane Society.
Other newly-installed Champaign County Association of Realtors officers include president-elect P.J. Trautman, secretary-treasurer Jim Waller and immediate past president Liz McDonald. Newly-installed directors include Deana Gauze and Tim Hoss.